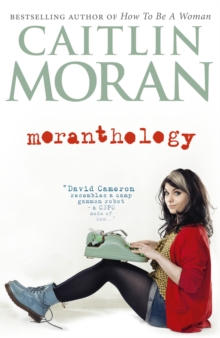 Description
Possibly the only drawback about the bestselling "How To Be A Woman" was that its author, Caitlin Moran, was limited to pretty much one subject: being a woman. "Moranthology" is proof that Caitlin can actually be 'quite chatty' about many other things, including cultural, social and political issues which are usually the province of learned professors, or hot-shot wonks - and not a woman who once, as an experiment, put a wasp in a jar, and got it stoned. These other subjects include: Caffeine; Ghostbusters; Being Poor; Twitter; Caravans; Obama; Wales; Marijuana Addiction; Paul McCartney; The Welfare State; Sherlock; David Cameron Looking Like Ham; Amy Winehouse; Elizabeth Taylor's Eyes; Michael Jackson's Funeral; 'The Big Society'; Big Hair; Nutter-letters; Failed Nicknames; Wolverhampton'; Squirrels' Testicles; Sexy Tax; Binge-drinking; Chivalry; Rihanna's Cardigan; Boris Johnson - Albino Shag-hound; Party Bags; Hot People; Transsexuals; The Gay Moon Landings; and My Own, Untimely Death.
Free Home Delivery
on all orders
Pick up orders
from local bookshops
Reviews
Showing 1 - 1 of 1 reviews.
Review by swati.ravi
16/06/2015
In the same tradition as Stephen Fry's 'Paperwieght' and dare I say it, just as utterly delightful. This is the delicious Moran, in all her colour, idealism and swashbuckling humour, served up in crisp, snacky snippets for the reader to dip into and savour whenever they please. A deeply educated soul, Caitlin Moran is an uplifting conversation and freindly leg-up for the mind. I am grateful, hooked and practically cheering with pom-poms for this gorgeous woman.