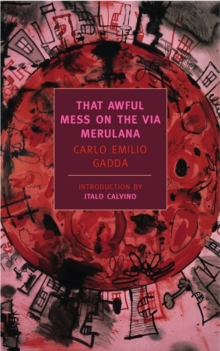 That Awful Mess On The Via Merulana
Paperback
Information
Format: Paperback
Pages: 416 pages
Publisher: The New York Review of Books, Inc
Publication Date: 27/02/2007
ISBN: 9781590172223
Free Home Delivery
on all orders
Pick up orders
from local bookshops
Reviews
Showing 1 - 2 of 2 reviews.
Review by guybrarian
16/06/2015
Wow. Let's call it a world-weary philosphical mystery set in Fascist Italy, and written with Joycean linguistic skills. Let's say it has breath-taking perceptive/descriptive prowess (and this clearly goes for the translator - William Weaver - as well), arresting imagery (one lady appears like a 'floured gecko;' Mussolini is pissing in the open mouths of his adoring public, & c & c..), keen psychological insight, and gives a fresh pungency to that mix of humor and heartbreak that has become all too familiar for crime readers. Let's say it gets pretty dense, but for people not put-off by that 'Joycean' above, this is a rare treat. Yes, the mystery is life itself, and human folly, but there is a technical, criminal quandary as well. Doppio espresso w/ a twist: rich, bitter, astringent Euro-mystery.
Review by stevencudahy
16/06/2015
An exceptional work of genre blending that, much like Alain Robbe-Grillet's 'The Erasers' takes the crime genre as it's starting point.Nothing in this book is simple. Gadda brilliantly conveys the complexity and chaos inherent in society, and the ways in which the facts of any event (whether it be a robbery, a murder, or the way a society accepts being ruled by a dictator like Mussolini) become almost impossible to separate from speculation, gossip, and the personal opinions of all involved. Although there is much condemnation of Mussolini's rule in this book there is an equal amount of exploration into how such a thing can be allowed to happen.The narrative itself is fragmentary, taking in several different characters and locations, and Gadda uses this to portray the complexities of urban and rural Italian life and thought. The language is complex and evocative, and some people (those who struggle with Joyce, Beckett or Proust, for example) may find it a difficult read. But it's worth persevering with as this is a crime novel that leaves you wanting more, to the point at which you no longer care about who committed the crimes in question but are merely disappointed that the book has ended. Gadda's style is like that of a slightly drunken, over-talkative uncle in that there will be digressions you don't quite grasp, some fairly objectionable views on women, and stories that go nowhere or peter out in a storm of thinking about thinking itself. Yet you sit, enthralled, unable to tear yourself away, because there's something so wonderfully original about it all, and occasionally insightful, that the style of other writers may seem a little flat for a while afterward.