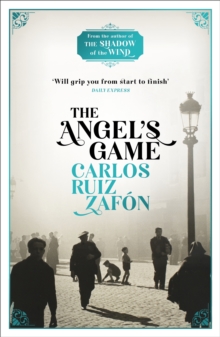 The Angel's Game : The Cemetery of Forgotten Books 2
Paperback
Description
The stunning new novel from the internationally bestselling author of THE SHADOW OF THE WIND. In an abandoned mansion at the heart of Barcelona, a young man - David Martin - makes his living by writing sensationalist novels under a pseudonym.
The survivor of a troubled childhood, he has taken refuge in the world of books, and spends his nights spinning baroque tales about the city's underworld.
But perhaps his dark imaginings are not as strange as they seem, for in a locked room deep within the house letters hinting at the mysterious death of the previous owner.
Like a slow poison, the history of the place seeps into his bones as he struggles with an impossible love.
Then David receives the offer of a lifetime: he is to write a book with the power to change hearts and minds.
In return, he will receive a fortune, perhaps more. But as David begins the work, he realises that there is a connection between this haunting book and the shadows that surround his home...
Information
Format: Paperback
Pages: 544 pages
Publisher: Orion Publishing Co
Publication Date: 29/04/2010
ISBN: 9780753826492
Free Home Delivery
on all orders
Pick up orders
from local bookshops
Reviews
Showing 1 - 5 of 6 reviews.
Previous | Next
Review by litaddictedbrit
16/06/2015
"Every book, every volume you see, has a soul. The soul of the person who wrote it and the soul of those who read it and lived and dreamed with it"The way I see it, this quote sums up a lot of the key ideas in this book, while also being a gorgeous stand-alone quote. This story has an incredible atmosphere right from the opening chapter which is sustained for the entire novel. David Martin is an excellent lead as a disillusioned and embittered writer. The pityingly told background to this character really sets him up as a tragic figure; rejected by his mother and a witness to his father's murder, David relies on his only paternal figure, his best friend and mentor Pedro Vidal, for guidance and a career. At times, I can be a complete softy and I found myself really drawn to the not-quite-heroine Cristina. Not only is this a really engrossing mystery but it's also a heart-rending love story. Oddly enough, the two elements interact really well. The plot develops gradually and I dawdled along revelling in the fantastic writing and getting to know the characters. For an atmospheric thriller, there is a disarming element of comedy. The relationship between David and Isabella provides some light relief amidst the turmoil he experiences and I absolutely loved it! All of this applied right up until the climax, where I raced through the pages until I reached the epilogue (which I couldn't explain if I wanted to…). I've read critics who said that this was a flaw but I found to be a welcome change of pace.My only gripe with this book was that for some considerable periods, Zafon abandons the narrative for a meditation on the nature of religion by the mysterious publisher. I understand that it adds a sense of gravitas to that particular character and a purpose but I just think it could have been done without too much academic discussion. In my view, it detracts from the development of the main characters (publisher aside) and jeapordies the tone and atmosphere which is otherwise infallible.Overall: I loved the vast majority of this book and will definitely continue to read Zafon's literary offerings. Although it is the second book to refer to the Cemetery of Forgotten Books, I didn't find it was linked to The Shadow of the Winds so much that they needed to be read in order. This could be an equally brilliant start to this author's work and I thoroughly recommend it!
Review by sianpr
16/06/2015
Overhyped and by the end I just didn't care
Review by Hera
16/06/2015
Such a beautiful book to read, so evocative I felt like I was dreaming. The first book I have read in a long time that made me mourn when I'd finished it; I loved it.
Review by ValerieAndBooks
16/06/2015
I loved The Shadow of the Wind, Zafon's earlier novel, and so it was disappointing that I couldn't get into this book. I didn't finish it.I think the older I get -- or perhaps it's because I'm more busy than ever -- I have less patience for books and have been experiencing many more unfinished books. Maybe the lack of patience is also due to being more easily distracted because of my busy life. At any rate, I'm holding onto this one and maybe the time will be right for me to enjoy it. Or maybe not.
Review by MomsterBookworm
16/06/2015
Exquisitely written! Damnation and salvation inexorably interwoven. Dark, yet redemptive. Jekyll and Hyde. Translated from Spanish, this is the prequel to 'The Shadow Of The Wind' (which has an earlier publication date). It was about half a dozen years ago, at a book fair, a stranger who was browsing at the same table I was, recommended this author to me. I never got around to reading any of the works until now. For the most part, I feel that the book is metaphorical and archetypal. I've finished reading, but I haven't fully digested it. Perhaps, I would get a clearer picture after reading the subsequent books ('The Prisoner of Heaven' is the third book). One could dissect and discuss the spiritual, philosophical, metaphysical, and other '-cals' to no end – a tantalizing subject for a book club. But do not let this deter you from reading it, even if none of these are your interests – this is still a stellar masterpiece (superlative much?).<br/><br/>A passage from the book: "Every book, every volume you see, has a soul. The soul of the person who wrote it and the soul of those who read it and lived and dreamed with it. Every time a book changes hands, every time someone runs his eyes down its pages, its spirit grows and strengthens." This is true of all books, and the ones with stronger souls come to be known as classics, and in my perception, this book is one in the making.