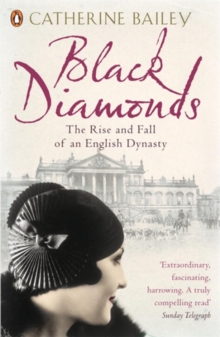 Description
Catherine Bailey's Black Diamonds is an extraordinary tale of family feuds, forbidden love, civil unrest and the downfall of a mining dynasty. Wentworth in Yorkshire was surrounded by 70 collieries employing tens of thousands of men.
It is the finest and largest Georgian house in Britain andbelonged to the Fitzwilliam family.
It is England's forgotten palace which belonged to Britain's richest aristocrats.
Black Diamonds tells the story of its demise: family feuds, forbidden love, class war, and a tragic and violent death played their part.
But coal, one of the most emotive issues in twentieth century British politics, lies at its heart. This is the extraordinary story of how the fabric of English society shifted beyond recognition in fifty turbulent years in the twentieth century. 'Magnificent ...peels back the grand facade of Wentworth toreveal a family riven with fueds, mental illness and forbidden love' Tatler 'A compelling new history ...fascinating insights into the dynasty that once ruled this Yorkshire roost' Daily Mail 'An aristocratic tale of epic proportions, this gripping novel cleverly interweaves interviews, letters and historical fact ...Fascinating' Easy Living Catherine Bailey read history at Oxford University. She is a successful, award-winning television producer and director, making a range of critically acclaimed documentary films inspired by her interest in twentieth century history.
She is the author of Black Diamonds and The Secret Rooms: A True Gothic Mystery.
She lives in West London.
Information
Format: Paperback
Pages: 544 pages
Publisher: Penguin Books Ltd
Publication Date: 06/03/2008
Category: British & Irish history
ISBN: 9780141019239
Other Formats
EPUB from £5.49
eAudiobook MP3 from £45.08
Free Home Delivery
on all orders
Pick up orders
from local bookshops
Reviews
Showing 1 - 5 of 5 reviews.
Review by canalrat
16/06/2015
Fascinating insight into the end of an era
Review by susanj67
16/06/2015
I bought this book expecting it to be a Mitfordesque country house-type saga (albeit a true one), and I couldn't have been more wrong. It does have a family (and their huge house) at its heart, but it also includes a vast amount of material on the social history of Britain during the early part of the 20th century, and it is beautifully written, combining official documents and memoirs with the recollections of people who worked in the house and lived in the nearby village. I loved it and was sorry when I finished it and didn't have it to read any more.
Review by sallysvenson
16/06/2015
An original history of the relationship between one aristocratic English family and the source of its wealth: coal. The book does a first-rate job of delineating for the general reader the trajectory of the coal-mining industry in Yorkshire from the turn of the twentieth century through its nationalization, making superb use of first-person accounts. The book is uneven, however, when it comes to the history of the noble family on which it is focused. The earl who bore the family title throughout most of the period covered comes off as a shadowy figure, and although it is often repeated that as coal-owners and employers the family was generous to its miners in contrast to others in its position, it would have been interesting to know how. The author's tendency to throw in detailed tangential material because she had it was a bit annoying, as was the absence of a map, since many collieries and villages were mentioned in the narrative but it wasn't always easy to know which of them were connected to the family. If it weren't for these drawbacks, the book would have received five stars from this reviewer, for it turned a complicated subject into a compulsive page-turner. Well-researched and well-written, it is a great read.
Review by lexieconyngham
16/06/2015
I still don't like this writer's style, but I preferred this to the second one, The Secret Rooms, which I expected to enjoy more. She still dots about a good bit and puts in far, far too much detail (I honestly don't think I need to know the colour of the ink on the map used by the German navigator in the plane that just missed bombing the big house); she's completely money-obsessed; and she persists in writing narratives that pretend to know what was going on in the heads of the historical characters. I know, plenty of people do it, but somehow her style always makes me stop and think - 'So how does she know that, then?' Still, I read it with interest and learned a good deal that was more generally useful and interesting than the colour of Luftwaffe maps.
Review by AdonisGuilfoyle
27/08/2015
I don't think I have ever learned so much about so many different aspects of English social history from one book before! Ostensibly about Wentworth Woodhouse, a magnificent 300-room country house near Rotherham, and the Earls of Fitzwilliam who lived there for two hundred and fifty years, Catherine Bailey also manages to include scandal, mining, two World Wars and the Kennedys in her riveting history.I was also torn between two opposing factions while reading - sympathy for the South Yorkshire miners, who worked in dangerous, inhuman conditions for a pittance while the 'mineral owners' reaped billions for nothing more than inheriting land, and heart-rending horror over the final fate of such a beautiful house and grounds (I was wishing that 'Manny' Shinwell suffered for his spiteful crime, but the miserable old bugger lived to 101!) Yes, the pre-war imbalance of power and wealth was revolting - although I don't think we have advanced all that much - but destroying such an immense site of local and historic worth out of bitter envy was hardly the answer. I am so glad that Wentworth survived both family and foes to grace the landscape today - and the house is finally open to visitors! Yay!Back to the book, Catherine Bailey's account of the Fitzwilliams - who destroyed over sixteen tons of family papers to hide a murky family secret - and the local history surrounding Wentworth is both fascinating and and engaging. Nothing is superfluous, from the life of 'Kick' Kennedy who died in mysterious circumstances with Peter Fitzwilliam to the Sankey Commission of 1919 and the first attempt to nationalise mining, and every last detail is worth knowing. Yes, I spent a whole week just on this one book, but I don't begrudge a single second!