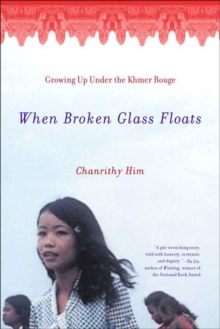 When Broken Glass Floats Growing Up Under the Khmer Rouge
Paperback
Description
In the Cambodian proverb, "when broken glass floats" is the time when evil triumphs over good.
That time began in 1975, when the Khmer Rouge took power in Cambodia and the Him family began their trek through the hell of the "killing fields." In a mesmerizing story, Him vividly recounts a Cambodia where rudimentary labor camps are the norm and technology, such as cars and electricity, no longer exists.
Death becomes a companion at the camps, along with illness.
Yet through the terror, Chanrithy's family remains loyal to one another despite the Khmer Rouge's demand of loyalty only to itself.
Moments of inexpressible sacrifice and love lead them to bring what little food they have to the others, even at the risk of their own lives.
In 1979, "broken glass" finally sinks. From a family of twelve, only five of the Him children survive.
Sponsored by an uncle in Oregon, they begin their new lives in a land that promises welcome to those starved for freedom.
Information
Format: Paperback
Pages: 330 pages
Publisher: WW Norton & Co
Publication Date: 17/04/2001
Category: Autobiography: general
ISBN: 9780393322101
Free Home Delivery
on all orders
Pick up orders
from local bookshops
Reviews
Showing 1 - 4 of 4 reviews.
Review by Moniica
16/06/2015
Synopsis: Chanrithy Him and her family led a healthy and normal lifestyle in their village until the Khmer Rouge invasion forced their family to work in labour camps and give up their valuable possessions. Faced with malnourishment, starvation and unbearable working hours, Thy and her family become ill frequently and are faced with death daily. A recount of the time Thy spent growing up under the Khmer Rouge.My Opinion: While the writing was quite snappy and broken, it was an informative book about what it was like growing up under the Khmer Rouge in Cambodia, a country I previously didn't know much about.
Review by shintamani
16/06/2015
Like all book about the Khmer Rouge period of Cambodia, Chanrithy's book is evocative and depressing. Many parts of the book are informative and educational, but what sets it apart is her narrative through the eyes of lost childhood. In her account, the reader is pulled into the setting and forced to image a life upside down - where the rules and protection of parents, society and religion are gone and murderous thugs and sycophants have turned the country into a prison.Highly suggested for anyone interested in learning more about the traumas of genocide. Also provides some valuable insight into Cambodian culture.
Review by cameling
16/06/2015
The Khmer Rouge seizure of Cambodia in 1975 began a period of horrific cruelty and death. Pol Pot's regime evacuated families from Phnom Penh, forcing them into the countryside into forced labor camps and makeshift villages where they were starved, beaten and more often than not executed for even the smallest disobedience. The author was 10 years old when her world violently fell apart, beginning the execution of her father. Before she was even 16, her mother was thrown into a well and she had lost younger brothers and sisters to disease and starvation. Having fortunately and successfully been sponsored to the America by the only one of her father's brothers to escape the Khmer Rouge, the author shares the story of her amazing survival and that of her remaining siblings during this tragic period of Cambodia's history. While it is not surprising that memories of that period in her life would be extremely painful, she writes without notes of any self-pity. If anything there is a sense of pride in being Cambodian that permeates. Amidst the terror, violence and sorrow, she shares glimpses of the gentle side of Cambodian culture and some of their language. The subject matter is disturbing, but it's an incredible work and one I'm so very glad to have read.
Review by Tony2704
16/06/2015
Another great book written about 'The Killing Fields'. Nothing but admiration for anyone that came through this. well written, would read again