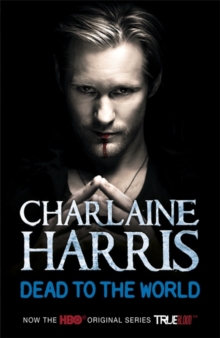 Dead To The World : A True Blood Novel
Paperback
Description
Sookie comes to the rescue of a naked, amnesiac vampire - and ends up in the middle of a war between witches, werewolves and vampires! Sookie Stackhouse is a small-town cocktail waitress in small-town Louisiana.
She's pretty. She does her job well. She keeps to herself - she has only a few close friends, because not everyone appreciates Sookie's gift: she can read minds.
That's not exactly every man's idea of date bait - unless they're undead - vampires and the like can be tough to read. And that's just the kind of guy Sookie's been looking for. Maybe that's why, when she comes across a naked vampire on the way home from work, she doesn't just drive on by.
He hasn't got a clue who he is, but Sookie has: Eric looks just as scary and sexy - and dead - as the day she met him.
But now he has amnesia, he's sweet, vulnerable, and in need of Sookie's help - because whoever took his memory now wants his life.
Sookie's investigation into what's going on leads her straight into a dangerous battle between witches, vampires and werewolves.
But there could be even greater danger - to Sookie's heart, because the kinder, gentler Eric is very hard to resist. The Sookie Stackhouse books are delightful Southern Gothic supernatural mysteries, starring Sookie, the telepathic cocktail waitress, and a cast of increasingly colourful characters, including vampires, werewolves and things that really do go bump in the night.
Information
Format: Paperback
Pages: 336 pages
Publisher: Orion Publishing Co
Publication Date: 23/07/2009
Category: Fantasy
ISBN: 9780575089426
Free Home Delivery
on all orders
Pick up orders
from local bookshops
Reviews
Showing 1 - 4 of 4 reviews.
Review by littlebookworm
16/06/2015
After the disastrous events in Club Dead, it looks like Bill and Sookie's relationship is officially over. Bill heads on a trip to Peru while Sookie remains in Bon Temps, making a New Year's resolution not to get beat up again. Life doesn't return to normal, however, because on the way home from work Sookie spots Eric running around naked. When she gets him in her car, she realizes that he has amnesia and has no idea who he is. Not only does this new, sweeter Eric fluster Sookie, but she learns that there is a were-witch coven at work who cast this spell on him. Worse, the coven is extremely dangerous. It looks like Sookie may not keep her New Year's resolution after all.Like nearly everyone else who has been reading these books, I have been crossing my fingers for Eric and Sookie to get together. His sex appeal just oozes off the page, and here he's sweet, old-fashioned, and totally perplexed in addition to ridiculously sexy. How can this go wrong?Well, after reading this book, I'm glad that the reviews for the next one promise no romance. Poor Sookie's heart has been totally put through a wringer. Between Bill and Eric, I feel sorry for her! There is also Alcide, who I wouldn't mind having a little more screen time. It doesn't help that her brother goes missing and she is once again stuck helping to save everyone, even though she's not actually anything paranormal herself. It just never ends. Although if it did end, there wouldn't be much of a series! I also was very intrigued by the nearby town that Sookie discovers and its residents. I didn't see that coming at all, but it's an interesting twist and I hope they stick around to wreak a little bit more havoc.Anyway, this isn't much a review, it's more a random collection of various thoughts which have popped into my head. Regardless, I am really enjoying this series! My new library has all the rest of the series and I couldn't be happier. Expect more reviews soon! In the meantime, Dead to the World is another great addition to this series, which I am definitely thrilled I started.
Review by elliepotten
16/06/2015
I must say, I have been very pleasantly surprised by this series so far - and this installment was no different. Sookie's razor-sharp narration has been honed to whiplash proportions, and her dry humour just sparkles. The key players have been thoroughly established by now and sinking into these books is becoming quite the comfortable indulgence - yet there are also new faces to keep the series fresh, the action drags the reader along at a roaring pace, and the twisting threads of love and lust are spicily scintillating. After the wider storylines of the last two novels, set in Dallas and Mississippi, this one was a welcome return to Bon Temps and the familiar local characters. Bill and Sookie are staying well apart - in fact, he's in Peru working on his vampire directory. A coven of powerful witches, with unprecedented triple power thanks to their Were status and taste for vampire blood, have moved into Shreveport with their eye on the vampires' business assets - and their personal ones too. Eric's memory has been hexed into oblivion in response to his rejection of the formidable Hallow, head of the coven. Left uncharacteristically sweet, vulnerable and completely clueless (but still totally gorgeous), it's left to Sookie to take him in and hide him from the witches - with sizzling repercussions... Oh, and Jason's mysteriously gone missing in suspicious circumstances. Just another week in Bon Temps, then!Vampire chick lit may not be everyone's cup of tea, but these are snappy little reads, full of drama, wit, romance and a deft splash of blood, and I for one am having a wonderful time devouring them on my days off! Bring on book five...
Review by Cailin
16/06/2015
This just keeps getting better! I really liked Bill but now I'm beginning to appreciate Eric! It's nice to read the books and watch the show at the same time. Of course this book is not life changing but it is highly entertaining!
Review by CaroPi
27/08/2015
Is probably the most funny book that I had read from the series. In this book the constant is the improbability and I laugh here as I did not with the other books. Is not only funny but it may be the best book of the series, I most admit that Eric still the show with his amnesia and despite several important plots that are quite dramatic here I most admit that the book made me laugh a lot.