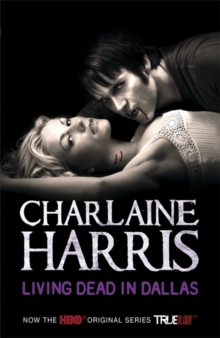 Living Dead in Dallas : A True Blood Novel
Paperback
Description
Cocktail waitress Sookie Stackhouse is having a streak of bad luck.
First her co-worker is killed, and no one seems to care.
Then she comes face-to-face with a beastly creature which gives her a painful and poisonous lashing.
Enter the vampires, who graciously suck the poison from her veins (like they didn't enjoy it). The point is: they saved her life. So when one of the bloodsuckers asks for a favour, she obliges - and soon Sookie's in Dallas, using her telepathic skills to search for a missing vampire.
She's supposed to interview certain humans involved, but she makes one condition: the vampires must promise to behave, and let the humans go unharmed. But that's easier said than done, and all it takes is one delicious blonde and one small mistake for things to turn deadly ...The Sookie Stackhouse books are delightful Southern Gothic supernatural mysteries, starring Sookie, the telepathic cocktail waitress, and a cast of increasingly colourful characters, including vampires, werewolves and things that really do go bump in the night.
Information
Format: Paperback
Pages: 288 pages
Publisher: Orion Publishing Co
Publication Date: 09/07/2009
Category: Fantasy
ISBN: 9780575089389
Other Formats
Paperback from £6.49
EPUB from £4.99
Free Home Delivery
on all orders
Pick up orders
from local bookshops
Reviews
Showing 1 - 5 of 8 reviews.
Previous | Next
Review by deargreenplace
16/06/2015
Living Dead In Dallas: in which Sookie and Vampire Bill do Dallas and the smut stakes are raised.In this second instalment of the Southern Vampire series, Sookie the small town waitress and Bill's relationship is gradually gaining acceptance, both in Bon Temps and Shreveport, where Eric presides over Fangtasia. Unfortunate events are never far away however.One of Sookie's co-workers at Merlotte's is found dead in the car of the local cop Andy Bellefleur, and she is attacked in the woods by a supernatural maenad (a handmaiden of Bacchus who delights in pleasures of all kinds). Then, she and Bill are loaned out (by Eric) to a vampire in Dallas to investigate the disappearance of one of his nest, which brings them into contact with the sinister Fellowship of the Sun, a purportedly religious organisation who are militantly anti-vampire. Sookie's telepathic ability has her in demand for investigations of this nature, and Eric's interest in her intensifies in this book. When Sookie and Bill return to Bon Temps, the town is in the grip of the maenad Callisto (MaryAnn in the TV series) and they have some strange behaviour to decipher.Again there are some differences between the book and the HBO version True Blood showing on TV. The Dallas hotel that Bill and Sookie stay in is named The Silent Shore in the book, while HBO name it Hotel Carmilla in tribute to the gothic vampire story by Le Fanu. We are also introduced to Tara towards the end of this book, whereas she has much more prominence in True Blood. In general, a lot of artistic licence has been taken by HBO as a lot of Living Dead In Dallas is quite different to what we see on screen. I realise I'm late to the party though, and a lot of people will have absorbed the written version of events long before seeing True Blood. One area where I think HBO have made an improvement is in their characterisation of Vampire Bill (what a rubbish name for a love interest, incidentally - Bill?). I'm not yet sure whether this is Charlaine Harris's intention, but he can come across as quite charmless in print. He is incredibly possessive of Sookie, and sometimes treats her like decoration, telling her how to dress when they visit Eric in Shreveport just so that Bill can rub in how she's HIS beautiful human and not Eric's. This is when he isn't busy getting her into bed, which he does a lot. Sookie was a 25 year-old virgin before she met Bill so maybe she finds this objectification romantic in a way. I have no idea. All I know is that in the books, Eric is the more sympathetic vamp of the two, in spite of his cheeky little attempts to lure Sookie away from his rival every two minutes.There are six more books to read in this series, none of which I have to hand at the moment, and the fact that this mildly upsets me should be recommendation enough. Not great literature, but great storytelling.
Review by elliepotten
16/06/2015
Okay, things you need to know:1) I am definitely a 'lustful', romantic, passionate person. It's in the genes - I blame my grandmother.2) Vampires are H-O-T.3) Mixing the two together can be great fun!So you can understand why a series full of adventure, seduction, fangs, blood and lust has managed to drag me in and get me totally hooked after just two books. This one I enjoyed even better than the last one, since I haven't seen Season 2 of True Blood yet so I went into it blind, which wasn't the case with 'Dead Until Dark'. I LOVED every minute of it. Sure, it has its moments of dreadful phrasing and glaring typos, but for pure enjoyment it was just great. A dead body in a car, an ancient missing vampire, a beautiful mad creature stalking the woods, a cult of anti-vampire fanatics... and trickling through the whole thing, one Tall Blond Viking Vampire trying to seduce our fiesty telepathic waitress away from her Southern Gentleman Vampire boyfriend... I have to admit it, I have a major crush on Eric Northman - and am <i>wishing</i> they hadn't changed the storyline of the second season to rule out the possibility of seeing Alexander Skarsgard in those lycra leggings...This series is definitely my new addiction, and I can't wait for my days off next week to hit #3!
Review by PennyAnne
16/06/2015
I will probably eventually read all of these books - they are total trash but fun and nice to give the brain a rest from more serious reading matter. Again, the TV series is much better than the books
Review by classicmaiden
16/06/2015
As much as I loved the first book, I found myself loving the second book even more. Maybe it had something to do with the fact that there was more Eric this time around? Probably!<br/><br/>Unlike in the first book where much of the time was spent in Merlotte's bar, this book takes us on a ride to Dallas. Sookie is hired by Eric, to help a vampire named Stan who has a vampire nest in Dallas. With the help of Bill, she tries to help Stan's vampire nest locate a missing vampire by using her telepathic abilities. While in Dallas, she meets a fellow telepath Barry, whom she can contact from miles and miles away; this turns out to be useful when she finds herself captured by a vampire-hating group called The Fellowship of the Sun, while she is undercover at The Fellowship with another human called Hugo. The telepath Barry gets in contact with her allies the Vampires (Bill, Eric and Stan's vampires), but everything is turning too quickly at The Fellowship and she is in constant danger. <br/><br/>Just in time, she is saved by a shapeshifter called Luna who together with a group of other shapeshifters has been working undercover at The Fellowship for months. Stan's nest is later ambushed by The Fellowship with a gun raid where many humans are killed. It is here that Sookie sucks a bullet out of Eric (after Eric had been laying on top of her, protecting her against the gunshots) and accidently swallows some of his blood, making a bond between the two of them.<br/><br/>After solving and ending the case for Stan's vampire nest, she again goes undercover (at an orgy), this time with Eric, to find out who killed her friend, the cook Lafayette. While undercover, a Maenad pays a visit, making Sookie alert having earlier been injured by the Maenad and because she knows that the Maenad feeds on drunkenness and pride. It is through the Maenads information about how Lafayette was killed and using her telepathic abilities on the humans that Sookie solves the case.<br/><br/>I loved that the book was action-packed with twists and turns and that we learned more about the vampire race in Sookie Stackhouse' world, while at the same time discovering other supernatural beings, like the Maenad! It was nice to discover other shapeshifters besides Sam, as well.<br/><br/>But it was evidently the moments between Eric and Sookie that kept me enthralled; I really look forward to more interactions between the two in future books in the series. It's no secret that I am Team Eric, even though I also love her with Bill at this point in the series. <br/><br/>If you already loved the first book, well, then you're in for a treat with this one; it's a great continuation of the paranormal world of Sookie Stackhouse.
Review by ElaineRuss
16/06/2015
Not as good as the first in the series but not as bad as the 3rd (after which I stopped). <br/>