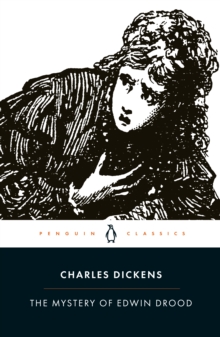 The Mystery Of Edwin Drood,
Paperback
Description
Charles Dickens's final, unfinished novel, and one that has puzzled readers and inspired writers since its publication, The Mystery of Edwin Drood is edited with an introduction by David Paroissien in Penguin Classics. Edwin Drood is contracted to marry orphan Rosa Bud when he comes of age, but when they find that duty has gradually replaced affection, they agree to break off the engagement.
Shortly afterwards, in the middle of a storm on Christmas Eve, Edwin disappears, leaving nothing behind but some personal belongings and the suspicion that his jealous uncle John Jasper, madly in love with Rosa, is the killer. And beyond this presumed crime there are further intrigues: the dark opium dens of the sleepy cathedral town of Cloisterham, and the sinister double life of Choirmaster Jasper, whose drug-fuelled fantasy life belies his respectable appearance.
Dickens died before completing The Mystery of Edwin Drood, leaving its tantalising mystery unsolved and encouraging successive generations of readers to turn detective. This edition contains an introduction by David Paroissien, discussing the novel's ending, with a chronology, notes, original illustrations by Samuel Luke Fildes, appendices on opium use in the nineteenth century, the 'Sapsea Fragment' and Dickens's plans for the story's conclusion. Charles Dickens is one of the best-loved novelists in the English language, whose 200th anniversary was celebrated in 2012.
His most famous books, including Oliver Twist, Great Expectations, A Tale of Two Cities, David Copperfield and The Pickwick Papers, have been adapted for stage and screen and read by millions.
If you enjoyed The Mystery of Edwin Drood, you might like Dickens's Little Dorrit, also available in Penguin Classics.
Information
Format: Paperback
Pages: 432 pages
Publisher: Penguin Books Ltd
Publication Date: 28/03/2002
Category: Classic fiction (pre c 1945)
ISBN: 9780140439267
Other Formats
Paperback from £2.50
Hardback from £9.15
Paperback / softback from £12.95
EPUB from £1.94
PDF from £2.54
Free Home Delivery
on all orders
Pick up orders
from local bookshops
Reviews
Showing 1 - 5 of 6 reviews.
Previous | Next
Review by jwhenderson
16/06/2015
Four years, many speaking engagements, and a trip to America intervened between Charles Dickens' penultimate novel and his final one, The Mystery of Edwin Drood.Ever since his involvement in a train accident in 1865 on his return from France, and perhaps even before, Dickens was ailing with a variety of illnesses, some of which were at least aggravated by overwork and his refusal to reduce his schedule. It was thus in 1869 that he began writing his final novel of which the first six of the originally intended twelve monthly parts were published in 1870. He died in June of that year with the mystery unfinished.Edwin Drood begins in an opium den and the air of mystery that surrounds that venue grows as the story progresses. At the center of the story is Edwin Drood, his fiancee Rosa Budd, his uncle John Jasper, Canon Crisparkle, and the Landless twins, with others to numerous (as was Dickens' way) to mention. The style is fresh and new for Dickens, especially when contrasted with the heavier more convoluted style of Our Mutual Friend which immediately preceded it. The first half of the story introduces conflict and doubt for the young Drood and we see glimmers of danger headed his way in the remaining finished sections. Although incomplete, the novel has appeal and is well worth reading.
Review by upstairsgirl
16/06/2015
If you'd told me 20 years ago I'd find a Dickens that I didn't want to end, I'd have laughed myself sick, but here it is. Dickens's final, unfinished novel centers around the mysterious disappearance of a young man who's recently both broken up with his fiance and fought with one of her other admirers. The Penguin Classics edition has extensive introductory material and appendices that go into exhaustive detail about what Dickens's plans for the novel are known to have been, using his own notes and reports of conversations he had with his illustrator. There's a helpful appendix on opium usage in England as well that explains some of what Dickens is likely to have been thinking about when creating the character of Jasper Johns. The half-novel itself is, as always, very funny and very tightly plotted; it's a pity that Dickens did not live long enough to finish the story, because it would undoubtedly have been excellent, and I'd love to know how he meant to tie all of the pieces of the mystery together in the end. (The extra material in the Penguin edition hints at how this might have been done; as usual I wish I'd left the introductory material for after I read the story, as Penguin introductions tend to give away too much.)
Review by samfsmith
16/06/2015
This is Dickens' last unfinished novel. My cunning plan is to read this, then read some of the many novels that attempt to finish the novel for Dickens, or deal with the end of Dickens life. Any excuse to read more books!Actually, even though the novel is unfinished, it's a satisfying read. Edwin Drood disappears. He is a young, happy-go-lucky, man who was engaged in an arranged marriage. Just as Edwin and his fiance break off their engagement, he disappears. Public suspicion falls on a friend of his, another young man. But all clues tend to point to his uncle Jasper, who seems obsessed with Edwin's fiance. Jasper is also a secret opium addict, smoking it in the opening scene in a den in London.No one knows where Dickens intended to take the novel. Is Edwin really dead? Or has he just disappeared because of the termination of his engagement? We'll never know, but that hasn't stopped other writers from speculating.
Review by jasonlf
16/06/2015
Once again presumptuous to rate the book. But even by Dickens' standards this would merit five stars. Perhaps the biggest frustration is the title, wishing to know whether or not it is actually a mystery -- with my reasonably strong money being on the fact that it is not. I think it was Our Mutual Friend with the preface saying something like don't congratulate yourself on solving the mystery -- it's not supposed to be one. Either way, John Jasper is a worthwhile addition to the canon of characters, as are about a half dozen others in this novel that begins and essentially ends in an opium den. 
Review by Clair.dLune
16/06/2015
The ending would have been GREAT!