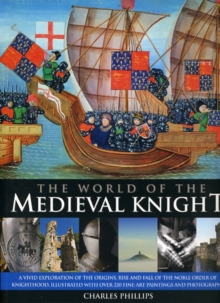 The World of the Medieval Knight
Paperback
Description
This is a vivid exploration of the origins, rise and fall of the noble order of knighthood, illustrated with over 220 fine art paintings and photographs.
It covers every aspect of the role of knights in feudal Europe: their nobility, social status, military exploits, and responsibilities and privileges.
It gives a detailed insight into the life of a medieval knight, the importance of oaths and alliances, the fiefdoms and castles won or granted, the rigorous training, and the formation of knightly orders and the code of chivalry.
There are special sections that cover the most revered and honoured knights of the time, including the historical figures of Charlemagne, Richard the Lionheart and Edward the Black Prince.
This book travels back in time to the intriguing middle ages, one of the most violent and turbulent periods in English history, to explore the world of a medieval knight.
Delving into the origins of knighthood, the book reveals the long and arduous training and education that noble born sons underwent. With an accessible text, beautiful fine art images, and an intelligent examination of how the role of the knight declined, this captivating book enlivens the world of medieval chivalry, portraying in vivid detail the castles, battles, tournaments, honours and triumphs of these legendary heroes.
Information
Format: Paperback
Pages: 128 pages, 220 colour images
Publisher: Anness Publishing
Publication Date: 28/06/2010
Category: European history
ISBN: 9781844768646
Free Home Delivery
on all orders
Pick up orders
from local bookshops