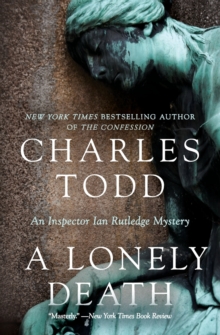 A Lonely Death: An Inspector Ian Rutledge Mystery
Paperback
Description
A breathtaking blend of psychological complexity, haunting atmosphere, compelling twists, and impressive detail, the novels in the "Ian Rutledge" mystery series have garnered their author widespread acclaim and numerous honors and awards.
At the heart of the series is the compelling Scotland Yard detective inspector Ian Rutledge, a veteran of the Great War who understands all too well the darkness that lies within men's souls.
Now three men have been murdered in a Sussex village, and Scotland Yard has been called in.
It's a baffling case. The victims are soldiers who survived the horrors of World War I only to meet a ghastly end in the quiet English countryside two years later.
Each had been garroted, with small ID discs left in their mouths.
But even Scotland Yard's presence doesn't deter this vicious and clever killer.
Shortly after Inspector Ian Rutledge arrives, a fourth soldier is found dead.
With few clues to go on and the pressure building, Rutledge must gamble everything - his job, his reputation, and even his life - to find answers.
Information
Format: Paperback
Pages: 368 pages
Publisher: HarperCollins Publishers Inc
Publication Date: 20/12/2011
Category: Crime & mystery
ISBN: 9780061726200
Free Home Delivery
on all orders
Pick up orders
from local bookshops
Reviews
Showing 1 - 2 of 2 reviews.
Review by cameling
16/06/2015
When 3 men in the same village in Sussex are garrotted and left with old army tags in their mouths of soldiers in WW1, but there are no witnesses and no weapons, Inspector Rutledge is called in to investigate. Still suffering from PTSD himself and having received news that his best friend had just killed himself, Rutledge isn't long in Sussex before another man is killed in the same fashion, with a similar item left in his mouth too. What could the motive possibly be for killing these men, and can he find the murderer before he kills again?Together with the spirit of Hamish, a soldier he feels responsible for having died in the war, Rutledge tenaciously pieces together whatever clues he can uncover, even when it's clear someone is trying to remove him from the case altogether.
Review by jzdro
16/06/2015
This is the one in which it is revealed that "Rutledge's hearing was acute, but Hamish's had always been far sharper," on the occasion when Hamish tells Rutledge where the bad guy is, thereby saving Rutledge's life again. O angst! And this is the one in which a lone child inadvertently kills an evil adult, thereby preventing that adult from ever harming anyone again, while a bunch of children harm a lonely child, and no one stops them, causing the lonely child to grow up and coldly murder several people in revenge. Also, a dog conducts an interrogation. And finally, we infer that the authors read their Sayers. Too bad their policeman did not employ the Sayers technique earlier in this story, and widely, thereby preventing a bunch of murders and catching the bad guy sooner. Let's blame that on the interfering Inspector Mickelson, and keep reading the series.