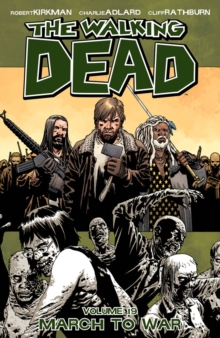 The Walking Dead : March to War March to War Volume 19
Paperback
Description
The world we knew is gone. The world of commerce and frivolous necessity has been replaced by a world of survival and responsibility.
An epidemic of apocalyptic proportions has swept the globe, causing the dead to rise and feed on the living.
In a matter of months society has crumbled: no government, no grocery stores, no mail delivery, no cable TV.
In a world ruled by the dead, the survivors are forced to finally start living. Rick. Ezekiel. Gregory. Negan. Each man holds the fate of their community in their hands...and WAR is on the horizon!
This volume collects THE WALKING DEAD #109-114, the prelude to ALL OUT WAR-the epic battle that will change the world of THE WALKING DEAD for years to come
Information
Format: Paperback
Pages: 136 pages, illustrations
Publisher: Image Comics
Publication Date: 19/11/2013
Category: Fantasy
ISBN: 9781607068181
Free Home Delivery
on all orders
Pick up orders
from local bookshops
Reviews
Showing 1 - 5 of 6 reviews.
Previous | Next
Review by dougcornelius
16/06/2015
More zombies and more bad guys. But now the real threat is defending against the bad guys.
Review by Othemts
16/06/2015
As noted in my review for volume 18, The Walking Dead series too often forces the drama by having the survivors in violent conflict with one another and all too often with a sadistic bully who is using the zombie apocalypse as an excuse to make a personal fiefdom. I think there are more possible stories to be told of survival and adapting to the new world, but here we have a whole volume with preparation for war, with the upcoming two volumes dedicated to the war itself. Sigh. I guess in a way, The Walking Dead shows the post-apocalyptic world is a lot like our own after all.
Review by Y2Ash
16/06/2015
This had a nice cliffhanger and Nagen is that good kind of crazy. But still insane. His personification of Lucille is unstable and creepy but hilarious. I am liking Paul a.k.a. Jesus. He's like a ninja.
Review by DeltaQueen50
27/08/2015
Picking up this series again is a little like greeting an old friend, but an older, tired friend that has run out of steam and is just going through the motions. Over the course of many books the actual walking dead have become background as the survival aspect now seems to rely upon the extreme violence inflicted by living people on other living people. They have killed off many of my favorite characters and the heart just seems to be gone from this story. But, I am not yet ready to drop the series and so I have quickly ordered a few more to see if I can recapture some of the excitement I used to feel over this series. In this issue, war is being planned. And Rick is making alliances with two other groups with the object of taking out Negan's group but before they are ready Negan comes visiting and Rick sees a chance to get rid of him and jumps the gun. This action has dramatic consequences, with the most serious being that now Negan and his people are forewarned that an attack is coming.
Review by 4everfanatical
27/01/2016
Another great volume.<br/><br/>Rick has been hard at work trying to get the upper hand by uniting The Hilltop, The Kingdom and the Community. but Negan is more prepared than he ever imagined and stuff just got way more complicated...<br/><br/>I absolutely love Negan, guy is hilarious and provides much needed comic relief from Rick who is depressingly serious all the time. Carl has impressed me with his tenacity once again, and the tiger is growing on me. Can't wait to read what happens next in the War installment - I wonder if everybody ends up dying. I can't wait to see the demise of Negan or Rick... However this plays out.