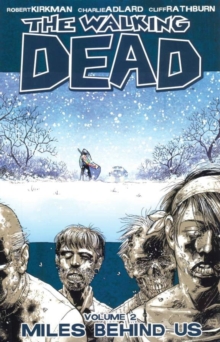 The Walking Dead : Miles Behind Us
Paperback
Description
*The world we knew is gone. The world of commerce and frivolous necessity has been replaced by a world of survival and responsibility.
An epidemic of apocalyptic proportions has swept the globe, causing the dead to rise and feed on the living.
In a matter of months society has crumbled: no government, no grocery stores, no mail delivery, no cable TV.
In a world ruled by the dead, the survivors are forced to finally start living. *Reprint Edition
Information
Format: Paperback
Pages: 136 pages, illustrations
Publisher: Image Comics
Publication Date: 20/12/2006
Category: Horror & ghost stories
ISBN: 9781582407753
Free Home Delivery
on all orders
Pick up orders
from local bookshops
Reviews
Showing 1 - 5 of 11 reviews.
Previous | Next
Review by aethercowboy
16/06/2015
I have to admit, my first impression upon opening the second volume of the Walking Dead series was "what happened to the drawings?" They're different. Moore no longer contributed his careful and beautiful drawings to these bloodthirsty, ravenous ghouls.But as I read the story, I realized that it wasn't entirely about the art. It was mostly about the writing. Adlard and Rathburn contributed drawings that, while nowhere near as detailed and amazing as Moore are otherwise good for conveying the story to the reader.In volume two, the survivors, post battle in which some of their number die, decide to press on. They look for other survivors as well as a place to survive. They encounter a former football player, his daughter, and her boyfriend. These folk are added to the group, though distrust lingers in the air.The find themselves at a nice, gated community. The ground is covered in snow, and it couldn't look more inviting. It's getting late, so they decide to spend the night in a few of the houses, and then in the morning, they'll clean them out of any lingering undead, and divide them up, living in an extremely safe community behind a sturdy gate.The sun comes out the following morning, melting the snow, revealing a sign that would have told them immediately that this was a bad idea.They escape, suffering more casualties, and make their way further until they get to a farm. There, the farmer (a veterinarian) and his children live in relative peace. Though when asked why they can't use the barn as sleeping quarters, the survivors find out that not everything is as bucolic as it would seem.Kirkman knows how to write a story that you just never want to end. He adds new, three-dimensional characters every once in a while so the number of survivors doesn't always approach zero as time approaches infinity. There are currently nine volumes of this series available in bound editions, and from what I've read, I think that all nine will be worth the time and money spend acquiring and reading them.The Walking Dead series will appeal to you if you're a fan of the classic zombie (that is, a zombie that is incapable of moving faster than a shamble). It goes along well with books by authors like Max Brooks, and films by directors like George A. Romero.
Review by briandarvell
16/06/2015
Continuing from the first book I was overall impressed with the story but thought it a bit too heavy on the relationship side of things. Also, I noticed early on the artwork was not quite as polished as it was in the first volume. Likely due to the artist being a different person now. Not quite as good as the first volume but the ending leaves a really interesting cliffhanger which makes me really want to read the next book.
Review by Bookworm247
16/06/2015
**Spoiler Alert** Ok, I hate/have to be nit-picky about some of things that happened in this book.This book continues where the last one left off. They are trying to survive in a zombie-filled world.The cons: I really didn't care too much for the soap opera drama. It's was "Omg, Who is going to hook up with who?" I thought it over-shadowed what the book is supposed to be about, zombies. If I want soap opera drama, I'll watch Days of Our Lives.One of the hook ups was Andrea and Dale. I absolutely didn't like that. In the first book, and in the TV series, I thought of them more like a father/daughter type relationship. This was almost incestuous.Rick and Lori. Geez, Who put this couple as the head cheese? They must have thought the farmhouse was gold.They had to go to this farmhouse, because their son was accidentally shot. Hershel patched up their boy, and told them they could stay until the son recovered. Then the inevitable happened, zombies being kept in the barn got out. They attacked, and killed 3 of Hershel's children.The day after, Lori and Rick wanted everyone from the rv to be moved into the house, in the very room that was Hershel's sons' bedroom.(Sorry for the rambling, but this is important to my con.)Of course, Hershel refused, telling them he told them their stay was only temporary and the food would never last with that many people, and he had to think of his surviving children.Rick and Lori should have been grateful their son was alive, and that they had a place to sleep peacefully if only for the recovery time.And let's not forget that big meal Hershel made....They should have been grateful for what Hershel did for them, instead of expecting more, more, more. He COULD have turned them all away right after the boy was patched up.Another con, Lori is pregnant. Whether it's Rick's baby or Shane's, there should have been better precautions taken. I realize birth control isn't readily available but there are other ways of preventing pregnancy....Pro: The artwork is amazing. And like with a soap opera, I love a good cliffhanger. :)I'm anxious to see what happens in the third book.(I apologize for the rambling and the b****ing....) =)
Review by suzemo
16/06/2015
This is a decent follow up to the first volume and I look forward to reading more.
Review by Tanya-dogearedcopy
16/06/2015
IThere are zombies on the cover of The Walking Dead: Volume 1: Days Gone Bye and; there are zombies inside the graphic novel; but this isn't really a zombie tale so much as it's a survival tale. In "Days Gone Bye," the focus is on the human element whereas the zombies are incidental. Rick Grimes, a police officer shot in the line of duty, wakes up from a coma in the hospital. He wakes to an abandoned facility, town, home, and basically, life as he knew it. Something has happened and now the the landscape is littered with zombies, alive-dead and dead-dead. His first instinct is to retain his civilized sensibilities and to reinforce his identity as an authority figure. He makes his way to the police station, dons his spare uniform, metes out guns and ammo to the first survivors he meets, grants them the use of a police cruiser and admonishes them to keep an eye out on his place while he heads in to Atlanta, GA. Even as he exits Cynthiana, KY, there are subtle cracks in his civilized veneer. Eventually, Rick ends up in an encampment of people who tried to make for the safety of the city but were too late to make their way in. At camp, the need for food, clean clothes and, secure shelter takes precedent over the social ethics of their former lives. Various members of the group each try to retain their individuality while trying to adapt to a group dynamic.<br/><br/>Very little is discovered about the zombies in "Days Gone Bye." People die, they come back to an animated state. They bite people and the newly bitten become zombies in turn. The zombies here operate purely on an animal level of survival, apparently having the ability to smell and hear, all in the pursuit of something to eat. In "Days Gone Bye" the difference between the zombies and the survivors is clear, if only by degrees and speed. We'll see how long this lasts :-/<br/><br/>Excepting the cover, the artwork in "Days Gone Bye" is black-and-white. The survivors are drawn with near cartoonish qualities: outlines without a lot of facial subtleties, many wide-eyed expressions and near comical distortions of the mouth. The zombies are consistently drawn with more detail and realism. Go figure. Because the panels are b&amp;w, the integrity of the panels rests on the composition of the shots and ergo the gray tones or ink washes applied. Some are more difficult to execute than others (a scene around a campfire at night while snow falls vs a single head shot against a blank background) and Tony Moore and Cliff Rathburn met the challenges with varying degrees of success. A panel showing Rick and Glenn on a fire escape displays sophisticated layers and tones; but other scenes (e.g. Rick and Lori talking outside their tent) show less artful effort. [I do not know either Tony Moore's nor Cliff Rathburn's work well enough individually to be able to assess the handiwork of either's effort, only the combined effect in this volume.] In a couple of panels, characters were difficult to distinguish from each other. In a long shot, two characters are speaking; but there is not enough detail to determine who and, in another panel, I had to look very closely across several pages and, by the process of elimination, figure out who was speaking.<br/><br/>The artwork is better than in "Days Gone Bye," though the ideas expressed in them are often more sophisticated than the medium itself.<br/><br/>Redacted from the original blog review at dog eared copy, The Walking Dead: Volume 2: Miles Behind Us, 10/15/2011; Updated on 05/08/2012 with a captioned illustration and small text edits