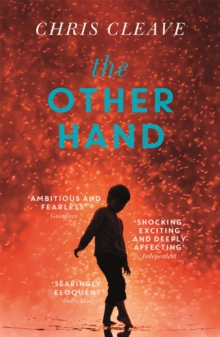 Description
Shortlisted for the Commonwealth Writers' Prize and Costa Novel of the Year, this international bestseller has become a reading group classic. We don't want to tell you too much about this book.
It is a truly special story and we don't want to spoil it.
Nevertheless, you need to know something, so we will just say this: It is extremely funny, but the African beach scene is horrific.
The story starts there, but the book doesn't. And it's what happens afterwards that is most important.
Once you have read it, you'll want to tell everyone about it.
When you do, please don't tell them what happens either.
The magic is in how it unfolds.
Information
Format: Paperback
Pages: 400 pages
Publisher: Hodder & Stoughton General Division
Publication Date: 05/02/2009
ISBN: 9780340963425
Free Home Delivery
on all orders
Pick up orders
from local bookshops
Reviews
Showing 1 - 5 of 9 reviews.
Previous | Next
Review by wendyrey
16/06/2015
If you looked at a synopsis of this book you wouldn't want to read it - sound both implausible and depressing but it is riveting and engaging of the don't want to put it down, stay up later than you should type.Well worth reading
Review by DubaiReader
16/06/2015
Worth a read. This is a book with a powerful message, in spite of the valid criticisms of other reviewers here.I agree that the conversation was clunky at times and parts of the storyline were a bit unbelievable (especially the end), but I did enjoy the book as a whole and the idea behind it was excellent.Having read the evasive bumf on the back cover, I'm not sure how much of the story I'm allowed to relate. I actually thought that the embargo on the content of the book was a bit unnecessary and even off-putting. It was a much more powerful tool in Boy in the Striped Pyjamas.So if you don't want to know about the book - stop reading now.**Spoilers**The central character was Little Bee, a refugee from Nigeria. She has seen things back home that people want to keep hidden, if she returns she will be killed. The only person she knows in UK is Sarah, a magazine journalist with problems of her own. She goes to stay with Sarah and is wonderful with Sarah's son Charlie, alias Batman. Little Bee is brilliantly portrayed, Sarah slightly less so, but I wasn't endeared to her husband, Andrew or her boyfriend. I also had a problem with the language soken by 4 yr old Charlie, I child-mind a two-year-old who has a better understanding of grammar.I was sorry the three characters Little Bee left the assylum with were not used more, especially Yvette.Well worth a read, with subject matter that needs to be raised and discussed.Recommended, with reservations.Please note the American version of this book sells under the title of Little Bee - don't make the mistake of buying the same book twice :)Your Tags: immigrant, asylums
Review by laphroaig
16/06/2015
The cover of "The Other Hand" promises a great deal, that "it is a truly special story" and "once you have read it, you'll want to tell your friends about it ... the magic is in how it unfolds". So it is not a story which could be accused of being bashful, and this is unfortunate given that greater modesty would be more than just polite, but appropriate."The Other Hand" follows the story of Sarah, a fashion magazine editor and Little Bee, a Nigerian immigrant. Having met once, many years previously, their lives intersect again. Those expecting mind-warping plot twists in the style of "The Crying Game" or "Life of Pi" will be disappointed; the plot is essentially vanilla although it is nicely written with some interesting dialogue. The characters, though, are the let down. Little Bee and her fellow immigrants are all interesting, although there is little to them beyond the fact that they are good people, tragic, and with a handful of striking traits. The westerners, though, are awful. Sarah, the second main character, is a successful, sassy London professional; she belongs in a chick-lit novel. She is, of course, bored of her massive house, loyal husband, evident wealth and job editing an "edgy" woman's magazine; despite her much-heralded strength and independence she spends most of the novel being propped up by Little Bee, between which she makes various mistakes so fundamental that it is hard not to think of her as a little bit slow (she doesn't realise there's conflict in the Niger Delta, yet at the same time she's constantly trying to introduce edgy current affairs pieces into her magazine). The characters get worse from there."The Other Hand" deals with the very serious issue of asylum, but that does not make it a serious novel. It lacks subtlety, from the initial opening letter by the editor (a story as special as "Schindler's Ark", apparently) to the broad brush of its characters to the notes directing the reader to dictionaries of Nigerian patois. Although well written and well intentioned, this novel's high self-regard needs a healthy dose of realism.
Review by van-vinos
16/06/2015
I never really expected to like this book, but what a book! I found myself getting up in the middle of the night to continue reading. It really is heart-breaking and it will stay with you long after you finish it. I still think about it now.
Review by Mumineurope
16/06/2015
Atrocity in Africa clashes with Uk suburbs