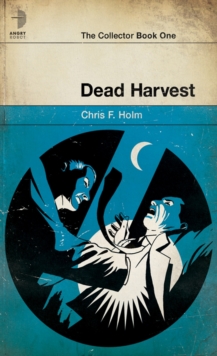 Description
Sam Thornton's job is to collect the souls of the damned, and ensure their souls are dispatched to the appropriate destination.
But when he is dispatched to collect the soul of a young woman he believes to be innocent of the crime which has doomed her to hell, he says something no collector has ever said before. 'No'.
Information
Format: Paperback
Pages: 320 pages
Publisher: Watkins Media
Publication Date: 17/02/2012
Category: Crime & mystery
ISBN: 9780857662170
Free Home Delivery
on all orders
Pick up orders
from local bookshops
Reviews
Showing 1 - 1 of 1 reviews.
Review by shanaqui
16/06/2015
Mmm, this was awesome. I love the cover, for a start -- I love that everything about it announces that it's a pastiche/homage/[whatever word is right] of noir crime fiction like that of Dashiell Hammett and Raymond Chandler. The title makes that completely obvious (Dead Harvest = Red Harvest, if you didn't get that), as does the name of the main character (Sam as in Sam Spade, Thornton as in Raymond Chandler's middle name), and I think the style works too. I think a lot of that is lost on some readers, but for me it just added to the genius of the whole thing.There's never going to be anyone that can do Chandler as well as Chandler, but Sam makes a decent shop-worn Galahad on his own account. I'm intrigued by the world, and interested to see more of the angels -- the demons don't seem that unusual, apart from Veloch, but the angels... I'm thinking of Supernatural, and Good Omens. After all, "angels aren't always the good guys" is a plot both SPN and Good Omens have done, and "trying to kickstart the apocalypse" is Good Omens, and then the involvement of Lilith and...Anyway, I'm interested to see how it develops. It took me a while to get into the swing of how much gore there'd be, but I found it pretty compulsive reading. I'm really glad I've got The Wrong Goodbye around to read, and an ARC of The Big Reap. Gotta love Angry Robot -- this is definitely a winning series for me. Tremendous fun.
Also in the Angry Robot series | View all