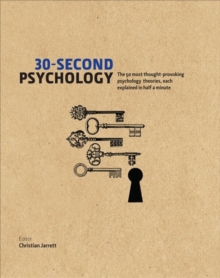 30-Second Psychology : The 50 Most Thought-provoking Psychology Theories, Each Explained in Half a Minute
Hardback
Part of the 30 Second series
Description
The key ideas in Psychology explained, with colour illustrations, in half a minute.
Pavlov's Dogs, Psychoanalysis, Milgram's Obedience Study, and Beck's Cognitive Therapy?
Sure, you know what they all mean. That is, you've certainly heard of them. But do you know enough about these psychology theories to join a dinner party debate or dazzle the bar with your knowledge? 30-Second Psychology takes the top 50 strands of thinking in this fascinating field, and explains them to the general reader in half a minute, using nothing more than two pages, 300 words, and one picture.
The inner workings of the human mind will suddenly seem a lot more fun, and along the way we meet many of the luminaries in the field, including William James, Aaron Beck, and (of course) Sigmund Freud.
From Behaviorism to Cognitivism, what better way to get a handle on your inner demons?
Information
Format: Hardback
Pages: 160 pages, illustrations
Publisher: Icon Books Ltd
Publication Date: 21/06/2011
Category: Popular psychology
ISBN: 9781848312616
Free Home Delivery
on all orders
Pick up orders
from local bookshops
Reviews
Showing 1 - 1 of 1 reviews.
Review by adpaton
16/06/2015
You know how when you're late there's always a really good reason for it, unlike other people's tardiness, which is due entirely to the fact they are careless and slipshod in their planning? And of course you also know, deep down, that you are just a little bit [or maybe even a lot] superior to the average human being?If you've given up smoking, then you certainly deserve that extra slice of cake as a reward and who, when encouraged by someone in authority, does not allow a little of the sadist to appear when told to punish other people? What you don't know is that there are terms for all these personal attitudes and perceived aptitudes; what's more, thanks to this excellent and fascinating book, you no longer have to plough your way through years of psychology to understand the various theories. The Fundamental Attribution Error, the Lake Wobegon Effect, Baumeister's Ego Depletion, and Milgram's Obedience Study refer to the conditions above, which – along with 46 other propositions - are concisely and convincingly explained by a panel of contributors. Every page contains a brief definition and boxes containing information such as '3-second psyche', '3-minute analysis', 'related theories', '3secomd biographies' and '30 second text'. The book also contains an invaluable glossary of psychological terms and short, cogent biographies and time lines for some of the most influential figures in the field, a brief bibliography and a list a relevant websites. Interesting, educational and entertaining, 30-Second Psychologies is a must read even if [or perhaps especially if] you view psychology with contempt as a pseudo science and psychologists as 'shrinks': you might think you know better, but actually that's just the Lake Wobegon Effect clouding your judgment!