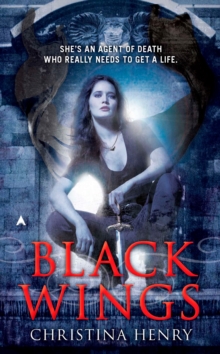 Black Wings: A Black Wings Novel Book 1
Paperback
Information
Format: Paperback
Pages: 304 pages
Publisher: Penguin Putnam Inc
Publication Date: 30/11/2010
Category: Romance
ISBN: 9780441019632
Free Home Delivery
on all orders
Pick up orders
from local bookshops
Reviews
Showing 1 - 5 of 25 reviews.
Previous | Next
Review by UrbanFantasyGuy
16/06/2015
I have nothing but good things to say about this novel. It's about a woman called Maddy who is an Agent, a person who escorts souls of the dead to the "door" to make their choice. The mythology in this book mainly revolves around angels, demons, and nephilim. There are mention of vampires, werewolves, faeries, etc but I believe that is just set up for future novels as there are none in this one. Throughout the book Maddy is learning to control her new found magical powers and constantly getting her butt kicked, and occasionally kicking some butt herself. The best part of this book is her best friend and protector Beezle, a gargoyle. Beezle provides great comic relief all throughout the book and is definitely what moves this book from 4 stars to 5. I'm looking forward to the next novel to see how much more trouble Maddy can possibly get into.
Review by pollywannabook
16/06/2015
Review courtesy of All Things Urban FantasyGrim Reapers may just be the new vampires. Consider all the books released this year with protagonists whose abilities were escorting/interacting with ghosts. Even just the ones reviewed here on ATUF: Death Most Definite, Deception, Embers & Sparks, Shade, The Downside Ghosts series…and now BLACK WINGS.The mythology was my favorite part of BLACK WINGS. Imagine the Office Space version of the Grim Reaper business, complete with the boss from hell and more paperwork than even Lumbergh requires. Help a soul move on, then back to the office to fill out the forms in triplicate. Grim Reaping isn't all bad though, you get some wicked looking concealable black wings and invisibility powers. But being a Grim Reaper isn't Maddy's only problem. She's suddenly come into a new set of powers that she can't control or explain, and a bunch of demons want her dead for reasons that shock her (and delighted me).The story was a nonstop action blast full of smart-alecky gargoyle guardians, devilishly handsome (and enigmatic) love interests, arrogant demons, wicked witches, and more jaw dropping revelations than a Jerry Spinger show. I barely had time to catch my breath between chapters, but it never felt like overkill.My only complaint, and it's kind of a biggie, was with Maddy. She's thirty-two years old, but most of the time she acted closer to fifteen. Outbursts of temper were common place and she often had a shallow response to what should be very traumatic events. She bounced from one dangerous situation to the next and didn't have the common sense to keep her mouth shut even though several lives depended on her. Maddy's immaturity aside, I really did like BLACK WINGS. The story was fantastic and the Grim Reaper/Demon mythology was top notch. The next Madeline Black book, BLACK NIGHT, will be out in Autumn 2011, and I'm already anticipating another excellent read.Sexual Content: Kissing. References to sex. References to rape.
Review by ylin.0621
16/06/2015
Maddy is an agent of death who helps and guides souls to the 'door'. Her job doesn't help pay the bills, but luckily there's a new tenant whose rent will. The tenant, however, may bring more than what Maddy wants right now.Black Wings, I need to get this off my chest, needs a family tree. Oh boy, I was considering stopping midway, reread everything all over again and just plot everything out myself. This angel comes to earth has this many children whose names are so-and-so and those children has this many children named so-and-so and they never age so they continue to have babies and now the question is: Is everyone related to each other in some twisted way? I tried connecting the dots, but I'm 99% sure that no one really cares except for me because it's pretty irrelevant and doesn't pay a huge role that will make people go "ew".So Maddy is a kick-butt heroine who can easily defend herself against demons, mean bosses, and the occasional grumpy gargoyle. (Who, by the way, is that comical relief character that I always love to read in these types of novels.) She is the somewhat typical heroine that I am finding in fantasy novels: independent, strong willed, and powerful. I can't say that it's a bad thing since if she was a winy, dependent, clueless character I would probably pull all my hair out by now. Maddy is a well-likable character who isn't afraid to get dirty and a little mean.I find the world that the novel builds, while confusing sometimes (it's always the names that get me), was creative and definitely shows the author's effort. There's the present world and the past world that readers' discover through Maddy's visions that blend well together. It was the back bone of the story without having to go through the whole ordeal of long-winded speeches. The collided of the two worlds was impressive as one expected when facing fallen angels and meeting your father for the first time. The resolution and climax was done in a fashion that left me with no qualms *insert smiley face*. A little love story never hurts either.Speaking of love! Oh la la la. The tragic love story of Romeo and Juliet is an ongoing concept throughout the novel. Let's just say some of these guys are yummy (if they can keep their mouths shut between you and me). A smidge on the fast pace for one potential relationship, but nonetheless, enjoyable to follow.However, there were definitely times that I questioned how something happened. More in the controlling power sense than plot-wise sense. It's the finer details that seem to kill me with novels.Black Wings was one of the better beginnings to a series that hit every point that it needed to hit. This is a series that I plan to continue and will continue to enjoy if Christina Henry maintains this caliber of writing.
Review by DarkFaerieTales
16/06/2015
Quick & Dirty: A strong urban fantasy debut that delivers gritty, action-packed scenes, and a great cast of characters.Opening Sentence: I hate it when a soul goes all stubborn on me.The Review:For an agent of the grim reaper, Madeline "Maddy" Black leads a pretty boring life. Her direct report requires an endless stream of TPS reports, which is the bane of every agent's existence. Like many other corporate drones, Maddy's job doesn't really give her much time to cultivate romantic relationships. The only male companion cuddling up to her and eating popcorn is her loyal gargoyle, Beezle. Strapped for cash and having difficulties making ends meet, Maddy begins searching for a new tenant for her downstairs apartment. As luck would have it, Gabriel Angeloscuro is in need of a place to stay. Just when Maddy thinks she's caught a break, a vicious beastie darkens her doorstep and things turn ugly. Maddy begins her journey to discover her dark powers and uncover the secrets of her family history with the help of Beezle and Gabriel.Black Wings is a fantastic addition to the urban fantasy genre. Solid characterization, fast-paced action, a great plot and a loveable gargoyle sidekick make this one of 2010's best reads. Ms. Henry dishes up a gritty blend of suspense, intrigue and action. Set in a supernatural alternate Chicago amidst powerful and deadly supernatural beings, it's not easy to survive on these mean streets.Madeline Black is a great new urban fantasy heroine. She's sympatric and vulnerable, but still tough as nails. While she isn't always practical and can be somewhat immature, she adapts well as events unfold. Beezle is one of the coolest urban fantasy sidekicks ever. This popcorn and chocolate loving gargoyle may not be very big, but he's a handful. Grumpy one minute and snarky the next, you just never know what he's going to say. Beezle is fiercely loyal and protective where Maddy is concerned. They have a great relationship, which is so important to Maddy because she doesn't have anyone else to rely on. Gabriel's identity and past are somewhat predictable, but it didn't detract too much from his depth. The dynamics of Gabriel's and Maddy's relationship are complicated. They share great chemistry, but there's no denying that a dark cloud is hanging over them and doom is just around the corner.Overall, Black Wings is an impressive debut. Despite some urban fantasy predictability, there are plenty of twists and surprises to keep you guessing until the very end. So take flight with Black Wings. I for one can't wait for the sun to set on the next installment, Black Night.Notable Scene:The last vestiges of the glamour fell away just before his body went up in flames with the frightening rapidity of a nuclear blast. I saw a seven-foot demon, red-skinned and bat-winged, looking like a Dore engraving from Paradise Lost. He howled in rage one moment, and the next instant, he was gone. Nothing remained except a scorch mark on the walkway.I lay there for a few moments, wondering what had just happened, who had rescued me and how on earth I was going to get back up the stairs when I felt like I'd been boxing with a rhinoceros.As I looked up in the sky and contemplated these things, I finally noticed that a thick black fog had surrounded my property. It was as if the house had been encased in an opaque bubble. Now that the creature was gone, the fog slowly dissipated. At least that explained what I had perceived as lack of caring on the part of my neighbors. They hadn't been able to see the big nasty kicking the crap out of me.The Madeline Black Series:1. Black Wings2. Black NightFTC Advisory: The author provided me with a copy of Black Wings. No goody bags, sponsorships, "material connections," or bribes were exchanged for my review. In addition, I don't receive affiliate fees for anything purchased via links from my site.
Review by TheLibraryhag
16/06/2015
Madelaine (Maddy) Black is an Agent of Death. It is her job to separate the soul from the body and lead the to the Door. But she has to have a way to make money so she does several things including renting the apartment on the first floor of her house. When the charming Gabriel shows up to rent the apartment, strange and dangerous creatures start stalking Maddy and her frients. Not only that, but Maddy starts developing some strange and dangerous powers. CouldL all this have to do with the father she never knew?I really enjoyed this book. Maddy is a stubborn, tough cookie. But she is loyal and her heart is in the right place. The book has humor, love, twists and turns, and lots of fighting. It is a bit bloody in parts, but not so much. Really looking forward to the next in the series.