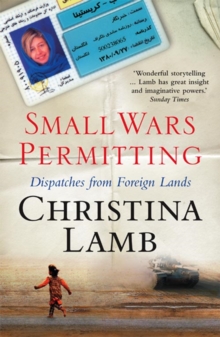 Small Wars Permitting: Dispatches from Foreign Lands
Paperback
Description
An extraordinary collection of reportage that tells the story of some of the most important world events of the past 16 years, from one of the most talented and intrepid female journalists at work today.
Since leaving England aged 21 with an invitation to a Karachi wedding and a yearning for adventure, Christina Lamb has spent 20 years living out of suitcases, reporting from around the world and becoming one of Britain's most highly regarded journalists.
She has won numerous awards, including being named Foreign Correspondent of the Year a remarkable four times. 'Small Wars Permitting' is a collection of her best reportage, following the principal events of the last two decades everywhere from Afghanistan to Zimbabwe.
But Lamb's main interest has always been in the untold stories, the people and places others don't visit.
Undaunted by danger, disease or despots, she has travelled by canoe through the Amazon rainforest in search of un-contacted Indians, joined a Rio samba school to infiltrate crime rackets behind Carnival and survived a terrifying ambush by Taliban. No less remarkable are the characters that Lamb meets along the way, from Marsh Arabs who covet Play Stations instead of buffaloes to an Armenian compere for performing dolphins with whom she travelled during the war in Iraq.
Lamb's writing is passionate, powerful and poetic, transforming reportage into literature.
Through the stories she tells - and her own development from a self-confessed 'war junkie' to a devoted mother - Lamb attempts to comprehend the human consequences of conflict in the countries she has come to know.
Information
Format: Paperback
Pages: 400 pages
Publisher: HarperCollins Publishers
Publication Date: 21/01/2008
Category: Reportage & collected journalism
ISBN: 9780007256891
Free Home Delivery
on all orders
Pick up orders
from local bookshops
Reviews
Showing 1 - 3 of 3 reviews.
Review by ElizabethPisani
16/06/2015
Christina Lamb has always been one of my favourite correspondents. Mostly because she just gets out there and talks to people. And in large part, too, because she's a really lovely writer with a pronounced sense of the absurd. It's nice to be reminded that there are correspondents out there who want to be truly involved with a story, without wanting to <b>become</b> the story.
Review by jcvogan1
16/06/2015
Book leaned a bit too heavily on reprinted material, particularly from her earlier travels, but it was all new to me and it is definitely better than average in the foreign correspondent memoir category. No great insights, but good anecdotes.
Review by fieldnotes
16/06/2015
Successful journalists are allowed to publish books with the word "dispatches" in the title, wherein they simply reprint the most popular of their published journalistic pieces, possibly strung together by a few calculated autobiographical reflections, a prologue, an afterword and decorated, perhaps, with amateur, black and white photographs they have taken on their travels."Small Wars Permitting: Dispatches from Foreign Lands" is a desultory anthology with a prevalence of writing about conflicts in Pakistan and Afghanistan. Lamb is most focused and committed when risking her life to approach gunfire in these two countries, where she accumulates enough contacts and strategies to find herself in intriguing positions. Her stories amount to a lively refresher course on the history of that region in the last decade of the twentieth century and the first decade of the twenty first.In contrast, her random assignments around Africa feel superficial and under-thought: here's a piece about Nigerians sending their skinny girls to specialists who promise to transform them into marriageable heifers; here's twenty pages meant to summarize the downward trajectory of Zimbabwe; or a jaunt around Ivory Coast hunting the slave drivers of children. These pieces pad Lamb's book; but seem arbitrary and a bit canned—little snapshots of absurdity or atrocity—especially compared to the more involved and sustained coverage of power plays around the training grounds of Al Qaeda.The third sort of content available in "Small Wars Permitting" involves Lamb's courtship, marriage and negotiation of family obligations. These passages feel as if there were demanded by an editor because Lamb doesn't bring to them even half of her investigative tenacity. She offers a zoomed out scarcely-emotional summary of what must have been a tumultuous and intriguing relationship. And that's fine; I don't need her to write an expose about her own vulnerabilities; but if she's going to include her personal life at all, it would be better to do so whole-heartedly.Lamb has had some memorable adventures and has unique and sometimes shocking answers to the mainstay, dick-sizing questions of war-mongering journalists: Who did you meet in their youth before they attained a powerful position? What exotic, dangerous or illegal things did people try to sell you? What are your best death-cheating experiences? What are your most outrageous disguises or ruses? How did you talk your way out of prison?And these sorts of details can propel you through a book of this variety if you're on an airplane or a subway; but if you've got the time and inclination to focus on what you're reading, I wouldn't put this book at the front of the line. I like to have my history refreshed now and then by primary source documents and that's about what this book is good for.