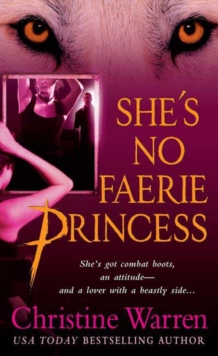 She's No Faerie Princess
Paperback
Description
Queen Mab's niece, Fiona, has long been bored to tears by the intrigues of Court life.
She'd prefer to cut loose at a punk club, knock back a few Thai beers, and hook up with a likely lad of similar interests.
But when Fiona goes AWOL, she only gets as far as Manhattan's Inwood Park before a nasty demon nearly puts a permanent crimp in her plans - and a dark stranger sparks her desire...All work and no play make Tobias Walker one cranky werewolf.
After six months of doing his part to keep the peace during the delicate negotiations between the Others and humankind, he'd like nothing more than a good night's sleep - preceded by an enthusiastic mating session.
The alluring woman he rescues in the park might be the answer to his most lustful prayers, but only if they can both stay alive long enough to find out who wants her dead and why.
Now, Fiona and Tobias must unravel a tangled web of treachery that spans branches of the Fae, Other, and mortal worlds, all the while falling into a dangerous attraction that could be the beginning of a beautiful friendship - or the end for them both...
Information
Format: Paperback
Pages: 368 pages
Publisher: St Martin's Press
Publication Date: 20/11/2006
Category: Romance
ISBN: 9780312347765
Free Home Delivery
on all orders
Pick up orders
from local bookshops
Reviews
Showing 1 - 5 of 9 reviews.
Previous | Next
Review by Jenson_AKA_DL
16/06/2015
Fiona is the niece of the queen of the Seelie Court but court intrigue is making her crazy and all she wants to do is get away for a vacation. Where better to take a vacation but the forbidden mortal world on the other side of the Manhattan gate? However, once she gets there Fiona finds something much deadlier than relaxation. Instead she is the victim of a demon attack. To the rescue is stressed out, overworked, underpaid (as in non-paid) werewolf Tobias Walker. He's got enough on his plate with dealing with negotiations of the coming out of the Others into the human world without a beautiful, caustic, distracting Sidhe Princess to contend with. But whenever Walker and Fiona touch spaks fly and magic is born from their kiss. Now they have to work together to save Manhatten from an infestation of killer demons which is easier than it sounds.She's No Faerie Princess is a good story wrapping together the worlds of demons, humans, weres, vamps and faerie. The heat between Fiona and Walker was well portrayed and I enjoyed both the romantic and action parts of the story. I wouldn't hesitate to recommend this story to those who enjoy paranormal romances.
Review by lauren_dane
16/06/2015
I've been a fan of Christine Warren's books since I read her Fixed series at Ellora's Cave a few years back and I was so pleased when I heard she'd sold to NY. I was also happy to see some characters from her Fixed series featured. HOWEVER, even if I hadn't read the prior books, it wouldn't have mattered, she gave enough backstory and didn't feature them in a way that would have confused you if you haven't read her Fixed books (although you should really read Fur Fixed with Graham and Missy - my favorite of the series at EC) Fiona is a total pain in the booty but she's likeable too. I enjoyed reading about her character and I really loved the scenes with her pixie and imp. And Tobias - well, one of the reasons I love to read about werewolves (done right) is how very alpha and protective they can be. I thought Warren hit the right balance here. He's sexy and strong and smart and you know he's going to fall for Fiona in a big way but I thought the way they came together was believable (it *is* paranormal romance). I liked the magic and the world she's built and the chemistry was HOT! I wish there were more books about the Fae out there but in the mean time, check this one out because it's very satisfying.
Review by CozyLover
16/06/2015
Second in the 'Others" series and much better than the first. This one seemed to flow better, was more interesting plot wise and developed the characters from the first novel even further, adding depth to them overall.
Review by jjmcgaffey
16/06/2015
Fun paranormal romance - very very explicit, though. I do want both the previous book and the next one (I looked at both in the store). As a story, it's OK; as a romance, it's in the very explicit mode, which I find rather boring, but there are nice reasonably realistic obstacles reasonably realistically removed; as an urban fantasy universe, it's great. The setup is very much like Patricia Briggs' Mercy Thompson series, but better - richer, even in the one book I've read.
Review by the_hag
16/06/2015
An interesting premise...Fiona, daughter of Queen Mab (Seelie Court) and King Dionnu (Useelie court) decides she's had enough court intrigue and politics and heads off to New York for a bit of a vacation...despite the fact that travel to human land are banned by her aunt, The Queen. She successfully slips out of her world and into the human realm and is almost immediately attacked by a demon and then saved by Tobias, a werewolf. This story is an interesting mix of the everyday "real" world, a separate magical world...and those places where the two mix. The basic gist of the story is that Fiona comes for a vacation...a little dancing, some good food, a little hankie panky and winds up stuck here, hunted by demons at what could be described as the worst time for this to happen...at a time when humans and otherkin of all kinds are negotiating otherkin rights. At a time when these negotiations are at a delicate place and where Tobias and his pack are working around the clock to ensure there are no "incidents" to ruin the negotiations. What you get in She's No Faerie Princess is just romping good fun with a minor mystery thrown in. Probably the best part of the book is the chemistry between Tobias and Fiona. They have a very Han Solo/Princess Lea kind of sexual tension/animosity between them (sorry, but that's what came to mind as I was reading through the book) that manages to be both humorous and annoying. I guess that's what happens when you throw a sexually liberated and extremely stubborn Faerie into a romantic paring with an [..] retentive, driven to protect werewolf. That's not all it's got...in this story you get Demons, Fiends, Witches, Werewolves (and a Werejaguar), heck you even get Demon Police...the number of twists in this novel, while somewhat predictable, are totally fun and She's no Faerie Princess has sex that actually manages to be "hot" and well placed...instead of the plot being used to bridge sex scenes, we got more plot with sex as a key component to making it all work out right. Overall, I give it four stars. She's No Faerie Princess is a light, easy read that is very entertaining. The female lead is feisty and while she must be rescued more than once...she's not a helpless damsel waiting helplessly to be rescued by the big, strong werewolf...I like that she was independent, strong-willed (read stubborn), and really just looking to have a good time. The only drawback I found was that at times, the overbearing "mine" mentality the author gave Tobias got a bit tired...we get it already; you don't have to beat us over the head with it. Other than that, a really entertaining, light read for those times when you just need a bit of fluff to entertain you.