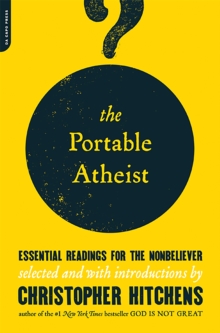 The Portable Atheist : Essential Readings for the Nonbeliever
Paperback
Description
From the #1 New York Times best-selling author of God Is Not Great , a provocative and entertaining guided tour of atheist and agnostic thought through the ages- with never-before-published pieces by Salman Rushdie, Ian McEwan, and Ayaan Hirsi Ali.Christopher Hitchens continues to make the case for a splendidly godless universe in this first-ever gathering of the influential voices- past and present- that have shaped his side of the current (and raging) God/no-god debate.
With Hitchens as your erudite and witty guide, you'll be led through a wealth of philosophy, literature, and scientific inquiry, including generous portions of the words of Lucretius, Benedict de Spinoza, Charles Darwin, Karl Marx, Mark Twain, George Eliot, Bertrand Russell, Emma Goldman, H.
L. Mencken, Albert Einstein, Daniel Dennett, Sam Harris, Richard Dawkins, and many others well-known and lesser known. And they're all set in context and commented upon as only Christopher Hitchens- political and literary journalist extraordinaire" ( Los Angeles Times )- can.
Atheist? Believer? Uncertain? No matter: The Portable Atheist will speak to you and engage you every step of the way.
Information
Format: Paperback
Pages: 528 pages
Publisher: The Perseus Books Group
Publication Date: 16/10/2007
Category: Literary essays
ISBN: 9780306816086
Free Home Delivery
on all orders
Pick up orders
from local bookshops
Reviews
Showing 1 - 5 of 10 reviews.
Previous | Next
Review by MrLeo
16/06/2015
A good collection of various irreverent, secular and sometimes outright anti-theistic writings. In terms of the years represented, it does jump around a bit between very old writings and then to a large focus on more recent selections, which perhaps makes sense, given the unfriendly attitude toward anti-religious writing for a large section of history. The last (or at least one of the later) examples on Islam is a bit long winded, but overall, a very nice book to facilitate exploring the different viewpoints of rejecting religious faith. Atheism is atheism, but the various ways people can write on it differs tremendously.
Review by psiloiordinary
16/06/2015
A large collection and a very eclectic mix of essays. By turns slow steady, logical and suddenly emotionally charged and motivating.A tour through histories writings on a natural view of the world and why we are here.I particularly enjoyed the older writings which showed just how slow a burn freedom of thought has been. David Hume is insightful, Mark Twain is funny, Thomas Hardy and HL Mencken bid farewell to God in two very different ways. Bertrand Russell is hilarious.If you are an atheist then this book will give you some reasons for or at least perspectives on un-belief that you had not thought of. If you are a believer and want to remain so then pick up this book at the peril of your immortal soul. Stimulating, challenging in places and enjoyable.
Review by jefware
16/06/2015
A book to keep on your shelf and refer to whenever you find a nugget head that needs a pithy quote from a "wise" person.
Review by quantum_flapdoodle
16/06/2015
A collection of essays by well-known (and some not so well-known) atheist, agnostics, and deists, all of them dealing with religion and its discontents. The essays are annotated by Christopher Hitchens. A good collection, but I wish Hitchens had contributed a bit more of his famous acerbic personality.
Review by Janine2011
16/06/2015
An excellent collection of essays put together by the indomitable Hitchens. I will say though that some of them are very hard to read especially the Karl Marx one which i could not understand at all bu that's possibly due to me than karl marx!