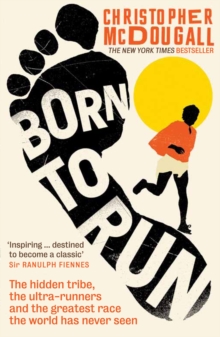 Born to Run : The Hidden Tribe, the Ultra-Runners, and the Greatest Race the World Has Never Seen
Paperback
Description
At the heart of Born to Run lies a mysterious tribe of Mexican Indians, the Tarahumara, who live quietly in canyons and are reputed to be the best distance runners in the world; in 1993, one of them, aged 57, came first in a prestigious 100-mile race wearing a toga and sandals.
A small group of the world's top ultra-runners (and the awe-inspiring author) make the treacherous journey into the canyons to try to learn the tribe's secrets and then take them on over a course 50 miles long. With incredible energy and smart observation, McDougall tells this story while asking what the secrets are to being an incredible runner.
Travelling to labs at Harvard, Nike, and elsewhere, he comes across an incredible cast of characters, including the woman who recently broke the world record for 100 miles and for her encore ran a 2:50 marathon in a bikini, pausing to down a beer at the 20 mile mark.
Information
Format: Paperback
Pages: 304 pages
Publisher: Profile Books Ltd
Publication Date: 09/04/2010
Category: Extreme sports
ISBN: 9781861978776
Free Home Delivery
on all orders
Pick up orders
from local bookshops
Reviews
Showing 1 - 3 of 3 reviews.
Review by krizia_lazaro
16/06/2015
It was the greatest non-fiction book I have read. It was inspiring and motivating. You don't need to be a runner to appreciate it, anyone would love this book. It made me cry in the end not because it was sad but because I was overwhelmed. The book made me happy, inspired and refreshed. I would have love to see the races with my own eyes. I just wanted to be there, if I could only jump into the book. It is a book that everyone, family, friends, workmates, etc. would definitely enjoy!
Review by dazzyj
16/06/2015
Hyperbolic and Men's Health blokey in style, but underneath it an engaging story of what it is to be human. I'm not sure the science would stand up to peer-review but it presents a fascinating hypothesis. And it will certainly inspire you to get running.
Review by pengvini
16/06/2015
At first I found this book just a tad too weird and wanted to give up on it. (I am not a runner.) But Jenny had left a page folded at the point where she had stopped reading. That gave me a goal to aim for.<br/><br/>The bookmark was at the description of the Leadville ultra marathon in Colorado. I got drawn into the description of all the fascinating (weird) characters and from then on enjoyed this book. It does digress a bit from "the hidden tribe the ultra-runners and the greatest race the world has never seen" and discusses topics such as the benefits of barefoot running, the history of running shoes and the evolution of man. All very interesting. The author writes well in a very casual style. The latter took me a while to get used.<br/><br/>My only problem was a nagging doubt about the truthfullness of it all.How much did he embellish to improve the "story"?<br/><br/>And I guess that after this best seller, the Tarahumara will be a bit less "hidden" than they were before.
Also by Christopher McDougall