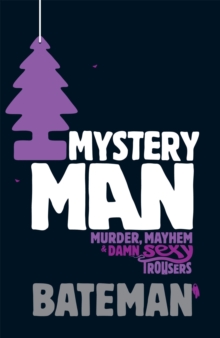 Description
A superbly gripping and blackly funny mystery by the king of the comic crime caper.
He's the Man With No Name and the owner of No Alibis, a mystery bookshop in Belfast.
But when a detective agency next door goes bust, the agency's clients start calling into his shop asking him to solve their cases.
It's not as if there's any danger involved. It's an easy way to sell books to his gullible customers and Alison, the beautiful girl in the jewellery shop across the road, will surely be impressed.
Except she's not - because she can see the bigger picture. And when they break into the shuttered shop next door on a dare, they have their answer.
Suddenly they're catapulted along a murder trail which leads them from small-time publishing to Nazi concentration camps and serial killers...
Information
Format: Paperback
Pages: 432 pages
Publisher: Headline Publishing Group
Publication Date: 14/05/2009
Category: Crime & mystery
ISBN: 9780755346752
Free Home Delivery
on all orders
Pick up orders
from local bookshops
Reviews
Showing 1 - 4 of 4 reviews.
Review by gward101
16/06/2015
Lets get the rant out of the way before the review. Bateman? Bateman!? This book wasn't written by Tom, Dick or even Harry Bateman you see, it was written by, well, Bateman. The writer and his publishers have gone out of their way to obliterate any mention of his first name from the book's cover, spine and author bio. Is the mysterious Mr Bateman really so well known that he can get away with using just one name, a la Madonna or Cher? Or is the no first name ploy a misguided attempt to add an air of mystery to the man behind a book which is, after all, itself a mystery? I suspect we'll never know, but for me the sooner Bateman locates his missing Christian name the better. Anyway, now that I've got that off my chest I'd like to say that I thoroughly enjoyed this book! Mystery Man is the tale of the neurotic owner of a Belfast bookshop specialising in detective stories who ends up doing some detection of his own. When the private eye in the office next door fails to open up one day, the owner of the No Alibis book store ends up taking on some of the detective's clients. Soon he has a whole host of mysteries of his own to solve - including the fate of the missing private eye. Yes, you can see some of the jokes coming, but the writing is nicely tongue-in-cheek and there are some genuinely laugh-out-loud moments.A good read for anyone who likes comic fiction, detective thrillers or both.
Review by booooo
16/06/2015
Our hero is not exactly heroic. He 's a neurotic hypochondriac who's scared of about everything. When the detective agency next door to his bookshop suddenly goes out of business, their clients keep turning up in his shop. After his overwhelming success solving THE CASE OF THE MISSING TROUSERS, he keeps taking on cases. But THE CASE OF THE DANCING JEW really gets him in over his head.
Review by edwardsgt
16/06/2015
A book which couldn't quite make its mind up whether it was funny or serious and didn't quite pull off either. Interesting to anyone who knows Belfast and the local politics.
Review by bsquaredinoz
16/06/2015
The unnamed narrator of Mystery Man owns a crime fiction bookshop in Belfast, No Alibis: Murder is Our Business, and when the private detective next door disappears his clients make their way into the bookstore for assistance. Having something of a lack of clientele our mystery man successfully tackles an investigation into the search for some sexy leather pants presumed filched by a dry cleaner. This proves to be the start of a whole new career for him and he is soon joined by a quirky sidekick to solve The Case of the Dancing Jews.<br/><br/>Our mysterious narrator is a cross between Adrian Monk and Bernard from Black Books (though he's not a drunk). He is afraid of just about everything and has a number of compulsions including the need to scratch any car that has a personalised number plate with a nail he keeps specifically for the purpose. As a retailer he is unlikely to garner untold riches as his 'strategy' encompasses sentiments like<br/><br/>"I see the need to attract customers into the store, I just don't often feel the want"<br/><br/>and<br/><br/>"I like to think the atmosphere in the store is finally balanced between the pull-up-a-chair-and-peruse-from-our-books-for-nothing Borders and the reading room at Guantanamo Bay".<br/><br/>The story is a satire on the crime fiction genre. If you have never read a crime fiction novel in your life you will in all likelihood not find it humorous. I don't mean this to be patronising but some of the negative reviews I read seem to have been written by people who have never read a single work of crime fiction and their incomprehension interpreted as criticism seems a little unjust. If you have at least dabbled in mysteries then you should enjoy the satirical elements of the story as well as the way the narrative weaves in commonly held gripes of the genre's aficionados. For example when asked whether the new James Patterson is in, our bookseller responds<br/><br/>"Sir, I replied with suitable haughtiness, because I know my onions, the old James Patterson isn't in. This is a James Patterson-free zone. Once we begin stocking Pattersons we'll have no room for anything else. We may as well change the name of the shop to Patterson Books".<br/><br/>Of course natty one-liners aren't enough to sustain a whole book but fortunately there is a jolly romp of a mystery here too. The main case has dead bodies a-plenty, possible Nazis and even a car chase which is no less dramatic because it turns out to have been completely unnecessary. It is satisfactorily resolved with a modern twist on the traditional dénouement (one is forced to ponder what Hercule Poroit might have made of PowerPoint) and a humdinger of a cliff hanger.<br/><br/>Funny-ness is such a subjective thing. Loads of people told me that David Sedaris' Me Talk Pretty One Day would make me laugh 'til I hurt but I abandoned the book at the half-way point without ever cracking a smile (and I grizzle to this day about having spent $22.95 on it). So I'm not going to tell you this book will make you laugh. All I'll say is that it made me become the latest crazy giggling lady on my city's public transport and I think you'd be daft not to at least sneak a peek at the first couple of short chapters in your local bookshop. If it is your kind of humour then there is lots of it and reading the book will make your day.