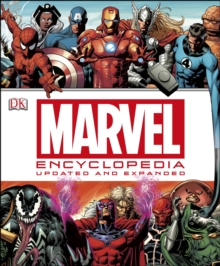 Marvel Encyclopedia (updated edition)
Hardback
Description
The definitive guide to the characters of the Marvel UniverseAre you fascinated by comic books and obsessed with super heroes?
The bestselling Marvel Encyclopedia gives you the definitive details and histories of more than 1,200 of Marvel's most memorable characters.Now updated to include expanded entries for Spider-Man, Wolverine, X-Men, Iron Man, Captain America, Hulk and the Avengers, this unique A-Z lets you get closer to your favourite Marvel super heroes.
You can find out about 50 exciting new characters, such as Odin and Doctor Nemesis, and all the latest important events in the Marvel universe, such as the Dark Reign, Avengers Vs X-Men and the Age of Ultron.
Each super hero explodes from the page with original art from Marvel Comics' finest artists and facts from a team of top Marvel comic book writers.
Experience the power of the Marvel super heroes with the revised and updated Marvel Encyclopedia (previous ISBN 9781405344357)- it packs a knock-out punch for all Marvel fans.
Free Home Delivery
on all orders
Pick up orders
from local bookshops
Reviews
Showing 1 - 1 of 1 reviews.
Review by jms001
11/07/2015
The ultimate encyclopedic book for any fan of Marvel.<br/><br/>I must say, I really enjoyed reading through this. For many people, it's simply not the type of book you read from start to finish. Rather, it's an especially great coffee table book to have sitting at home so that when friends come over and we get to talking about characters from the Marvel Universe (or multiverse or omniverse or whatever it is these days), then this is the perfect reference guide.<br/><br/>I, on the other hand, that will sit down and read this book from front to back. And I did just that. It did take me nearly three months to pore over every single entry, examine the details of each individual character (complete with their height, weight, home base, and superpower), and stare in awe at the beautiful artwork. This book truly is an exceptional piece of work. I will admit that there were a few minuscule errors here and there throughout the book (text overlapping with images, oddly arranged text and images), but those in no way diminish the quality of the book. I wouldn't even remember where they were now that I'm done.<br/><br/>Not being a reader of the comics, I feel like I learned so much more about the Marvel universe. Sure I could have just spent some time online reading fan theories, wikipedia pages, and blogs galore, but nothing beats a physical book. I'm sure that's why anyone would be reading this review on goodreads anyway, amirite?<br/><br/>A great book for any fan of everything Marvel.