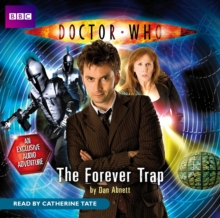 Doctor Who: The Forever Trap : No. 2
CD-Audio
Description
When the TARDIS is invaded by a holographic marketing scam, the Doctor and Donna find themselves trapped on the Edifice, a purpose-built complex of luxury apartments in space.
Their new environs leave much to be desired: millions of beings from across the Universe have been gathered to live side by side in similar apartments.
Instead of creating neighbourly affection, it's led to terrible battles being waged in the corridors and on the stairwells.
The Doctor and Donna must cross the paths of deadly alien mobs as they search for the Edifice's ultimate authority.
Who - or what - lies at the heart of the incredible complex?
What destructive scourge is eating away at the Edifice itself? And are the Doctor and Donna trapped forever in this living hell?
Doctor Who: The Forever Trap features the Doctor and Donna, as played by David Tennant and Catherine Tate in the hit BBC Television series Doctor Who.
Written specially for audio by Dan Abnett, it is read by Catherine Tate. 2 CDs. 2 hrs 21 mins.
Information
Format: CD-Audio
Pages: 2 pages
Publisher: BBC Audio, A Division Of Random House
Publication Date: 09/10/2008
Category: Science fiction
ISBN: 9781408406786
Free Home Delivery
on all orders
Pick up orders
from local bookshops
Reviews
Showing 1 - 2 of 2 reviews.
Review by MaowangVater
16/06/2015
A smooth talking and not entirely honest sales-hologram invades the TARDIS and tricks Donna Noble into a sales contract for a luxury apartment complex. If location is all three of the most important things in real estate, then the Edifice doesn't have any of them. It's somewhere in the midst of Outer Space, without any means of transportation out. Not only that, new tenants keep arriving without any provision for what they need to survive. Aquatic life forms are dumped on the carpet with nothing for their gills to breathe. Some of the more aggressive tenants are fighting for control of the Edifice, and no one seems to be in charge. Fortunately, there is a Doctor in the house. Catherine Tate is such a gifted actress and mimic that her single voice presentation sounds like the highest quality full-cast radio drama. As the actress who plays Donna in the television series, it is little wonder that she does a good job voicing Donna's part. The wonderful part of her performance is how closely she has captured fellow actor David Tennant's speech patterns when she reads the Doctor's part. The sound effects are also excellent, and Dan Abnett's original story even has a cliffhanger between discs one and two. Everyone involved with this project is to be commended.
Review by bluesalamanders
16/06/2015
The Doctor and Donna are trapped in an apartment complex with the oddest of neighbors.This one was kind of fun, although these sorts of stories always lack a certain amount of tension since we know that the main characters are in no real danger. Catherine Tate is an entertaining reader; I've noticed that I prefer the books read by voices from the shows.