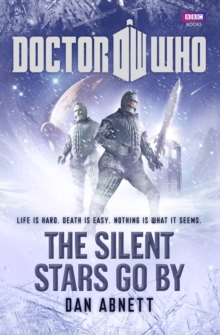 Doctor Who: The Silent Stars Go by
Hardback
Description
For centuries the Morphans have worked. With no help from other worlds, they subsist on the food they can grow and that's little enough.
But their purpose, their whole life is to maintain the machines that will one day make their world as habitable as old Earth.
Life used to be hard. Now as their crops fail, livestock sickens, and the temperature drops, it's becoming impossible.
This year's winter festival won't be the usual celebration.
It's not a time for optimism or hope - and it's not a time to welcome unexpected guests.
The Doctor, Amy and Rory find a society breaking apart under the strain.
Tensions are mounting, old rivalries are coming to the fore, people are dying...And then the Doctor's old enemies the Ice Warriors make their move.
With the cold-hearted threat of invasion, the real battle for survival begins. Or does it? The Doctor begins to suspect that behind everything lies a deadlier, and even more chilling danger...A thrilling, sci-fi adventure featuring the Doctor, Amy and Rory, as played by Matt Smith, Karen Gillan and Arthur Darvill in the spectacular hit Doctor Who series from BBC Television.
Information
Format: Hardback
Pages: 320 pages
Publisher: Ebury Publishing
Publication Date: 29/09/2011
Category: Science fiction
ISBN: 9781849902434
Free Home Delivery
on all orders
Pick up orders
from local bookshops
Reviews
Showing 1 - 1 of 1 reviews.
Review by catfantastic
16/06/2015
The Eleventh Doctor, Amy and Rory arrive on a planet where a human colony has been terra-forming the planet for twenty-seven generations. The settlers ("Morphans") no longer remember much about their advanced technology and view their electronic guide as divine writ. Something has gone wrong with the terra-forming process, and winters are growing harsher and harsher. It turns out the humans aren't the only ones in the market for a new home world, and the Ice Warriors would like a planet quite a bit colder than the Morphans can survive on! But the Morphan's half-forgotten technology holds some surprises of its own. <i>Doctor Who: The Silent Stars Go By</i> is a good, solid adventure, and could easily have been an episode of the television series. Abnett nails the character voices - Matt Smith's version of the Doctor is bang-on, and the dialogue perfectly matches the writing on the show. Abnett clearly knows the material, and not just the Eleventh Doctor - there are numerous references to the second Doctor and his companions and adventures, which is a nice touch. I personally found the colonists and their cult-like devotion to "Guide" a bit tiresome and annoying, the secondary characters introduced for the story don't really have any depth or dimension to them. <i>The Silent Stars Go By</i> is a good story, that feels like watching an episode of the show.
Also in the Doctor Who series | View all