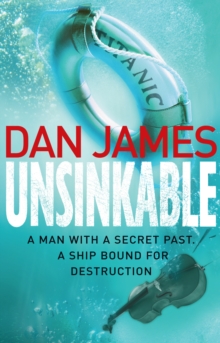 Unsinkable : A breakneck historical conspiracy thriller
Paperback
Description
A Doomed Voyage: April 14th 1912. The maiden voyage of the world's most luxurious passenger liner, Titanic.
A Dark Past: Each passenger has their own reason to make the crossing, but for former Special Branch police officer Arthur Beck it is the only way he can escape the demons of his past.
Also on board is Martha Heaton, a female journalist sent to cover the great ship's journey and prove herself as a serious reporter.
A Fearful Encounter: As the huge ship nears the middle of the Atlantic Ocean, Beck and Martha are closing in on a murderous criminal.
But, with time running out, they must stop him - before it's too late...
Information
Format: Paperback
Pages: 400 pages
Publisher: Cornerstone
Publication Date: 29/03/2012
ISBN: 9780099558132
Free Home Delivery
on all orders
Pick up orders
from local bookshops
Reviews
Showing 1 - 1 of 1 reviews.
Review by Leighton
16/06/2015
There was a time in America (and in Britain, too, I suspect) when, if you'd asked folks what they knew about the sinking of the RMS Titanic, you would have drawn a blank.Yes, I know that's hard to believe, but it's absolutely true.In the four decades that passed after she took her two-mile plunge to the floor of the North Atlantic, other tragedies of greater note, including two World Wars and a worldwide flu epidemic, gradually erased the disaster from public consciousness and, by the early 1950's, had caused it to be largely forgotten.That changed radically in 1955, with the publication of Walter Lord's smash bestseller, "A Night to Remember", a book in which he compiled the first moment-by-moment account of the disaster based on scores of interviews with passengers who survived it.Lord's book, and the film that followed, had an impact that led to an awakening of interest on the part of, oceanographers, playwrights, filmmakers and other writers.Robert Ballard, who discovered the vessel's wreckage in 1985, once remarked that Lord's book was the beginning of his fascination with the sinking and one of his inspirations to undertake the search.Meredith Wilson cited the book as an influence to undertake his 1960 musical, "The Unsinkable Molly Brown", later a movie.In 1997, "Titanic" opened on Broadway and won five Tony awards.In that same year, James Cameron released his epic film with a completely different story, but with the same title.And there are currently 239 paperbacks available for sale, on Amazon, that deal with the disaster.So did we really need another one?Actually, we did. And my thanks go out to Dan James who has written it.The book is called "Unsinkable", and it combines meticulous research (the author is a seasoned journalist) with rich imagination (he's also a best-selling fiction author).James begins his tale with two factual incidents the "Houndsditch Murders" and the "Sydney Street Siege", both of which occurred in London, both of which involved the killing of policemen and in both of which a Latvian revolutionary criminal by the name of Peter Piaktow (or or Piatkov, Pjatkov, Piaktoff) was implicated – but never caught.What if, James surmises, Piaktow (dubbed Peter the Painter by the press of the time) attempted to escape to America aboard the Titanic? And what if a Special Branch officer desperate to apprehend him also sailed on that same ship? And what if he teamed-up with an attractive lady, an American reporter whose easy ways he found quite enchanting?It all makes for a cracking good read.And, even though we know from the outset what's going to happen to the ship, James still manages to supply us with a totally unexpected surprise ending.I immensely enjoyed this book and heartily recommend it.
Also by Dan James