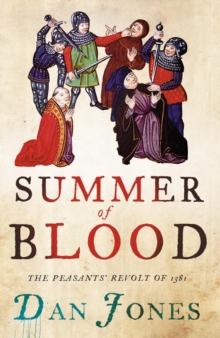 Summer of Blood: The Peasants' Revolt of 1381
Paperback
Description
Revolt and upheaval in medieval Britain by a brilliant new narrative historian, 'Summer of Blood' breaks new ground in its portrayal of the personalities and politics of the bloody days of June 1381.
The Peasants' Revolt of 1381 is one of the most dramatic and bloody events in English history.
Starting with village riots in the Essex countryside, chaos rapidly spread across much of the south-east of England, as tens of thousands of ordinary men and women marched in fury to London, torching houses, slaughtering their social superiors and terrifying the life out of those who got in their way.
The burning down of Savoy Palace, home to the most powerful magnate in the realm, marked one of the Revolt's most violent episodes.
The Peasants' Revolt has remained an underexplored period of history.
In revisiting the bloody events of 1381, Dan Jones has brought back to glorious life the squalor, drama and complex hierarchies of a society that until now seemed almost too distant to imagine.
His examination of village life and the failings of government from the perspective of the Revolt's key players is both intellectually stimulating and compulsively readable. Vivid, atmospheric and beautifully written, this is historical writing of the highest quality.
Information
Format: Paperback
Pages: 288 pages
Publisher: HarperCollins Publishers
Publication Date: 01/02/2010
Category: British & Irish history
ISBN: 9780007213931
Free Home Delivery
on all orders
Pick up orders
from local bookshops
Reviews
Showing 1 - 1 of 1 reviews.
Review by adamclaxton
16/06/2015
Summer of Blood by Dan Jones is an expertly written account of the Peasants Revolt of 1381 when the oppressed, disease and poverty stricken commoners of southeast England rose up in brutal rebellion. Prompted by yet another burdensome parliamentary poll-tax to fund England's continental military ventures, the disgruntled local populace banded behind the magnetic idealism of Wat Tyler and John Ball. With all-encompassing demands of equality and justice they marched on London, bringing the entire English establishment to its knees with wanton murder and destruction until the young Plantagenet King Richard II and his closest advisors had finally had enough – launching ruthless and swift retribution. The author shows true passion for his chosen field of study particularly this particular episode of history. He provides vivid descriptions of the events as they unfolded and also of life in fourteenth century Europe.