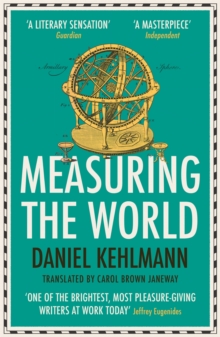 Measuring the World
Paperback
Description
At the end of the eighteenth century, two brilliant and eccentric young scientists set out to measure the world.
Alexander von Humboldt swashbuckled his way across the globe: navigating ocean and jungle, eating with cannibals, swimming with electric eels, lowering himself into volcanoes and scaling the highest mountain known to man.
Carl Friedrich Gauss, on the other hand, stayed at home, using the power of thought to battle his way into exotic mathematical realms and the landmark realization that space is curved.
Measuring the World brings these two geniuses to life, capturing their balancing act between loneliness and love, absurdity and greatness, failure and success.
Information
Format: Paperback
Pages: 272 pages
Publisher: Quercus Publishing
Publication Date: 04/10/2007
ISBN: 9781847241146
Free Home Delivery
on all orders
Pick up orders
from local bookshops
Reviews
Showing 1 - 3 of 3 reviews.
Review by Karen_Wells
16/06/2015
You know that opening phase of a book? Where you turn the pages determinedly, as though you're striking matches, waiting for it to light? Well, for me that phase went from the first page to the last. Always it seemed a promising build-up for the coming story, but nothing tangible ever materialised. Little vignettes and digressions do not a good book make,and though it was easy enough to read, I was never gripped or even close. It has received plenty of encomia, but for the life of me I have no idea why.
Review by psiloiordinary
16/06/2015
A rapidly moving recounting of a couple of the early popular science heroes. Humboldt and Gauss.A really quickly moving writing style which benefits from being a translation in some kind of hard to pin down way. The prose style is unusual but clear enough and keeps the reader turning the pages rapidly.The narrative plunges along and so much is left unsaid about ancillary characters and events that if almost feels like a morality tale at times.So yes I enjoyed it, but no I don't think it was the masterpiece that many of the papers claimed when this book first came out.
Review by michalsuz
16/06/2015
A wonderful book, alwys saying less whenever possible, leaving you to think things through yourself, I do enjoy that. I suppose today one would say that Gauss and Humboldt were a bit autistic...maybe it could be said that their life is what happens when one has an overwhelming passion and ability for something. I thought the translation was excellent and the wit made me laugh out loud.