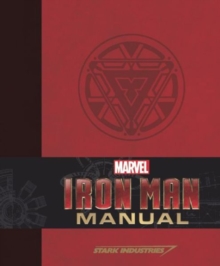 Description
Go inside Tony Stark s amazing high-tech world with this stunning exploration of Marvel s Iron Man universe.
Compiled by Stark s loyal digital assistant, JARVIS, Iron Man Manual delves into the Stark Industries archives to deliver a complete report on all aspects of the billionaire playboy s life.
From a S.H.I.E.L.D. psychological evaluation that reveals the true Tony Stark to detailed breakdowns of the suits and weaponry that make his armored alter ego so formidable, Iron Man Manual is the ultimate exploration of his extraordinary career.
Also featuring in-depth reports on Stark s allies and enemies, along with classified information on Stark Tower, the Malibu mansion, and Stark s workshop, Iron Man Manual is the ultimate guide to the world of a Super Hero legend."
Information
Format: Hardback
Pages: 160 pages, 30+ Inserts
Publisher: Insight Editions, Div of Palace Publishing Group,
Publication Date: 11/11/2013
Category: Films, cinema
ISBN: 9781608872756
Free Home Delivery
on all orders
Pick up orders
from local bookshops
Reviews
Showing 1 - 1 of 1 reviews.
Review by jshillingford
16/06/2015
I admit it. I had no clue what this book was going to be. I ordered it because I've loved the "Art of" books from Marvel and thought this would at least be fun. I wasn't wrong. So what is it? Something of an art book crossed with a technical manual with a dash of scrapbook thrown in for good measure.The book is split into seven sections: 1) Understanding Tony Stark, 2) Stark Industries: A History of Innovation, 3) The Forging of Iron Man, 4) The Mansion and the Workshop, 5) Weaponization: the Iron Man Armors, 6) Global Threats and 7) Mr. Stark's Allies. Like the "Art of" books, this manual has a lot of color photographs of locations, people and the armor. Where this book differs is that it's all presented as real. The photos are of Tony Stark, his home and workshop, etc. The book reads like a corporate dossier, as prepared by JARVIS. "Stark Industries" is printed on the cover (not Marvel!). Like a technical manual, there is a lot of detail on the armors - ALL OF THEM. There is at least a small pic and a blurb for each of the Iron Legion and larger exposes of Tony's main armors. It even goes into details regarding weaponization, gauntlet design, inside the helmet, etc. All referenced as real artifacts - not as concept for a film. There are fold-out pages, schematics, etc. But what really makes this book special is the scrapbook aspect. There are Post-It notes, memos, pamphlets, etc. "glued" in throughout the book. There is even a blue folder inserted (it is bound in) at the beginning which includes Christine Everhart's article on Tony, his notecards from the press conference, his business card, and pics! One Post-It is a reminder that he needs to come up with a "real name" for the element he discovered for the Nobel Committee to use. There are memos from SHIELD, including Black Widow's assessment, as well as a visitor badge to Stark Industries, and so much more. These are like little Easter eggs scattered throughout that make the book a lot of fun to go through. As a Loki fan, I was delighted to find the God of Mischief has a couple of pages under "Global Threats," right alongside Whiplash and Mandarin. The production values are excellent. Not only does the book have a red leather cover, with cloth spine, but it is smyth-sewn (not glued). This means the book lies open flat without damaging the spine. Very helpful for a "manual". There's no dust jacket, as befitting a technical manual, and the paper is thick and high quality. Full color glossy pages throughout - a truly beautiful book.Overall, I cannot recommend this enough to Marvel fans in general, but especially to fans of Iron Man. A truly unique book that is actually worth the retail price. Highly recommended!