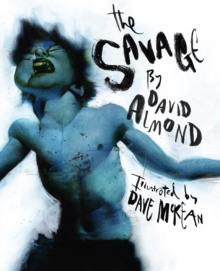 Description
Imagine you wrote a story and that story came true.
This is exactly what happens to Blue Baker when he writes about a savage living alone in the woods near his home.
After his dad's death, Blue finds comfort in dreaming of a wild kid who survives on a diet of berries and the occasional hapless passer-by.
But when the savage pays a night-time visit to the local bully, boundaries become blurred and Blue begins to wonder where he ends and the savage begins.
Part novel, part graphic novel, this moving story features striking art from the award-winning Dave McKean.
Information
Format: Hardback
Pages: 80 pages, Illustrations
Publisher: Walker Books Ltd
Publication Date: 07/04/2008
Category: General
ISBN: 9781406308150
Free Home Delivery
on all orders
Pick up orders
from local bookshops
Reviews
Showing 1 - 5 of 5 reviews.
Review by bplma
16/06/2015
When Blue's father dies, everything changes for him--the loss is enormous, huge, devastating, and raw. At the same time blue is also forced to deal with a bully---a really meanspirited and viscous boy--who torments him in a really disturbing way. As the child becomes depressed and more introverted, his teacher suggests he write a story to help him deal with his feelings--Blue writes from the pain and creates a savage character (this is the graphic) who may be real or not, who may be Blue, or not....The story Blue creates is intensely personal--for a long time he will not share it with even his mother--and the Savage becomes an embodiment of Blue's feelings--the pain, the frustration, the rage--and desire for revenge--and in the end, becomes the catalyst for Blue to recover..with a little magical realism help! I really like The Savage-- i found it beautifully written-- slim in volume but deep in emotion. And like all works for young people that deal with the issue of bullying in an authentic manner, the adults in the story--even loving, caring ones, fail to deal with the issue in any direct or effective way---leaving the victim feeling truly on his own. This is a British import filled with british english expressions that i think it is good to expose our kids to. The graphic within a novel format works very well, allowing us to see both sides of Blue--the boy and his psyche---and his healing. Magic and emotion, pain, bullying, fear, shame , anger, revenge, longing--the book has lots to think and talk and teach about. Highly recommended.
Review by Redon
16/06/2015
David Almond's website declares, "David is widely regarded as one of the most exciting and innovative children's authors writing today." I can't quite agree with that. Almond's books might be innovative compared to those of other authors - but compared to himself, he's getting very same old, same old. The Savage reads very much like he took his earlier book Kit's Wilderness and chopped it down to 80 pages (half of which are more illustration than text). A child who doesn't know how to handle grief, fact and fiction blurring together... I don't feel that the shorter length was a favor for this book either; I've always felt that David Almond's books worked beautifully for adults as well as for children because of their subtlety and depth, but by compressing the storyline so much, it loses a lot of that. I suppose the direct route may be more authentically childlike and honest, but I found the subtlety more spellbinding.That isn't to say this is a bad book, because it really isn't. It's a sensitive portrayal of grief, and the melding of Blue's two worlds is fascinating. I'd wholeheartedly recommend it for children, since it combines good emotional lessons with enough action to keep them interested, plus it's an easier read than Almond's other books. I just don't feel it offers anything the author hasn't given us before and better.
Review by TrishWalton
16/06/2015
I have always enjoyed the metaphysical nature of David Almond's books, this one included. Blue is a boy whose dad recently passed away, giving the local bully, Hopper, even more reasons to target Blue. When his guidance counselor suggests writing as a way to deal with his grief, Blue finds that writing a story about "Savage" and drawing him does help. The story of Savage, as written & illustrated by Blue, is included within the now-older-narrator-Blue's story. When Savage comes to life and goes to Hopper's house in the night, intending to kill him, but only beating him up, readers are left wondering...Is Savage Blue's alter-ego? Is Savage the dark-side of Blue and only in his imagination? Are Blue and Savage the same person - two sides of one coin? The questions resonate with readers and we are left thinking...and thinking some more.To me, the hallmark of a great book is this quality - does it make me THINK and does it stay with me and continue to make me THINK. has done this for me.Geared toward middle readers, the graphic novel format, the story-within-a-story mode, and the real topics of grief and bullying are a well-done combo.
Review by jadelennox
16/06/2015
David Almond, author of the Skellig, has teamed up with Dave McKean, best known for his collaborations with Neil Gaiman, to create this creepy disconcertingly heartwarming story of a boy surviving after his father's death. Bullied at school and stunned by grief at home, Blue survives by scribbling stories in a notebook, stories of a savage boy living in the woods behind his town. The savage boy speaks only in growls, and eats hens, pets, and even people. Nonetheless, he's strangely gentle hearted. Though Blue writes about the Savage eating unnamed people, he finds himself unable to tell the story of the savage killing and eating Blue's nemesis, the bullying Hopper. The stories of the savage come closer and closer to Blue's real life, and the line between fantasy and reality blurs, all leading to a heartwarming conclusion of recovery. McKean's trademark terrifying illustrations make a somewhat incongruous match for a story in which, ultimately, nothing particularly dark happens. The illustrations add enough weight to the threat of something magically horrific happening that it's actively surprising when nothing does.However, Almond's lyrical prose and McKean's skilled-if-scary artwork are both lovely enough to make up for any mismatch in the team.The poor spelling in Blue's written story is a good idea in theory, but in practice, so densely packed throughout that it becomes distracting affectation.
Review by Bitter_Grace
16/06/2015
More an illustrated short story than a graphic novel, <i>The Savage</i>, with its vivid drawings and simple but insightful prose, explores the idea of finding within oneself the means of overcoming adversity and loss. Narrated by a boy on the cusp of young adulthood, looking back on stories he wrote as a child coming to terms with his father's death as well as torment at the hands of a local bully, this story-within-a-story focuses on developing with age a greater understanding of the world and relating to the people in it: people who are not black and white but rather vary from "more good than bad" to "more bad than good." David Almond expertly captures the voice of Blue at two different ages and stages of maturity. The younger version of Blue writes stories about "the Savage," a boy remarkably similar to Blue himself, only primal, violent, and incapable of expressing himself in words. As the stories progress they begin to have an effect on the world, both in the form of violence toward those he hates, and tenderness toward those he loves. And over time, Blue and the Savage learn from each other the qualities of strength and temperance, respectively. Later, the older Blue reflects on the Savage's place in his life.Just flipping through the pages to look ahead at the illustrations gives a feeling that this book belongs in the horror genre. The scratchy, surreal quality of Dave McKean's pen and ink drawings seems to suggest a nightmarish plot. But the story is in fact more moving than sinister and the drawings, when put into context, seem less harsh and illustrate well the dark side of Blue's emotional state. This book will appeal to young readers who tend to avoid longer books and who enjoy the visual aspect of graphic novels, as well as fans of authors such as Neil Gaiman.Release date: <b>Oct. 14, 2008</b> (just in time for Halloween!)Many thanks to Candlewick Press and LibraryThing for this Early Review copy.