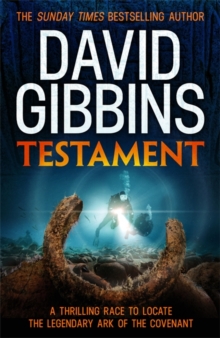 Description
From the author of the bestselling ATLANTIS comes a thrilling novel of buried secrets, age-old mysteries and a conspiracy surrounding the fabled Ark of the Covenant. 'What do you get if you cross Indiana Jones with Dan Brown?
Answer: David Gibbins' Mirror 664 BC: An adventurer named Hanno returns, near death, to his home city of Carthage on the Mediterranean with an incredible story to tell.
With him he brings the flayed skin of a terrifying creature he calls a gorilla, and on it he has written an account of his adventure.
The skin is nailed to a pillar in Carthage for all to read, but Hanno's greatest secret he tells only his brother Hamilcar.
When Hamilcar disappears during a doomed voyage to the Tin Islands, and Hanno dies having resolved to tell nobody else, the secret is apparently lost for all time. Present day: Jack Howard and his international team are excavating one of the greatest prizes of Jack's career - a Phoenician shipwreck off the coast of Cornwall and evidence for the earliest Mediterranean contact with Britain. What Jack finds is incredible - an amphora shard with an inscription in the Punic language of Carthage, apparently written hastily by someone who knew shipwreck was imminent.
When the inscription is translated its message beggars belief.
Jack realises it could lead to one of the greatest lost treasure of antiquity, and set him on one of his greatest adventures ever...
Information
Format: Hardback
Pages: 432 pages
Publisher: Headline Publishing Group
Publication Date: 29/12/2016
Category: Adventure
ISBN: 9781472230195
Free Home Delivery
on all orders
Pick up orders
from local bookshops