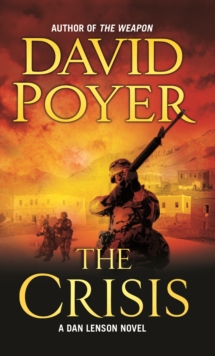 Description
Navy Commander Dan Lenson is assigned an urgent mission in a war-torn, famine-plagued country on the brink of collapse.
He and his select team of SEALs, civilian analysts, and relief workers are part of an immense effort to bring food, water, and medical supplies to civilians - while the United States battles pirates from the air and sea and tries to stabilize a corrupt local government.
But Dan finds the situation much worse than intelligence suggests.
A charismatic Islamic warlord is winning a village-by-village battle with a hit-and-run battle strategy.
After a devastating insurgent offensive culminates in a massive hotel bombing, there can be no turning back.
With thousands of lives at stake and the humanitarian mission about to fail, Dan and his team must scour the forbidding desert for a man never photographed, whose name they don't even know. And if they find him, they must kill him...or die themselves in a brutal, unforgiving land.
Information
Format: Paperback
Pages: 544 pages
Publisher: St Martin's Press
Publication Date: 01/11/2010
Category: Crime & mystery
ISBN: 9780312532482
Free Home Delivery
on all orders
Pick up orders
from local bookshops
Reviews
Showing 1 - 1 of 1 reviews.
Review by DWWilkin
16/06/2015
In my last review of Poyer's Dan Lenson I had hoped that we would see Lenson get a more meaty role, and this book certainly gives the stage for it. But then Lenson disappears and we become more concerned with countless other parts of the navy that are in theater, then with Lenson himself.There have been some other tales where Lenson's role in the drama presented here could play well, and certainly a stepping stone for further advancement. But Poyer takes a crisis that certainly evolves over a long period of time and not only takes away the calendar so we can't see how long our hero is tied to the mission, but can't judge how off camera events should be taking to unfold.The tale, larger than Lenson and the usual events he has to deal with, is dramatic and engaging. That Poyer creates a fictitious nation and starts our Hero with an interaction with it shows that the series could easily move to having our US Navy in the Poyer/Lenson universe have other tales advancing the career of Lenson and giving us meatier engagements.Why not Admiral Lenson bringing together the many elements of a Task Force? This is the evolution of the tales and we should see more about it. 70% of the earth is covered by water, and most of the goods we need from Oil to soybeans is transported on it.For this tale I have mentioned that it is dramatic, that the elements covered are fully believable, even more so than in the last book, The Weapon. But Time Scale, and the fact that Lenson still hasn't advanced to be a player at the table, but one who can make a statement to a 4 star, and be heard, then ignored by many levels below that a few chapters later, sends mixed signals. It is time for Captain Lenson and the Commodore Lenson.