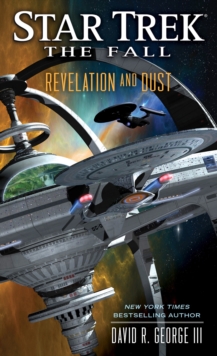 The Fall: Revelation and Dust
Paperback
Part of the Star Trek series
Description
The Federation is rocked to its core as the Typhon Pact is suspected of being behind a barbarous act that shatters the fragile peace of the Alpha Quadrant.
An original Star Trek novel, this is part of a five-book story arc that takes place over a sixty-day period, but it is not necessary to read each novel in order to follow the storyline, which involves all aspects of The Next Generation and Deep Space Nine universes.
Information
Format: Paperback
Pages: 400 pages
Publisher: Simon & Schuster
Publication Date: 12/09/2013
Category: Science fiction
ISBN: 9781476722177
Free Home Delivery
on all orders
Pick up orders
from local bookshops
Reviews
Showing 1 - 2 of 2 reviews.
Review by Dalziel
16/06/2015
I wanted to like this a whole lt more than I did. Certainly it is well-written and old favourite characters are brought back but so are new ones that, to be honest, I don't care so much for. It dwelled a lot on the re-opening ceremony of the new DS9 and the memorial service for those who died in the destruction of the old,as well as what happened to Major Kira in the wormhole when it collapsed. All important and interesting to see the characters coping with their losses and reminders of the past, but it did seem to drag. When the assassination happened it was a bit of a surprise simply because I was lulled into the meanderings of the rest of the novel, but even that was apparently tied up quickly and then it was back to the old crew meeting up again. Some of which seemed to be only there to see their name mentioned. Now obviously there are going to be more books following so these characters will be brought back and expanded, and this book was good enough that I'll likely read the next in the series. But if I wasn't already interested in the worldframe from watching the series I don't know if I would have stuck with it. I'm hoping that the next book will redeem any misgivings I had with this one. If you're a fan it's worth a read.
Review by TheMadTurtle
27/08/2015
I love the parts of this story that focus on the new DS9 and bringing a lot of the familiar characters back together. I also want to see Kira return. It took me a while to get into the Kira / Celestial Temple storyline in the book and this book comprises about a 50/50 split between that and the DS9 story. Otherwise, I would've given 5 stars. I'm sure the overall story arc will be well worth the time invested in reading.