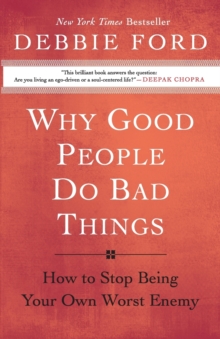 Why Good People Do Bad Things: How to Stop Being Your Own Worst Enemy
Paperback
Description
We've all heard the stories - some of them show up on the evening news and as headlines on the weekly tabloids, these public demonstrations of good people going astray dominate the media, but countless other examples take place, unbeknownst to us, in our own backyards.
Birthed out of fear and shame, it is the wounded aspect of our ego that misdirects good intentions and drives us to act out and self-destruct. "Why Good People Do Bad Things" exposes the two contradictory forces that exist within each one of us: the force that compels us to expand our ability to give and receive love, and be a contributing member of our community; and the force that holds us back, sabotages our best efforts, and repeatedly steers us in a direction that is inconsistent with our values.Ford provides eight archetypes or personas that come to the surface in each of us when our dark side rears its ugly head.
Each of these personality types live within us waiting for an opportunity to sabotage our best intentions and sidetrack our lives.
They take the form of either an aggressor or a victim, a predator or prey.
Information
Format: Paperback
Pages: 256 pages
Publisher: HarperCollins Publishers Inc
Publication Date: 01/04/2009
Category: Popular psychology
ISBN: 9780060897383
Free Home Delivery
on all orders
Pick up orders
from local bookshops
Reviews
Showing 1 - 1 of 1 reviews.
Review by kimolver
16/06/2015
This is a book that generated mixed feelings in me. I definitely appreciate Ms. Ford's attention to the subject of self-sabotage but I don't agree with her assessment of our shadow sides. (Perhaps I am more in denial than I think.)Ms. Ford does an eloquent job writing about the multiple ways we sabotage ourselves in our best attempts to do good and be good. I particularly enjoyed the chapter entitled, "The Masks." In it, she chronicles the various masks our wounded ego wears to show the world who we want them to see. It will be difficult to read that chapter and not see the mask or masks of your personal preference.What I didn't agree with was her statement that we have to embrace our shadow side and proudly proclaim how those qualites we or society has deemed negative actual serve us. Take nastiness for example. I may not want to admit any part of me is nasty. I want to always be nice, kind and good. So, when any nastiness surfaces, I attempt to keep it buried because I've decided it isn't good.Ms. Ford suggests that we are equal part positive and negative traits. In order to fully integrate ourselves, we must embrace both sides. She suggests that nastiness might serve me well if I've hired a contractor to fix something in my home and he is repeatedly not doing the job he was hired to do in a competent manner.Here is where I diverge from her thinking. Certainly, the majority of people, wouldn't fault anyone for getting nasty in a situation like that. However, I am personally on a spiritual quest. I have embraced the idea of transcending my ego, as Eckhart Tolle, David Hawkins and others discuss. This is my past. So, while I recognize that my ego has all personality traits associated with it, my preference is moving beyond ego to my spiritual self where there is only love and acceptance.So, depending where you are at in your journey, I think you could find this book useful. If you are challenged by feelings of unworthiness and find you can't be authentically who you are, or you are involved in a lot of self-sabotage, then you may want to pick up this book.