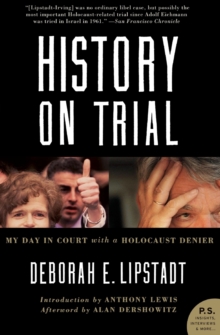 History On Trial: My Day in Court with a Holocaust Denier
Paperback
Description
This is the only book from the perspective of the defendant who emerged victorious.
It features reviews on book pages of national newspapers, and in history magazines.
Deborah Lipstadt chronicles her five-year legal battle with David Irving that culminated in a sensational trial in 2000.
In her acclaimed 1993 book "Denying the Holocaust", Deborah Lipstadt called David Irving, a prolific writer of books on World War II, "one of the most dangerous spokespersons for Holocaust denial", a conclusion she reached after closely examining his books, speeches, interviews, and other copious records.
The following year, after Lipstadt's book was published in the UK, Irving filed a libel suit against Lipstadt and her UK publisher, Penguin.
Lipstadt prepared her defence with the help of first-rate team of solicitors, historians, and experts.
The dramatic trial, which unfolded over the course of 10 weeks, ultimately exposed the prejudice, extremism, and distortion of history that defined Irving's work. Lipstadt's victory was proclaimed on the front page of major newspapers around the world, with the "Daily Telegraph" proclaiming that the trial did "for the new century what the Nuremberg tribunals or the Eichmann trial did for earlier generations." Part history, part real life courtroom drama, "History On Trial" is Lipstadt's riveting, blow-by-blow account of the trial that tested the standards of historical and judicial truths and resulted in a formal denunciation of a Holocaust denier, crippling the movement for years to come.
Information
Format: Paperback
Pages: 400 pages
Publisher: HarperCollins Publishers Inc
Publication Date: 01/04/2006
Category: European history
ISBN: 9780060593773
Free Home Delivery
on all orders
Pick up orders
from local bookshops
Reviews
Showing 1 - 3 of 3 reviews.
Review by MSWallack
16/06/2015
A fabulous book on multiple levels. Prof. Lipstadt gives insight into herself (as a modern, American Jewish woman), into the differences between the British and American legal systems, and, most importantly, into the twisted 'history' and leaps of logic that form the basis for those at the forefront of the Holocaust denial movement. The book is an emotional rollercoaster (as, I'm sure, the trial it recounts must have been for Prof. Lipstadt). For those with some knowledge of the Holocaust, reading as the arguments put forth by a denier are demolished is highly satisfying. I can only hope that those who question whether the Holocaust happened will take the time to read this important book.
Review by IanFryer
16/06/2015
Deborah Lipstadt's account of the trial forced upon her when sued for libel by David Irving is absolutely gripping. Several important points about the trial are made crystal clear, even to a general reader like myself with no historiacal training:1. The importance of the trial's outcome: Irving was trying to bully critics of his work into silence. Despite what his supporters allege, it was he, not Professor Lipstradt, who was trying to stifle free expression.2. David Irving is a charlatan, with no business calling himself a historian. His book, as it is explained in great detail, are riddled with deliberate factual errors designed to put Hitler in a good light and pretend the holocaust never happened. An interesting outcome of the defence team's research is proof that Irving's anti-semitism came long before his historical writings.3. Holocaust denial has no basis in historical fact, and is, in reality, just another form of anti-semitism.Lipstadt come across very well in the book, and is unfailingly polite and respectful to other academics, though the subsequent actions of two very eminent military historians in defending Irving after the trial verdict were disgraceful.I can assure one of this book's other Librarything reviewers that this average reader fully grasped the significance of the judges decision. Irving may continue to lecture, but the only people taking him seriously are his fellow neo nazis.
Review by VGAHarris
16/06/2015
The content concerning the issues of the trial (Holocaust Denial) was interesting, and the process of evaluating evidence and sources was also informative and a good study in historiography. I did think Lipstadt veered into too many irrelevancies not connected with the case itself and this detracted from the rating. The descriptions of her frustrations and anxiety during the trial, though understandable, became tedious. They frequently disrupted the flow of reading in dealing with the central matters at hand. It is still an important work because the battle for history and its interpretations are never over and her book provides a valuable service in reminding us of that lesson.