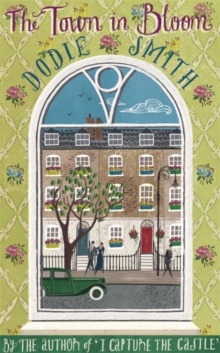 The Town in Bloom
Paperback
Description
A determined young Lancashire girl arrives in London intent on a stage career - this tale from the author of I Capture the Castle is told with the candour and authenticity that derives from Dodie Smith's own experience of the theatre world.
Mouse never did fully suit her nickname. Tiny she may have been, but timid never. After less than twenty-four hours in London she had bluffed her way into an audition at a famous theatre, infuriated its forceful young stage director, and amused its kind if quite amoral actor-manager.
She had finally landed not a part but a toehold as a junior secretary. During her involvement in the engrossing affairs of the Crossway Theatre she met her friends Molly, a baby-faced six-footer; and elegant, ambitious Lilian, who was fated to clash disastrously with Mouse. Later, there was also Zelle, rich, generous, enigmatic, and responsible for an outing to Suffolk village pageant which proved a turning point for them all. Life was always surprising the fearless Mouse: when she unexpectedly got to a chance to act she made an unforgettable impression, though not the one she had intended. However, nothing prepared her for the assault of first love, highly unsuitable, but welcomed by her in a way which was to have far-reaching consequences.
Only when she looks back after a reunion luncheon does she realise the full effects of that shared summer on her friends and herself.
A startlingly frank yet nostalgic read, this is a charming novel about coming of age and the healing effects of time.
Information
Format: Paperback
Pages: 320 pages
Publisher: Little, Brown Book Group
Publication Date: 15/03/2012
ISBN: 9781780333014
Free Home Delivery
on all orders
Pick up orders
from local bookshops
Reviews
Showing 1 - 1 of 1 reviews.
Review by phoebesmum
16/06/2015
Dodie Smith is now known almost solely for 'The Hundred and One Dalmatians' and 'I Capture the Castle', but she was a prolific novelist and playwright in her time. A few of her novels have just been reissued by Constable, this being one.In the 1920s, three aspiring young actresses living in the same theatrical women's club become close friends. Later they meet another young woman who becomes star-struck by them, moves into the club, splashes her seemingly inexhaustible funds on them, then disappears as suddenly as she came. Forty years later, glamorous Lilian, large, indolent Molly, and the narrator, tiny, indomitable Mouse, are still having regular reunions, always hoping that Zelle, too, will show up. But she never does – until Mouse spots a familiar profile outside their restaurant, and gives chase, stirring up a vivid mass of memories of the months they were together: Mouse's determination to find work in the theatre and her reckless pursuit of her heartthrob boss, Lilian's limited theatrical success and the ploys she utilises to land herself the husband she wants, Molly's own True Love story and, of course, the real story behind Zelle's appearance and disappearance.Very readable, even though few of the characters are particularly likeable, and none of them, except perhaps Molly, has any morals to speak of. If nothing else, it's a fascinating snapshot of period London theatre life, based largely on Smith's own professional experience.