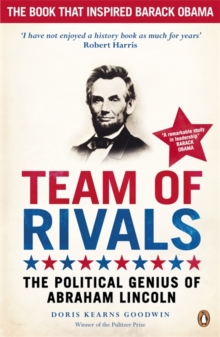 Description
The bestselling and prize-winning study of one of the most legendary American Presidents in history, Team of Rivals by Doris Kearns Goodwin is the book that inspired Barack Obama in his presidency. When Barack Obama was asked which book he could not live without in the White House, his answer was instant: Team of Rivals.
This monumental and brilliant work has given Obama the model for his presidency, showing how Abraham Lincoln saved America by appointing his fiercest rival to key cabinet positions.
As well as a thrilling piece of narrative history, it's an inspiring study of one of the greatest leaders the world has ever seen. 'A wonderful book ...a remarkable study in leadership' Barack Obama 'A portrait of Lincoln as a virtuosic politician and managerial genius' The New York Times 'I have not enjoyed a history book as much for years' Robert Harris Doris Kearns Goodwin is the doyenne of US presidential historians, and one of the most acclaimed non-fiction authors in the world. Her works include Lyndon Johnson and the American Dream, The Fitzgeralds and the Kennedys: An American Saga, and No Ordinary Time: Franklin and Eleanor Roosevelt, for which she won the Pulitzer Prize for History in 1995.
Information
Format: Paperback
Pages: 948 pages
Publisher: Penguin Books Ltd
Publication Date: 20/01/2009
Category: History of the Americas
ISBN: 9780141043722
Other Formats
Paperback from £11.25
EPUB from £9.99
eAudiobook MP3 from £18.44
Free Home Delivery
on all orders
Pick up orders
from local bookshops
Reviews
Showing 1 - 5 of 5 reviews.
Review by dudara
16/06/2015
The whole world knows a little bit about Abraham Lincoln. Emancipator and US president during the American Civil War, he is a revered figure. When I visited Washington D.C. last December, the most impressive memory I have is of the Lincoln Memorial. Standing, looking up at the huge seated statue of Lincoln, I felt a sense of benevolence and watchfulness.Preparations were underway while we in Washington for the inauguration of Barack Obama, the first black man to hold the office of the President of the United States. You would have to wonder what Old Abe would have made of it all. Obama often cites Lincoln as an inspirational figure and the cover of Team of Rivals is emblazoned with the words "The book that inspired Barack Obama".Doris Kearns Goodwin is a famous historical writer who has taken a fresh look at the life and politics of Lincoln. She has chosen to view his achievements by studying his cabinet, a range of diverse men who Lincoln deliberately appointed to positions of power despite their opposing views. Three of his cabinet had been opposing rivals for the Republican candidacy and all had considered Lincoln to be a backwards country lawyer. Firstly, there was William Seward, the expected nominee, who Lincoln later appointed as Secretary of State. Seward initially expected to act as "the power behind the throne" but later came to consider Lincoln as one of his closest friends. Secondly, Salmon Chase, an ambitious man who desperately wanted to be president. Appointed Secretary of the Treasury, he raised much needed funds for the Union during the Civil War yet still strove for the presidency. The third candidate was Edward Bates, a kind genial family man who Lincoln appointed as Attorney General.When it came to appointing his Secretary of War, Lincoln turned to Edwin Stanton. Stanton was a famous lawyer who had once dismissed Lincoln in a famous patent case. Yet when it came time to appointing his generals, Lincoln held no grudge and called on Stanton as the best man for the job.Lincoln corralled a diverse range of men, and unified them into a strong and cohesive leadership during one of the toughest times faced by the United States. It is testament to his leadership and empathy, and lack of grudges, that by the time he died, all men considered him a true friend and a gifted leader.This book is an amazing insight on so many levels. Initially, it reveals the immense talents of Lincoln, but on a deeper level, the talents of Lincoln provide many guidelines for modern business and politics. It is a truly great work and will continue to ensure that the legacy of Lincoln will "belong to the ages".
Review by BookMarkMe
16/06/2015
The <i>Team of Rivals</i> was my introduction to the life of Abraham Lincoln. I admit to being an Englishman with a profound ignorance of American History and read this shortly after Battle Cry of Freedom. I believe the two complement each other without great overlap.I cannot comment on the accuracy of the author's views being little read on the subject but from page 1 the author captured my interest in her subject with her bright, clear and seemingly authoritative knowledge of Lincoln's life, times and equally importantly those around him. She managed to achieve an unusual feat in a non fiction work, she had me engaged with her characters, I had an emotional attachment to them, this I only realised myself, during the chapter on Lincoln's death. I can now understand why American's are justly proud of their 16th President, and I am thankful to The <i>Team of Rivals</i> for my introduction.
Review by jintster
16/06/2015
It must be hard to sell yet another biography of Lincoln to your publishers. Doris Goodwin tries to distinguish her works from her predecessors by looking at Lincoln through the eyes of his rivals for the Republican nomination - Seward, Chase and Bates. This doesn't quite work. Once the nomination is secured, Bates is pretty much ignored and while there is plenty of focus on Abe's excellent relationship with Seward and his more fractious one with Chase, the book does not live up to its premise. Fortunately, it doesn't need to. This is a first-rate biography. If there is a suspicion that Goodwin has rather fallen in love with her subject this can be forgiven becasue of the quality of the prose and sensitive and insightful exploration of key relationships. What really comes across in this book is Lincoln's extraordinary magnamity. He seems to have an almost superhuman ability to forgive others their trespasses against him. To give just one example, Chase intrigues against him constantly but still gets appointed Chief Justice of the Supreme Court. Rarely does a political biography prompt one to consder one's own relations with others as this does.Obama is apparently a great fan of this book. Let's hope he is able to take its lessons to heart.
Review by charishunter
16/06/2015
Superb historical account and insight into one of the greatest leaders the world has ever seen. It informed me, enthralled me and moved me.
Review by Eyejaybee
16/06/2015
Before reading this marvellous, comprehensive yet eminently accessible biography I was lamentably ignorant about the life of Abraham Lincoln - I knew that he was tall and that he was assassinated (Oops! Sorry if that spoils the ending for anyone!), but very little else. Professor Goodwin's excellent book has certainly remedied that.The "Team of Rivals" to which the title alludes was the four leading contenders (Lincoln, William Seward, Edward Bates and Salmon Chase) for the Republican nomination for the 1860 Presidential election. It was a great testament to Lincoln's personal charisma that he was able to secure the cooperation of the three people whom he defeated to secure that nomination, and then to induce them to serve in his Cabinet. Professor Goodwin details the prior history of all four rivals, and we see the whole panoply of class and family prosperity laid out. Perhaps the only things they shared in common were their growing hatred of slavery and their heavy baggage of personal tragedy ... and their sheer determination to improve (themselves and their people).She also offers a concise, yet still appalling, history of slavery within the United States. One aspect of my previous ignorance of the details of Lincoln's life was reflected in my subscription to the general canonisation of him. I was, therefore, surprised to find that while Lincoln abhorred the practice of slavery, he was less emphatic in his acknowledgement of freed slaves' rights for absolutely equal treatment. For instance, as late as 1860 he was still unconvinced of the appropriateness of African-Americans serving as jurors. Indeed, within the Team of Rivals it was William Seward who took the lead on seeking untrammelled equality of rights.Professor Goodwin covers the Civil War with great clarity, evoking the horror of a nation torn in two but never clogging the reader's attention with unnecessary detail. Similarly, her coverage of the passage of the key legislation through the two Houses is handled sensitively, and the potentially dry material relating to political process is handled in a lively way.I wish that more biographies managed to achieve Professor Goodwin's adept combination of scholarly depth and clarity of expression.