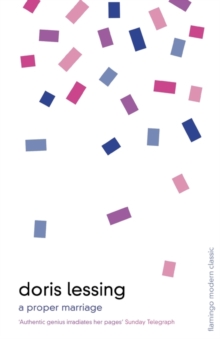 Proper Marriage 02
Paperback
Description
The second book in the Nobel Prize for Literature winner's 'Children of Violence' series tracing the life of Martha Quest from her childhood in colonial Africa to old age in post-nuclear Britain. 'A Proper Marriage' sees twenty-something Martha beginning to realise that her marriage has been a terrible mistake.
Already the first passionate flush of matrimony has begun to fade; sensuality has become dulled by habit, blissful motherhood now seems no more than a tiresome chore.
Caught up in a maelstrom of a world war she can no longer ignore, Martha's political consciousness begins to dawn, and, seizing independence for the first time, she chooses to make her life her own.
Information
Format: Paperback
Pages: 448 pages
Publisher: HarperCollins Publishers
Publication Date: 06/04/1990
ISBN: 9780586089996
Free Home Delivery
on all orders
Pick up orders
from local bookshops
Reviews
Showing 1 - 2 of 2 reviews.
Review by Ebba
16/06/2015
Second book in the "Children of Violence" series. Martha regrets getting married right after her wedding to Douglas. She feels trapped and depressed. The second world war is around the corner. The young local men go away to either train for the war or participate and fresh pale englishmen from the air force come to town. I can't wait to read the next book. So many issues are touched upon...
Review by solla
16/06/2015
The time and place is South Africa of the 1940's in the early stages of South Africa becoming involved in World War II.I am struck by how constrained the characters are from saying what they really want to say and acting as they really want to act, or even associating with or marrying who they want to associate with and marry. At the end of book 1 Martha drifted into a marriage, and now she is acting in the marriage the way she believes she should, which in large part means not acting like her mother, the complaining female.Martha Quest is a character who is very intellectual, as is the narrator, who seems to be a version of Martha somewhat in the future, but she doesn't seem able to do is to simply ask herself what it is that she wants. Once I was involved in this exercise in a kind of self-actualizing group. One person keeps asking: what do you want. The other person responds with whatever comes into their head. It goes on for quite some time, and does in fact finally result in you getting a pretty clear idea of what you want. I recommend it to Martha, in the series of dialogues that I tend to have in my head with characters in novels that I read.Martha always has a sense that she is meant for something, and that something is different from being in a marriage and having a child. She doesn't really know what it is, but seems to feel closer to it when she is involved with socialist study groups, although, at the same time, she sees that little action is taken. In the South Africa of the 1940's Martha is one of a distinct minority who believe that black Africans are equal to whites. While she believes this, at the same time the unequal world is the one in which she is comfortable, used to, there would be something disquieting about a change in that status quo. This is probably nearly always so to some extent even of the most well-intentioned person, and part of Lessing's honesty that she presents it so, instead of showing Martha totally as we (or I) might want her to be. It's probably also so that most of us have a sense of destiny without knowing what the destiny is.The one thing she feels strongly about his her daughter, Caroline. While she feels tenderness for her daughter, she feels so strongly that parents ruin their children, so it is possible for her to feel the way to save Caroline would be to leave her.So this book is a second stage of Martha's becoming. And while I am impatient and disagree with her choices, even parts of the final one when she seems to be getting back on her own path at last, still I am interested in learning what she is becoming. There is always a kind of irony and even humor in how she is looking over her own shoulder, which is maybe what allows me to like this character in the end.