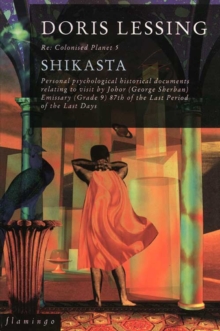 Description
From Doris Lessing, winner of the Nobel Prize for Literature, this is the first instalment in the visionary novel cycle 'Canopus in Argos: Archives'.
The story of the final days of our planet is told through the reports of Johor, an emissary sent from Canopus.
Earth, now named Shikasta (the Stricken) by the kindly, paternalistic Canopeans who colonised it many centuries ago, is under the influence of the evil empire of Puttiora.
War, famine, disease and environmental disasters ravage the planet.
To Johor, mankind is a 'totally crazed species', racing towards annihilation: his orders to save humanity set him what seems to be an impossible task.
Blending myth, fable and allegory, Doris Lessing's astonishing visionary creation both reflects and redefines the history of our own world from its earliest beginnings to an inevitable, tragic self-destruction.
Information
Format: Paperback
Pages: 448 pages
Publisher: HarperCollins Publishers
Publication Date: 28/03/1994
Category: Science fiction
ISBN: 9780006547198
Free Home Delivery
on all orders
Pick up orders
from local bookshops
Reviews
Showing 1 - 2 of 2 reviews.
Review by anamuk
16/06/2015
The first of Doris Lessing's SF series "Canopus in Argos: Archives)Shikasta is the Canopean name for Earth, it was originally Rohandra, but a cosmic misalignment allowed the Shammat to gain a hold.The bulk of the book details how various Canopean agents are trying to keep the worst excesses of the Shammat from harming Earth. The book starts with a retelling of Genesis, and then moves on to the 20 Century where the author casts a satirical eye of the politics of the time. This is one of the things good SF should do, picking out human traits and examining them in an unusual framework.
Review by LisaMorr
16/06/2015
I really liked this one. Much of it is told in reports on the condition of Shikasta, a world that is being managed by an alien race by doing some genetic engineering (bringing a race of giants to the planet, with the expectation that the giants will interbreed with one of the indigenous species), in the hope that it will be successful. Because of a variety of issues, including a problem with the connection between Shikasta and the aliens and also by interference by a corrupt alien race, Shikasta has gotten off-track in terms of its development. Agents of the alien race visit the planet from time to time, reporting on its progress. There are also sections where these agents become part of the planet's society, somewhat like reincarnation. Then they try to implement their roles in helping the planet get back on track, although they don't seem to be completely aware of their roles, and sometimes they fail. The last part of the book includes a rather interesting trial where all the problems of the world are blamed on one race. This book is part of a series and I'll definitely look to read more.