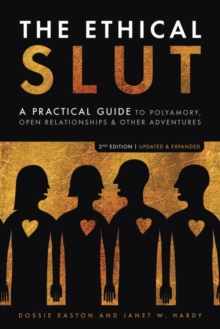 The Ethical Slut : A Practical Guide to Polyamory, Open Relationships, and Other Adventures
Paperback
Information
Format: Paperback
Pages: 320 pages
Publisher: Celestial Arts
Publication Date: 17/03/2009
ISBN: 9781587613371
Free Home Delivery
on all orders
Pick up orders
from local bookshops
Reviews
Showing 1 - 5 of 7 reviews.
Previous | Next
Review by MeditationesMartini
16/06/2015
Fuck fuck fuckity shit fuck kick cock kuck! This was, like, the longest review I ever wrote; it had a magnificent narrative arc; it had tragedy and also humour; you would have laughed and I would have looked back in my old age and remembered how it felt here, today, to write about an <i>Ethical Slut</i> review-relevant situation when it was fresh like heart's blood on snow and not stinking and rotten like all memories of youth in the brainz of the old. Goddddd, so surly and demoralized. Howzabout you invent an automatic text box input-savety thing, firefox? Gmail has one. Could you imagine that that would be possibly ever a thing that some people would use or appreciate or need? COULD YOU?<br><p>Ahhh, fuck ya. (What kind of name is "mozilla firefox" anyway? It's like the dude's name was Moe and his Hawaiian shirts weren't loud enough. "Mozilla! The Mo-man! The ..." the Moeminator. (headdroop.) This book was panglossian and mischaracterized its opponents (what opponents?) as repressed haters in a way that was totally not cricket, and I gave it 1.5 stars and that's all the review you get now, because I was cursed as an infant by gypsies or Krampus to always fail. Also, polyamory is doomed to fail not because we are jealous and repressed, but because monoamory is hard enough. How many ways is there for any relationship to fail? Say each partner brings a million to the table, even the most progressive of us. Safe assumption? NOW HOW IS ADDING MORE DUDES A GOOD IDEA?????
Review by fundevogel
16/06/2015
I tend to roll my eyes at self-help books and relationship books. It probably isn't my best attribute, but it's true. This one I ate up. This was almost certainly because we live in a society so knotted up about sexuality and traditional monogamy that there really isn't much discussion of, let alone positive role modeling of healthy non-monogamous relationships out in the open. Lately I have become more and more aware that a lot of perfectly lovely people have been cutting their own path when it comes to structuring their intimate relationships. Couple that with my own disinterest in the traditional institution of marriage and this seemed like the book for me.It was.The book starts off beautifully from the simple premise: Sex is fun and pleasure is good for you. The authors proudly dismiss the idea that the number of partners a person has has any bearing on their value as a person or their moral fiber. This, they point out, is a hold over from our culture's long tradition of commodifying sex, or, more specifically, commodifying women according to the exclusivity of their bodies. There is of course nothing wrong with monogamy if it is what works for a couple, however the authors are quick to point out that love and sex need not go hand in hand, and if love is dependent on complete sexual possession of your partner's body you might be confusing your lover with your property. You love a person for who they are, not who they do.These are of course things that need to be sorted out by the individuals involved and nowhere in the book do the authors imply one sort of relationship to be superior to another. They do however point out that what's best for one person is not necessarily best for another and what is best for a person can change over a lifetime. Or several times. They dig into the ethics and strategies of non-monogamy and here it really opens up. Frankly, with the possibly exception of the chapter on how to negotiate sex parties, this section really ought to apply to anyone. Communication and emotional honesty are emphasized above all else. Using this basic foundation the authors detail how to sort out what boundaries you need in your relationship and how to deal with the difficulties and problems that will arise in a non-mongamous relationship. Not because non-monogamy is inherently more fragile than monogamy, but because every relationship faces challenges.I still don't know how exactly I would like to structure my romantic relationships, but now I'm a lot more knowledgeable about the options out there and feel more secure knowing my relationships don't need fit any expectations or structure other than those imposed by the people involved. Yay!
Review by michaelbartley
16/06/2015
while the book is a guild to the world of plyamory, a way of having more then one lover and do it a ethical and healthy way. the guildllines they write about would work in a monogamous relationship. be direct in what you want, be honest is what you are, respect your lover,own your feelings, and respect your boundries and your lovers' I like this book it opened up new ways of thinking
Review by mephistia
16/06/2015
Before I write my review, I want to say something. I don't normally read psycho-babble self-help relationship-help type books. <br/><br/>Maybe it's because I've been in therapy for bipolar since I was 13, maybe it's because I regularly read psychology and medical texts, maybe it's because I have an immediately visceral and negative reaction to the idea of trying to change another person. This is probably due to the fact that people have been trying to "change" me for so long, convince me that bipolar is a figment of my imagination, a fallacy that I can overcome by strength of will.<br/><br/>And too often, self-help books and relationship manuals rely on what I perceive as the negative perpetuation of the idea that one can improve serious issues like depression, bipolar, dissociative personality disorders, PTSD, and other serious mental issues through "happy thoughts" and "positive thinking" and "spiritual energies" and other hoo-ha.<br/><br/>Most relationship "help" books also tend to tilt too far in one direction or the other: Here's how to change him/her (you can't change another person, it's an exercise in futility and only hurts everyone involved), or, alternatively and supposedly more realistically: You can't change them, so accept them faults and all and love them as they are. Live with it.<br/><br/>Both of those tactics are depressing and horrific and probably help attribute to the high divorce rate, as neither of those tactics are in any way conductive to honest communication.<br/><br/>Which is why The Ethical Slut is so freaking awesome. The authors are proponents of polyamory, or open relationships, that's true. But the basic tenants of communication and how to strengthen a core relationship, the little exercises for opening up the lines of discussion between a couple -- everything in this book is invaluable. <br/><br/>I loved the concept of "agreements" rather than "rules" -- it's so easy for someone to say, "This is a rule," and we think of something strict and unbreakable and feel boxed in and itchy and, even if we often don't admit it, angry and wanting to break it. Rules beg to be broken. But agreements sound so flexible, so easy and negotiable. <br/><br/>As my husband pointed out when I discussed this with him, they have safety rules at his place of work and they get broken all the time (which irritates the crap out of him, as a forklift driver). But they also have employee agreements, which are re-negotiated every two years, with employee input. <br/><br/>And I can see how that parallels so easily. It makes sense.<br/><br/>Another thing the authors discussed was arguing -- obviously, all couples argue. Everybody argues. We have to argue, it's how we hash out the difficult issues, paying bills and visiting inlaws and everything big and little that we disagree on. The authors introduced two new concepts to me: Scheduling fights (?!?!) and the win-win idea.<br/><br/>I'd heard of scheduling sex. I'm pretty sure that anyone married more than 3 years and definitely anyone with a kid has been introduced to the concept of scheduling sex. At first it sounds weird, but then you get used to the idea, and then it makes perfect sense. There's still spontaneous sex, yeah, but there's also scheduled sex.<br/><br/>Well, the authors discussed how scheduling fights and learning how to fight constructively -- letting each person have uninterrupted time to air their feelings, practicing fighting over small issues using a timer, learning to walk away and calm down for 10 to 15 minutes when things got too heated -- can strengthen a relationship. <br/><br/>The concept of a win-win is brilliant, too. It's basically compromise, but I love how they phrased it, because we all go into an argument wanting to win. It's how we're wired -- we want to make our point and we want to win, and once we do, it'll be done because we've won, right?<br/><br/>Except it's not done just because we've won, because somebody's lost and a loser is never happy. They're still angry and mulling over their loss and what happened and one day that same damn argument will swell up and bite you in the ass, even though the winner thought it was over and done and behind them -- they won, so it was done, right?<br/><br/>That's where win-win, compromise, agreements come in. If everyone feels like they've won, then there are no losers and the argument is truly over. It won't come back to bite anybody in the ass. But only if you've hashed out a compromise that's truly a win-win for everybody, something that everyone is happy with and can live with.<br/><br/>And all these things seem so self-evident, so, "Well, duh, I knew that." <br/> They're the type of things that when you read them, you're nodding and laughing and going, "Yeah, I totally get that!" and making little notes in the margins and underlining phrases and entire paragraphs. Because even though in some part of your brain you knew that and you totally understood how that worked, you couldn't quite figure out how to phrase it in just the right way.<br/><br/>I swear, this book is a must have for everybody in a relationship or anybody who wants to be in a relationship. It's awesome. It doesn't matter if you're in a monogamous relationship, an open relationship, or curious about an open relationship. It's great for anyone, seriously. Read it. <br/><br/><br/>
Review by raselyem7
16/06/2015
This is really fabulous book about unconventional relationships, primarily directed toward varieties of polyamory, but containing extremely useful information/perspectives for anyone who wants to own their sexuality, or maintain relationships outside of the most narrow confines of conventionality. Particularly the techniques for communication discussed are incredibly useful.