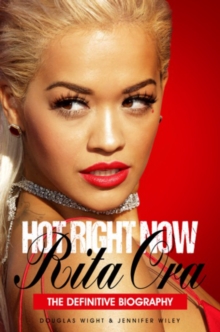 Hot Right Now: The Definitive Biography of Rita Ora
Hardback
Description
The FIRST and ONLY proper biography of singer and X Factor star judge Rita Ora.
This unauthorised bio is jam-packed with exclusive revelations and fresh insight from people who have known and loved the Body On Me and Coming Home singer for her entire life.
She's the hottest pop star in Britain, with four number one singles, a number one album.
As a first-time judge on the X Factor she successfully mentored Louisa Johnson to win the hit ITV singing contest.
But who is Rita Ora? What makes her tick? What drives her to succeed? And what has she got that Simon Cowell was willing to stake the future of his prime time talent show on it?
Featuring new material from the UK and her native Kosovo, Hot Right Now - the first and definitive biography on a singer critics have dubbed 'the British Rihanna' - charts Rita's incredible journey from her humble beginnings in Pristina to international superstardom...When Besnik and Vera Sahatciu gathered their two young daughters and boarded a flight from their native Kosovo for a new life in Britain never in their wildest dreams could they have imagined what lay in store. Wrapped in their arms was baby Rita, a girl her grandfather predicted would be a star when she was just a baby.
The family would have to overcome refugee status, forced separation, hardship and health fears just to give Rita a start in life.
But from the moment she opened her lungs to sing, it was clear she had a calling.
Rita Ora - as she would become - is now one of the most recognisable faces in music, and one of the new faces on The X Factor.
But, following stunning pop success, celebrated stints on TV and a blossoming movie career, international mega-stardom now beckons.
Yet Rita is anything but an overnight sensation. She's had to battle and scrape for every chance she's got.
She's seen her dreams shattered and her ambitions crushed.
Each time she's come back stronger. Experienced showbiz writers Douglas Wight and Jennifer Wiley chart Rita's astonishing rise to fame and explore just how she's managed to stay Hot Right Now.ABOUT THE AUTHORSSunday Times best-selling author Douglas Wight has been a journalist and writer for twenty years covering news, features, politics and investigations. He has reported on world news events including the Dunblane massacre, the legacy of the Chernobyl nuclear disaster in Ukraine and the aftermath of the World Trade Centre terrorist attacks.
A former books editor for the News of the World, he is also the author, co-writer or ghost of nine books, including Leonardo DiCaprio: The Biography, which has since been translated into four languages and Calvin Harris: The $100 Million DJ.Jennifer Wiley has been a journalist for ten years specialising in hard-hitting celebrity interviews, investigations and women's interest stories. Originally from Calgary, Canada, Jennifer started her career at the Okotoks Western Wheel before making her way to London's Fleet Street where she was TV editor at the News of the World, responsible for breaking a number of agenda-setting scoops.
She then became features editor for Barcroft Media, one of the world's leading news, photo and TV agencies.
Jennifer now runs her own media company.
Free Home Delivery
on all orders
Pick up orders
from local bookshops