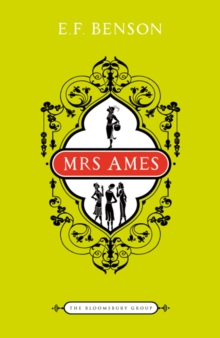 Description
Reigning over a social merry-go-round of dinners and parties, Mrs Ames is the undisputed queen bee of Riseborough.
That is, until vivacious new villager Mrs Evans catches the eye of both her son and her husband.
Not content with captivating the men in her life, 'that wonderful creature' Mrs Evans becomes not just rival to Mrs Ames' marriage, but rival to her village throne.
When the whole of Riseborough is invited to Mrs Evans' masked costume party, action must be taken.
As the date looms, the irrepressible Mrs Ames resolves to seize the chance to win back her position, and thus, her man.
Information
Format: Paperback
Pages: 320 pages
Publisher: Bloomsbury Publishing PLC
Publication Date: 05/07/2010
Category: Classic fiction (pre c 1945)
ISBN: 9781408808580
Free Home Delivery
on all orders
Pick up orders
from local bookshops
Reviews
Showing 1 - 3 of 3 reviews.
Review by Kasthu
16/06/2015
I first heard about this book from another blogger, who mentioned that the Bloomsbury Group would be reprinting four more books this summer, of which Mrs. Ames is one. EF Benson wrote dozens of novels, of which his Mapp and Lucia series is most famous. Mrs. Ames is very similar to Mapp and Lucia; it concerns the social life of the town of Riseborough and several ladies' attempts to be Queen Bee there. Mrs. Ames is the reigning queen of middle-upper class Riseborough, but her position is threatened by the arrival of Mrs. Evans.The novel starts off a little shakily; at first I found it a little hard to get engaged by Benson's writing style. But as I continued reading, I found myself loving this witty satire, in which people split hairs over whether one lives in a "street" or "a road." Mrs. Evans's social ascendency over the town of Riseborough seems accidental, so it's no less funny when she has the upper hand over Mrs. Ames. One of my favorite characters in this book is Mrs. Altham, the middle-aged neighbor who equally aspires to the position of Queen Bee—but doesn't ever get there and says nasty things about people behind their backs. This might get old after a while if the author's tone hadn't been quite so satirical—often, the joke is on Mrs. Altham, which makes parts of the book such a joy to read. Reading this book makes me look forward to reading more of EF Benson's books—I've heard that the Mapp and Lucia series is especially good and so I think I'll try to track down copies of some of those books.
Review by VivienneR
16/06/2015
Benson is one of my favourite authors. Typical of his stories, there is a serious side to the entertaining lives of the village elite. Published in 1912, Mrs Ames may have been the forerunner to Mapp and Lucia, but she has a distinct character all her own. The reader cheers her on in her quest to be society's leading light. Very enjoyable and recommended strongly to Benson fans.
Review by thewanderingjew
16/06/2015
Written by the son of an Archbishop of Canterbury, this is a delightful read. I have always loved English humor. It is tongue in cheek, dry and often not obvious. Because of this, reading it will require some amount of patience, which I believe will be well worthwhile. Also, the printed page is not easy on the eyes because the font and style make the letters appear too tight, in my edition, anyway. Other than that I am loving it.There are an abundance of double entendres. I have not laughed out loud or issued any guffaws but I have truly been amused after finishing almost every sentence. I have never been bored. I feel that I have enjoyed the text as much as, or perhaps more, than anything I have read in awhile, not only for the story presented but for the presentation itself. Every sentence is a work of art.The humorous message is so subtle, that often, you stop and pause and, rereading what you just read, you arrive at a sudden aha moment and your lips curl up in a smile. The story perfectly illustrates the deprecating pretentiousness of the upper classes of England, at the turn of the 20th century. (The book, originally published in 1912, was reissued in 2011.) The characters all seem to engage in a clever repartee in which each hints at the news they wish to share without ever obviously revealing it, while professing their complete lack of interest in gossip. In actuality, they are politely tearing each other to ribbons.The women vie for the honor of being the town barometer or trendsetter, currently held by Mrs. Ames. There is the standard envy generally observed toward the one who occupies the throne, especially when there are several women in the wings who are seeking to dethrone her and who believe that they are more worthy of the place of honor in their society. The gossip often hints at the undercurrent of jealousy. They are all yearning for something more and seem almost, but not quite, content. Mrs. Ames, a decade older than her husband decides to throw a dinner party to which she invites only one spouse of each couple. She often likes to mix things up but this time there are unintended consequences to her actions. The story develops from there as her husband and son both become infatuated with Mrs. Evans who fancies herself an innocent coquette. Mrs. Ames had unwittingly unleashed a marital storm which explodes with a subtle force of nature. In the meantime, she herself explores new depths and becomes involved with the women's suffrage movement. As the plot unfolds, the characters make plans that backfire because their deceptions are ill conceived and poorly constructed. Convincing themselves that they are doing no wrong, they make plans designed to mislead their spouses and misdirect their intentions. Too soon, all of these plans develop in unexpected ways, making a mockery of their designers. The tongues of Riseborough wag incessantly, sprouting rumors more often than flowers in the gardens of their minds often indicating unwise and incorrect deductions. They are wonderfully developed characters. You can almost visualize them in each scene from their descriptions. The author has used language to create images in your mind and has excelled, in my estimation. Mrs. Ames, a character who uses her wiles to make up for her somewhat lacking pedigree, is one you will enjoy meeting and getting to know.
Also in the The Bloomsbury Group series | View all