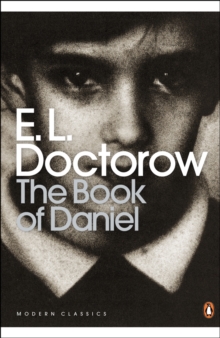 The Book Of Daniel,
Paperback
Description
Based on the trial and execution of Ethel and Julius Rosenberg, convicted of delivering information about the atomic bomb to the Soviet Union E.L.
Doctorow's The Book of Daniel includes a new introduction by Jonathan Freedland in Penguin Modern Classics. As Cold War hysteria inflames America, FBI agents pay a surprise visit to a Communist man and his wife in their New York apartment.
After a trial that divides the country, the couple are sent to the electric chair for treason.
Decades later, in 1967, their son Daniel struggles to understand the tragedy of their lives.
But while he is tormented by his past and trying to appreciate his own wife and son, Daniel is also haunted, like millions of others, by the need to come to terms with a country destroying itself in the Vietnam War.
A stunning fictionalization of a political drama that tore the United States apart, The Book of Daniel is an intensely moving tale of political martyrdom and the search for meaning. E.L. Doctorow (b.1931) is one of America's most accomplished and acclaimed living writers. Winner of the National Book Award, the National Book Critics Circle Award (twice), the PEN/Faulkner Award, and the National Humanities Medal, he is the author of nine novels that have explored the drama of American life from the late 19th century to the 21st, including Ragtime, The Book of Daniel and Billy Bathgate. If you enjoyed The Book of Daniel, you might like Ralph Ellison's Invisible Man, also available in Penguin Modern Classics. 'Art on this level can be only a cause for rejoicing' Joyce Carol Oates '[Doctorow] is at once a radical historian, a cultural anthropologist, a troubadour, a private eye, and a cost-benefit analyst of assimilation and upward mobility in the great American multiculture' John Leonard, New York Review of Books
Information
Format: Paperback
Pages: 336 pages
Publisher: Penguin Books Ltd
Publication Date: 02/02/2006
ISBN: 9780141188188
Other Formats
Paperback from £9.39
EPUB from £7.49
Free Home Delivery
on all orders
Pick up orders
from local bookshops
Reviews
Showing 1 - 3 of 3 reviews.
Review by dylanwolf
16/06/2015
A wonderful evocation of living with a liberal sensibility and a social conscience in a conservative leaning open democratic society. This is a thoughtful, deep and admirable novel about the American McCarthy years. The book is based loosely around the case of Julius and Ethel Rosenberg who were executed in 1953 after having been found guilty of conspiracy to commit espionage. How the state should deal with those whose consciences lead them to work against it is a thorny problem. The state often has to wrestle with a morass of conflicting ethical issues, things can seem much more clear cut to individuals with a narrower insight. But the mechanics of high politics can and does blur and fudge, critical rights of freedom and fundamental pillars of the democratic world can be at threat. There should always be a dialogue and continuous review and check between the power of the state and the individual. The problem is that no one agrees where the ethically correct fulcrum lies, nor where the best point of stability is achieved. And I suspect that both are variable and highly susceptible to differing political circumstances and priorities.
Review by whirled
16/06/2015
The Book Of Daniel left me with very mixed feelings. I appreciated getting a new perspective on the Rosenberg trial and I loved Doctorow's prose style, yet I found the character of Daniel quite despicable. In this respect, the book reminded me of Philip Roth's work, which I great admire even though it challenges and sometimes repulses me. Also like many Roth novels, The Book Of Daniel features graphic depictions of the sexual degradation of a woman. It's an interesting book, but as the old saying goes, it's not for the faint-hearted.
Review by Suzejamesy
16/06/2015
There are some books that stay with you long after you've put them down and 'The Book of Daniel' is one of them. The narrative is both complex and impressive and despite jumping between POV, time lines and locations very frequently, you never lose your way. Many of the characters are portrayed in a rather unsympathetic manner, but it is still possible to have a spark of empathy for them. This is a window in mid-20th century US history, but one that is a subtle and highly engaging lesson.