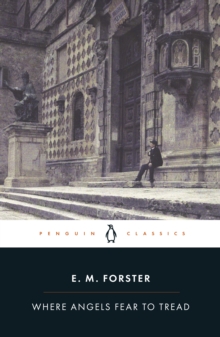 Where Angels Fear to Tread
Paperback
Description
When attractive, impulsive English widow Lidia takes a holiday in Italy, she causes a scandal by marrying Gino, a dashing and highly unsuitable Italian twelve years her junior.
Her prim, snobbish in-laws make no attempts to hide their disapproval, and when Lidia's decision eventually brings disaster, her English relatives embark on an expedition to face the uncouth foreigner.
But when they are confronted by the beauty of Italy and the charm and vitality of the disreputable Gino, they are forced to examine their own narrow lives, and their reactions are emotional, violent and unexpected.
Information
Format: Paperback
Pages: 176 pages
Publisher: Penguin Books Ltd
Publication Date: 31/05/2007
ISBN: 9780141441450
Free Home Delivery
on all orders
Pick up orders
from local bookshops
Reviews
Showing 1 - 4 of 4 reviews.
Review by laudemgloriae
16/06/2015
Forster is my favorite novelist, and I can not articulate how much I love this book. It is stunning how he expresses the need of his characters for each other, and their fear of needing eachother... that they are 'angels' who 'fear to tread' amongst each other... It's timeless.
Review by li33ieg
16/06/2015
I can't believe how long it took me to discover EM Foster! Having done so, I've gotten through more or less his complete works in less than six months and am recommending him to my daughter who, at the age of 16, seems to me ready to take on more adult reading but struggles a bit with certain 'classics' where the themes appear inaccessible to one so young.Forster looks at how human society operates to support certain individuals it collectively approves of and to correct (if it doesn't go so far as to bring down) those it disapproves of.As relevent today as ever he was.
Review by ctpress
16/06/2015
I loved Room With a View and Howards End. My expectations were high but the book did not come close to the other two masterpieces. There were no persons to like in this tale - it left me cold and indifferent - couldn't wait for the italien wailing and the english prudishness to end.
Review by murraymint11
16/06/2015
A quick read. Full of unlikeable characters, I never really got into the book. Descriptions of Italy were very familiar though :)