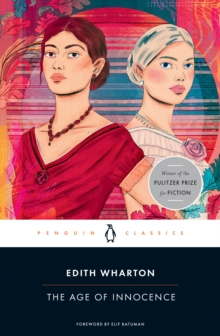 The Age Of Innocence,
Paperback
Description
The return of the beautiful Countess Olenska into the rigidly conventional society of New York sends reverberations throughout the upper reaches of society.
Newland Archer, an eligible young man of the establishment is about to announce his engagement to May Welland, a pretty ingenue, when May's cousin, Countess Olenska, is introduced into their circle.
The Countess brings with her an aura of European sophistication and a hint of scandal, having left her husband and claimed her independence.
Her sorrowful eyes, her tragic worldliness and her air of unapproachability attract the sensitive Newland and, almost against their will, a passionate bond develops between them.
But Archer's life has no place for passion and, with society on the side of May and all she stands for, he finds himself drawn into a bitter conflict between love and duty.
Information
Format: Paperback
Pages: 368 pages
Publisher: Penguin Putnam Inc
Publication Date: 01/03/1996
ISBN: 9780140189704
Other Formats
Paperback from £2.50
Hardback from £9.15
EPUB from £0.99
Mixed media product from £12.67
CD-Audio from £25.59
eAudiobook MP3 from £5.84
Paperback / softback from £9.99
PDF from £1.94
Free Home Delivery
on all orders
Pick up orders
from local bookshops
Reviews
Showing 1 - 5 of 6 reviews.
Previous | Next
Review by susan139
16/06/2015
So stifling, open the windows and let the air in. Claustrophobic and great.
Review by Jthierer
16/06/2015
Spoiler Alert!When Ellen Olenska returns to New York to escape her husband, she shakes up Newland Archer's carefully ordered world and challenges his assumptions about what his life could and should be like. As the two carry on an affair mostly of the heart, consummated only by a few stolen kisses, the ramifications of his actions are felt throughout the tiny community of New York society. My favorite thing about this novel was the ending. As I read along, I was expecting some dramatic, tragic ending for Newland and Ellen. Instead, she returns to Europe and he stays with his pregnant wife. As time passes the supposedly all-consuming love fades and the two are content, if not blissful, in their separate lives. This seemed to me much more realistic than the tragic fates that await other unfaithful lovers in many novels. It wasn't a happily-ever-after story, but it was, in a strange way, a happy ending.
Review by gbill
16/06/2015
"The Age of Innocence" is one of my favorite novels. Newland Archer is committed to May Welland when along comes Ellen Olenska; the flirtation that develops starts small but builds to a crescendo; the looks, comments, light touches, and gestures are so brilliantly described by Wharton that I felt I was the one being flirted with. :-) Wharton is dead on in her observations about men, women, and marriage; you have to get past some of the New York society stuff but it's well worth it. The book also has a great, great ending. This edition has a great introduction by Cynthia Griffin Wolff, who among other thing points out a truth in Wharton's fiction, that "The real challenge that confronts each man and woman, then, can never be that of finding perfect happiness; rather, it must be that of creating some form of possible happiness...In this life, no one can expect more."Quotes:On marriage:"...once more it was borne in on him that marriage was not the safe anchorage he had been taught to think, but a voyage on uncharted seas.""He had married (as most young men did) because he had met a perfectly charming girl at the moment when a series of rather aimless sentimental adventures were ending in premature disgust; and she had represented peace, stability, comradeship, and the steadying sense of an unescapable duty.""As she sat thus, the lamplight full on her clear brow, he said to himself with a secret dismay that he would always know the thoughts behind it, that never, in all the years to come, would she surprise him by an unexpected mood, by a new idea, a weakness, a cruelty, or an emotion. She had spent her poetry and romance on their short courting: the function was exhausted because the need was past. Now she was simply ripening into a copy of her mother, and mysteriously, by the very process, trying to turn him into a Mr. Welland.""...he had watched Mrs. Thorley Rushworth play toward a fond and unperceiving husband: a smiling, bantering, humouring, watchful and incessant lie. A lie by day, a lie by night, a lie in every touch and every look; a lie in every caress and every quarrel; a lie in every word and in every silence."On the double standard:"In this view they were sedulously abetted by their mothers, aunts, and other elderly female relatives, who all shared Mrs. Archer's belief that when 'such things happened' it was undoubtedly foolish of the man, but somehow always criminal of the woman. All the elderly ladies whom Archer knew regarded any woman who loved imprudently as necessarily unscrupulous and designing, and mere simpleminded man as powerless in her clutches. The only thing to do was to persuade him, as early as possible, to marry a nice girl, and then trust to her to look after him."On politics:"Every one in polite circles knew that, in America, 'a gentleman couldn't go into politics.' But, since he could hardly put it in that way to Winsett, he answered evasively: 'Look at the career of the honest man in American politics! They don't want us."On passion:"Ellen! What madness! Why are you crying? Nothing's done that can't be undone. I'm still free, and you're going to be.' He had her in his arms, her face like a wet flower at his lips, and all their vain terrors shrivelling up like ghosts at sunrise. The one thing that astonished him now was that he should have stood for five minutes arguing with her across the width of the room, when just touching her made everything so simple.""I mean: how shall I explain? I - it's always so. Each time you happen to me all over again."On adultery:"But in Archer's little world no one laughed at a wife deceived, and a certain measure of contempt was attached to men who continued their philandering after marriage. In the rotation of crops there was a recognised season for wild oats; but they were not to be sown more than once.Archer had always shared this view: in his heart he thought Lefferts despicable. But to love Ellen Olenska was not to become a man like Lefferts: for the first time Archer found himself face to face with the dread argument of the individual case. Ellen Olenska was like no other woman, he was like no other man: their situation, therefore, resembled no one else's, and they were answerable to no tribunal but that of their own judgment."On transience:"Its glass shelves were crowded with small broken objects - hardly recognisable domestic utensils, ornaments and personal trifles - made of glass, of clay, of discoloured bronze and other time-blurred substances.'It seems cruel,' she said, 'that after a while nothing matters ... any more than these little things, that used to be necessary and important to forgotten people, and now have to be guessed at under a magnifying glass and labelled: 'Use unknown.' "On the miracle of technology:"Dallas seemed to be speaking in the room: the voice was as near by and natural as if he had been lounging in his favourite arm-chair by the fire. The fact would not ordinarily have surprised Archer, for long-distance telephoning had become as much a matter of course as electric lighting and five-day Atlantic voyages. But the laugh did startle him; it still seemed wonderful that across all those miles and miles of country - forest, river, mountain, prairie, roaring cities and busy indifferent millions - Dallas's laugh should be able to say: 'Of course, whatever happens, I must get back on the first, because Fanny Beaufort and I are to be married on the fifth."On old age:"Sitting alone at night in his library, after the household had gone to bed, he had evoked the radiant outbreak of spring down the avenues of horse-chestnuts, the flowers and statues in the public gardens, the whiff of lilacs from the flower-carts, the majestic roll of the river under the great bridges, and the life of art and study and pleasure that filled each mighty artery to bursting. Now the spectacle was before him in its glory, and as he looked out on it he felt shy, old-fashioned, inadequate: a mere grey speck of a man compared with the ruthless magnificent fellow he had dreamed of being..."And memories of an old love:"During that time he had been living with his youthful memory of her; but she had doubtless had other and more tangible companionship. Perhaps she too had kept her memory of him as something apart; but if she had, it must have been like a relic in a small dim chapel, where there was not time to pray every day...."
Review by lit_chick
16/06/2015
Brilliantly written, The Age of Innocence captures at once the polished outward charm and the inner, well-oiled machinations of 1870s New York City society. Protagonist Newland Archer is a young, affluent lawyer living an elegant life within the familiar, rigid social strictures of his class. He is engaged to May, daughter of the prominent Wellands and granddaughter to powerful matriarch, Mrs. Manson Mingott. May is wide-eyed, adoring, naïve, and impeccably trained by tradition. When the beautiful Ellen Olenska, cousin to May and also granddaughter to Mrs. Manson Mingott, returns to New York, having left the brutish Polish Count she married some years earlier, society is affronted. Welland, however, finds himself attracted to the Countess's forward-thinking free spirit; on this basis he befriends her, but eventually he falls in love with her. His association with Ellen leads him to question the traditions, moral codes, and "elaborate futility" of the "rich and idle and ornamental" society in which he lives. The deliberate and meticulous precision that has thus far defined his existence begins to grate irrevocably:"The young man, as he followed his wife into the hall, was conscious of a certain reversal of mood. There was something about the luxury of the Welland house and the density of the Welland atmosphere, so charged with minute observances and exactions, that always stole into his system like a narcotic. The heavy carpets, the watchful servants, the perpetually reminding tick of disciplined clocks, the perpetually renewed stack of cards and invitations on the hall table, the whole chain of tyrannical trifles binding one hour to the next, and each member of the household to all the others, made any less systematized and affluent existence seem unreal and precarious. But now it was the Welland house, and the life he was expected to lead in it, that had become unreal and irrelevant, and the brief scene on the shore, when he had stood irresolute, halfway down the bank, was as close to him as the blood in his vein." (Ch 21)Wharton's prose is exquisite; I can't remember when I've read such a gorgeous book. The Age of Innocence has become a favourite. Highly recommended!
Review by Booktrovert
16/06/2015
"We can't behave like people in novels, though, can we?"

4.5-stars, really!!

delicious!!! this is my first wharton (I KNOW!) and while i had already held her in high esteem as a writer and a woman, this book kinda made me fall in love with her. a lot. wharton's prose is beautiful. her eye for detail, incredible. i loved her way with description - sometimes so poetic, other times hilarious and often, both!

* "...her abysmal purity..."
* "The immense accretion of flesh, which had descended on her in middle life like a flood of lava on a doomed city had changed her from a plump active little woman with a neatly-turned foot and ankle into something as vast and august as a natural phenomenon."
* "...he plunged out into the winter night bursting with the belated eloquence of the inarticulate..."
* "...she gave an adipose chuckle and patted his knee with her puff-ball hand..."
* "She had the heedless generosity and the spasmodic extravagance of persons used to large fortunes,..."

this is great stuff!! :)

the age of innocence centers on an upper-class couple, archer and may's, impending marriage, and ellen, may's cousin - a countess who has recently fled her marriage and life in europe, so is plagued by scandal. ellen's presence, (along with being may's cousin, she is also a friend of archer's from childhood (this circle of society is tight, yo!)) threatens the happiness and stability of archer and may's union. though the novel questions assumptions and morals of 1870s' New York society, it never devolves into an outright condemnation of the institution. apparently, wharton considered this novel an "apology" for her earlier novel, 'the house of mirth', which was more brutal and critical. (and which i need to read RIGHT NOW!! heh!)

i truly enjoyed reading this book and was fully immersed in the time and place wharton created here. i loved coming across ideas in the novel, that for the time it was set (the 1870s), would have been very extreme views, and for the time it was written (1920), would likely still have been rather unpopular. ideas like: divorce, equality for (or more freedom for) women, socializing outside of one's 'class', progressive society - each touched on yet never presented as a lecture or a wagging finger.

according to wikipedia (I KNOW!):

"Not to be overlooked is Wharton's attention to detail regarding the charms and customs of the upper class. The novel has been lauded for its accurate portrayal of how the 19th-century East Coast American upper class lived, and this, combined with the social tragedy, earned Wharton a Pulitzer Prize—the first Pulitzer awarded to a woman. Edith Wharton was 58 years old at the time of publication; she had lived in that world and had seen it change dramatically by the end of World War I. The title is an ironic comment on the polished outward manners of New York society when compared to its inward machinations."

my only, only, 'yeah, but...' is because of:

early on in the novel we are told: "Everyone in polite circles knew that, in America, "a gentleman couldn't go into politics." and yet...by the end of the story, we learn that is, in fact, exactly what archer ended up doing. the last chapter has seen time in the story jump ahead 26 years. we are quickly brought up to speed with births, deaths and marriages. yet this one piece made for an inconsistency for me and left me with questions:

* in making the decision, did archer feel he was no longer a gentleman?
* did beliefs change within his level of society?
* did he, rather, just choose to follow his heart into something he truly wanted to do? if so, was this to offset the manner in which he would have rather followed his heart?
* if he had such a shift in thinking...then why not fight for ellen?

you see -- questions, i have them! :)

i loved the ending so much! i thought it perfect. i wondered often during this read if may and ellen were both held to a fantasized ideal in archer's mind. when archer, finally, says, near the very end of the book: "It's more real to me here than if I went up." i was, like, YEAH IT IS!

i think it was a ballsy choice on wharton's part to end the novel in this way. and i suspect wharton was a ballsy broad! :)