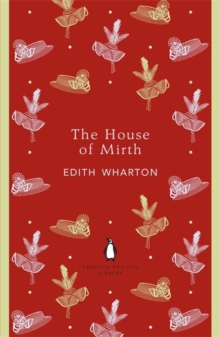 The House Of Mirth,
Paperback
Description
The Penguin English Library Edition of The House of Mirth by Edith Wharton 'It was characteristic of her that she always roused speculation, that her simplest acts seemed the result of far-reaching intentions' A searing, shocking tale of women as consumer items in a man's world, The House of Mirth sees Lily Bart, beautiful and charming, living among the wealthy families of New York but reluctant to finally commit herself to a husband.
In her search for freedom and the happiness she feels she deserves, Lily is ultimately ruined by scandal. Edith Wharton's shattering novel created controversy on its publication in 1905 with its scathing portrayal of the world's wealthy and the prison that marriage can become. The Penguin English Library - 100 editions of the best fiction in English, from the eighteenth century and the very first novels to the beginning of the First World War.
Information
Format: Paperback
Pages: 408 pages
Publisher: Penguin Books Ltd
Publication Date: 26/04/2012
Category: Classic fiction (pre c 1945)
ISBN: 9780141199023
Other Formats
Paperback from £2.50
Hardback from £8.35
EPUB from £0.99
Paperback / softback from £5.99
Free Home Delivery
on all orders
Pick up orders
from local bookshops
Reviews
Showing 1 - 3 of 3 reviews.
Review by AdonisGuilfoyle
16/06/2015
Fish, guests and now wordy novels with obnoxious heroines really do start to stink after three days. Or possibly three chapters - I loved the first fifty or so pages of <i>The House of Mirth</i> but then Lily Bart and the storyline got stuck in a loop, and I found myself dropping off to sleep after struggling through a couple of pages. At work, on the bus, at home - finishing Edith Wharton's novel was a trial, but I was determined. The final few chapters made up for the soporific effect of the bulk of the book, however.My main problem, aside from the fact that Wharton should have contented herself with a short story or a novella, was with Lily Bart, the distinctly unloveable heroine with an inflated opinion of herself (or with the author's inflated opinion of herself). At twenty-nine, a woman of Lily's age and situation would have been labelled a spinster and left on the shelf, but because of her glowing, ethereal, exquisite, etc. beauty, descriptions of which must pad out over half of the novel, Lily still considers herself a 'marriageable girl' in the market for the richest husband she can find. Lily also considers herself to be some sort of princess, when in fact she is little more than a leech who maintains her delusional lifestyle by befriending/flirting with the social elite/nouveau riche of New York. She is a horrific snob without the means or intelligence of an Emma Woodhouse, a calculating gold digger without the deviousness or brass neck of a Becky Sharp, and a stunning beauty without the charm of a Lady Blakeney. Lily Bart is a useless, heartless, fading bauble, who continually sabotages her own ambition to be a rich man's wife, whether by design or cowardice.She has a fear of being poor and 'dingy', and has become 'dependent on ease and luxury', whatever the cost. Lily's sympathisers, like Lawrence and cousin Gerty, blame Lily's upbringing and insist that 'she can't help it', which also irritated me. I couldn't stand her, and was infinitely satisfied by the way her story played out.That said, Edith Wharton does have a way with words, if nothing else - sort of an American Jane Austen, but lacking the same slyness in her social commentary. 'A girl must, a man may if he chooses', Lily opines to her ill-fated suitor, Lawrence Selden. And Wharton's shrewd observation that 'inner vanity is generally in proportion to the outer self-deprecation' is very true. I also love the poetic descriptions that Wharton employs, as with Lily's aunt, Mrs Peniston: 'She had always been a looker-on at life, and her mind resembled one of those little mirrors which her Dutch ancestors were accustomed to affix to their upper windows, so that from the depths of an impenetrable domesticity they might see what was happening in the street'.A cleverly written, though drawn out novel about a woman who blames everyone else for her own mistakes and failures, and thinks a pretty face should be enough to carry her through life. If I can't even admire or sympathise with the central character, then it's no wonder that I could barely maintain consciousness!
Review by CayenneEllis
16/06/2015
** spoiler alert ** This novel follows primarily a young socialite named Lily Bart as she slowly ruins her life, dropping from the most beloved of country dinner visitors to a working class girl with an addiction to a sleep aid. Although many call this a love story, I think this would be classified as a love story in only the loosest sense, and in the great tradition of novels like Gone with the Wind and Wuthering Heights. If anyone's actually in love, it's rarely if ever admitted and certainly not happy.When I began this book, without the slightest hint of what it might be about other than having previously read another of Wharton's works Ethan Frome, I assumed from the first chapter that the story would be a drawn out account of the changing of Lily's morals as she realizes that, obviously, Lawrence Selden (the pseudo "romantic interest") is the one for her, blah, blah, blah. As it turns out, Lily's morals change very little throughout the book, and her high standards of living combined with her strong moral fiber almost always ruin things for her. Why can't she just marry Selden and maintain her place in the social order and actually go a step up in her living conditions, if not achieving the wealth of which she dreams? Standards. Why can't she get over herself and marry Rosedale who will give her said wealth, even though she quite dislikes him? Standards. She simply can't be pleased. She won't marry for love and she won't marry for money - she's content to settle into old maidhood waiting for the perfect Mr. Right to come along. Meanwhile, her morals generally screw her over too. She has to stand by Bertha Dorset when she cheats! She can't use the love letters she found against her to regain her place and society and Rosedale's hand! She can't confess her undying love for Selden! But she's perfectly cool getting into various shady dealings with the Gormers, Mrs. Hatch and the chloral. Good God, Lily. She can't seem to decide what she wants and refuses to make the right decision throughout the book.Although I found Lily to be in character throughout, I found so many of her decisions frustratingly stupid and unambitious (combined with her thoroughly ambitious personality) that I found it hard to love Lily as much as I would have otherwise. So many times, salvation was within reach. Actually, she didn't even have to reach for it. All she had to do was say the word and be whisked away from her depressing and anticlimactic end...but nope. Her standards/morals always got in the way.Although I found the novel frustrating, slow and confusing (Wharton referred to characters exclusively by their first or last names for pages on end and then would spontaneously end, plus freaking everyone is related which is hard to remember) I did enjoy it. I would say it was really more of a 3.5 than a 3, a meh+ versus just a meh... But I also wouldn't quite say I "liked" it. I'm certainly glad I read it, but I'm also glad it's over.
Review by pgchuis
16/06/2015
Lily Bart is beautiful and lives with her rich aunt. She is nearly thirty and has been trying to make an advantageous marriage, without being able to bring herself to do it, for the last ten years. We see her throw over Percy Gryce, who was about to propose, because he is wrong and because she prefers the company of Lawrence Selden. Selden loves her, but is not rich enough for her purposes. Lily is caught up in marital dispute between two friend and rumours begin to circulate about her. Her aunt dies and leaves her only a small legacy. She begins to lose her place in society and eventually is forced to try to earn a living as a milliner.The whole book reads like a car crash and is relentless and oppressive. I found myself taking breaks out of a need to escape the unfolding disaster, although it is not without humour: Lily "had been bored all afternoon by Percy Gryce ... but... must submit to more boredom...and all on the bare chance that he might ultimately decide to do her the honour of boring her for life." Wharton cleverly causes us to sympathize with Lily, but at the same time we judge her for her sense of entitlement, the way she puts status and wealth above love, even the way she cannot bring herself to make the compromise she determines to make and just marry some one. Her moral conscience is important, and I was cheering for some of her later decisions (although I would have borrowed from Rosedale to repay Trenor and set up a shop).Gerty is a helpful character to show us a life style choice Lily could have made and Selden demonstrates a choice not to take society too seriously. None of Liliy's other "friends" are truly her friends at all, except for Carry Fisher and, in a sense, Simon Rosedale. Wharton's attitude to this Jewish character is of another era, but he has redeeming qualities and again offers Lily choices which she fails to take.Very interesting, with lots to think about, but I'm glad it's over and I need to go and read something cheerful.