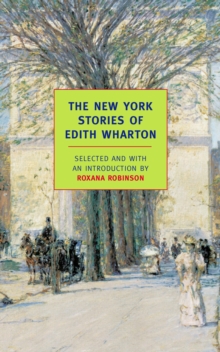 The New York Stories Of Edith Whart
Paperback
Information
Format: Paperback
Pages: 480 pages
Publisher: The New York Review of Books, Inc
Publication Date: 09/10/2007
ISBN: 9781590172483
Free Home Delivery
on all orders
Pick up orders
from local bookshops
Reviews
Showing 1 - 2 of 2 reviews.
Review by DieFledermaus
16/06/2015
The stories in this collection all show the hand of a master – the vivid and nuanced prose, the sharp descriptions of setting, characters and the social milieu. Sometimes I read short story collections rather fitfully, but with this one, I read large chunks at a time like a novel. Wharton draws you in almost immediately with her strong writing. The stories move from her very early ones to the late masterpiece "Roman Fever" and it is interesting to see the progression. Some of the stories have awkward time or plot shifts and there is a tendency to rely on predictable or melodramatic twists. However, they are all worth reading for the superb writing and depictions of places and people.As in her best known novels, Wharton often depicts the cloistered world of Old New York – a bygone time and place based on family, reputation and repression. Wharton's life influenced many of the stories. Her husband, Teddy Wharton, was much older than her and eventually became chronically ill – this is reflected in the nightmarish "A Journey", about a woman who is taking her terminally ill husband back home. The claustrophobic train ride soon become intolerable and the woman's feverish musings are well-done. Two other subjects that personally affected Wharton show up frequently – the struggles of the artist (especially the conflict between staying true to art vs. selling out) and divorce. Some of the stories show social catastrophes and covertly vicious triumphs, again as in her well-known novels, but a number of the stories have a semi-comic tone. However, two of the best are the excruciatingly painful gems "The Dilettante" and "Autres Temps…". There are also a number of sympathetic depictions of older women, even in the early stories – the very first one, "Mrs. Manstey's View", shows one such woman, forgotten by the world but still able to enjoy what she has. Some of the stories about divorce (and artists) had comic touches – "The Other Two" has a man married to a twice-divorced woman thrown into the company of her two exes. This story doesn't suggest he's made a horrible mistake – instead, it ends on a note of bemused acceptance. Divorce was an institution that changed over the course of Wharton's lifetime, from an unmentionable horror to something that was almost acceptable. "Autres Temps…" shows this, as a woman who was shunned after her divorce rushes to the aid of her newly divorced daughter only to find that the times have changed. In this one, the author skillfully portrays the painful life of a pariah from society. Divorce became more common, but some were even farther out – "The Reckoning" has a divorced woman as an advocate for free love but she soon regrets it. This one fell a little flat – the woman's relationship was too generally described. Some divorces left the woman alone and shamed, as in "Autres Temps…" but "The Long Run" looks at the other side – a man who chose not to break up the marriage of the woman he loved. His ending can hardly be envied. The divorced or married woman who became another man's mistress is also an unenviable role – illustrated in "The Dilettante" and "Diagnosis". The main character in "Diagnosis" is proud of the fact that he has remained free and unmarried while still receiving emotional support from his divorced mistress. He has vague plans to marry some young innocent thing someday but these are disrupted by a diagnosis of a terminal illness. The same sort of character is "The Dilettante" but it becomes clear that his former relationship with his mistress was almost one of emotional abuse. He gets some comeuppance but from this tangled situation there are really no winners. Even outwardly happy marriages get the side-eye from Wharton. The seemingly solid marriage at the center of "The Quicksand" is a contrast to a quarrelling pair of lovers but the truth about the marriage is considerably darker. The great "Roman Fever" compares two solid marriages, both acceptable to good New York society. The whole story is a conversation between the two widows on a comfortable terrace in Rome, but both end up reevaluating their lives. Wharton's depiction is also a perfect example of "frenemies". "Pomegranate Seed" starts out looking like the other stories – the second wife starts to suspect her happiness with her husband is only on the surface when he starts receiving some mysterious letters – but ends up in a completely different place.
Review by Kasthu
16/06/2015
The New York Stories of Edith Wharton is a collection of 20 stories that Edith Wharton wrote over the course of her career. The stories are presented in the order in which they were published, so you get to see how Wharton's style grew over time. Her stories cover a wide range of people and places, from industrialists to artists and from ballrooms to tenements.In her novels, such as The House of Mirth or The Age of Innocence, Wharton tends to focus on the upper classes of turn-of-the-century New York, but what I like about her short stories is that she focuses on a wide range of people. Many of the stories have been published in other volumes (ie, "Pomegranate Seed" also appears in the Ghost Stories of Edith Wharton), but what I like about this collection really shows how she matured as a writer, from her first published story, "Mrs. Manstey's View" to "Roman Fever," her last.The collection also showcases how New York, and in a larger sense, American, society changed between the mid-19th and early 20th centuries. Although Edith Wharton frequently satirizes the society of which she knew so much, there's still a deep love and respect for it—after all, Wharton wrote what she knew the most about. According to the Introduction, "Edith learned the rules of this formal, restrained world, but she felt the presence of another unacknowledged one that seethed around her like an invisible mist. This was the one of emotions and ideas." The conflict between the world she grew up in and the second is at the heart of these stories. I was interested in watching how many of her characters struggle with being an outsider or having an obsession with money, both qualities held Woburn in "A Cup of Cold Water." In all, a fine collection of stories.