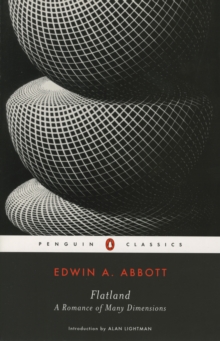 Description
A 'romance of many dimensions' that has fascinated generations of readers with its clever blend of social satire and mathematical theory, the Penguin Classics edition of Edwin A.
Abbott's Flatland introduction by Alan Lightman. A work that continues to pose provocative questions about perception and reality, Flatland is a brilliant parody of Victorian society where all existence is limited to length and breadth - its inhabitants unable even to imagine a third dimension.
The amiable narrator, A Square, provides an overview of this fantastic world - its physics and metaphysics, its history, customs and religious beliefs.
But when a strange visitor mysteriously appears and transports the incredulous Flatlander to the Land of Three Dimensions, his world view is forever shattered. Written more than a century ago, Flatland conceals within its brilliant parody of Victorian society speculations about the universe that resonate in Einstein's theory of relativity as well as the current 'string-theory' of nature. Edwin A. Abbott (1838-1926) was a leading scholar and theologian of the Victorian era. If you enjoyed Flatland you may like H.G. Wells's The Sleeper Awakes, also available in Penguin Classics.
Other Formats
Paperback / softback from £3.64
Hardback from £15.99
Free Home Delivery
on all orders
Pick up orders
from local bookshops
Reviews
Showing 1 - 5 of 6 reviews.
Previous | Next
Review by diehardkev
16/06/2015
A story told using simple geometry, brilliant! This is a journey of a 2D man into a 3D world and conveys much of the firm arrogance of Victorian society towards its scientific views, where to interrupt the set way of scientific thinking at that time, was tantamount to heresy. Perhaps not quite as an accessible subject as Alice in Wonderland, but this a fable of the same proprtions - elightening us to endless worlds of possibilities.
Review by hansel714
16/06/2015
Science fiction meets geometry meets fairy tale. It gets odder. Published in 1884, this has to be one of the first book that uses a story to illustrate principles of geometry. Part I describes the world of Flatland where all its inhabitants are shapes on a flat and very large piece of paper. Part II tells of a messiah, a 3D sphere, descending into Flatland and appearing to a Square. When the Square wants to spread the gospel of 3D, no one believes him. It's a political satire, social parody, philosophical argument, and scientific enlightment. How odd can that be.
Review by theboylatham
16/06/2015
Six out of ten.
Flatland is a two-dimensional world with a strict hierarchy of shapes and rules. The first half of the book is 'A Square' explaining in detail how the world of Flatland works. However, in the second half of the book his understanding of the world is ripped apart by trips to Lineland, Pointland and a possible world of three-dimension.Amazingly innovative. The book is meant as a parody of Victorian society that believed it had reached the edge of all human knowledge.
Review by joririchardson
16/06/2015
I ventured into reading this book a bit nervously. I love a good satire, and I love books written in the 1800's, but wasn't sure what to expect from this one in particular.After all... A book about - math?However, I was pleasantly surprised. No, more than that. I was absolutely blown away. I couldn't take my eyes off the pages!Flatland is one of those novels that isn't actually a novel. Much like "Twenty Thousand Leagues Under the Sea" or "The Silmarillion," it factually and sensibly creates another world so organized and meticulously constructed, the reader feels privy to a glimpse into some strange, newly discovered world. Edwin A. Abbott is a genius thinker - not only did he manage to draw for the reader a detailed world (complete with culture, social customs, history, and so on), but it is one that is unparalleled. This book takes the idea of "originality" - not so easy a thing to master - to an entirely new level.His descriptions of first a 2 dimensional world, and then a 1 dimensional world, make sense. Not an easy concept to grasp - but Abbott sums it up perfectly. There are even rudimentary drawings scattered through-out the book, in case the reader isn't quite getting it.The book is split into two parts. I enjoyed Part 1 the best - it described life in the main character's world of Flatland and two dimensions. It read as half textbook, half science fiction novel, and had me completely fascinated all of the way. Abbott's writing is precise and careful. Obviously the man was a mathematician!The second part is about the two other dimensions - a 1 dimensional world, and a 3 dimensional world. Again, the author describes these to the reader very well.I loved the satire elements to this story, especially concerning gender, class, and narrow-mindedness."Flatland" is a masterpiece of a book! I wish that the author's other works were not so hard to find.
Review by sriemann
16/06/2015
Really enjoyed this - makes me think about different dimensions and be inspired to wonder. Also, thinking that this would be a great book to read passages from or have different students read independently to relate to math.