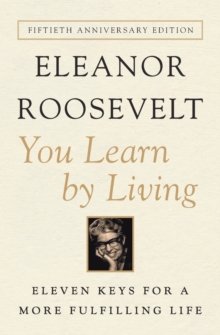 You Learn by Living: Eleven Keys for a More Fulfilling Life
Paperback
Description
One of the most beloved figures of the twentieth century, First Lady Eleanor Roosevelt remains a role model for a life well lived.
At the age of seventy-six, Roosevelt penned this simple guide to living a fuller life.
Now back in print, "You Learn by Living" is a powerful volume of enduring commonsense ideas and heartfelt values.
Offering her own philosophy on living, Eleanor takes readers on a path to compassion, confidence, maturity, civic stewardship, and more.
The following are her keys to a fulfilling life: Learning to Learn; Fear - the Great Enemy; The Uses of Time; The Difficult Art of Maturity; Readjustment is endless; learning to Be Useful; the right to Be an individual; how to Get the Best out of People; Facing responsibility; how everyone Can take Part in Politics; and, learning to Be a Public servant.
Informed by her personal experiences as a daughter, wife, parent, and diplomat, this book is a window into Eleanor Roosevelt herself and a trove of timeless wisdom that resonates in any era.
Information
Format: Paperback
Pages: 224 pages
Publisher: HarperCollins Publishers Inc
Publication Date: 26/04/2011
Category: Popular psychology
ISBN: 9780062061577
Other Formats
EPUB from £6.99
Paperback from £6.15
Free Home Delivery
on all orders
Pick up orders
from local bookshops
Reviews
Showing 1 - 3 of 3 reviews.
Review by tandah
16/06/2015
Lots of plain speaking, good advice that's been written by someone who's got the actual experience to provide counsel. What most struck me about this book is whilst it was published in 1960, the circumstances she writes about are still very relevant.
Review by bakersfieldbarbara
16/06/2015
I read the 1960 copy from my library and am glad to say that is has been reissued for a new generation. This is a remarkable book and I wish I could have been Ms Roosevelt's friend; she was so wise and helpful in her description of life and how to handle it. She is candid about the things she did wrong in her immaturity, and not knowing enough before being married. Having 5 children and no help, as women today in her situation would, she learned uses of her time, how to keep up with her own interests and activities,and how to stay focused when 5 children are playing around you. She speaks of maturity and the need to eliminate faults in yourself even though others may not see or know them. Her adjustment after the death of her husband were required by circumstances and she learned to fill her alone time properly, knowing that she would be better off not focusing on her loneliness. I recommend this book highly to anyone who needs a reason to look at life lovingly and with a passion to be all that God made us to be. It is full of wisdom that is never old, and always within reach if our goal is to grow in a mature way.
Review by wyvernfriend
16/06/2015
Although some of the information is a little dated, largely this is an interesting and informative read on her philosophy of life and how to live a good life. It's like listening to a wise older woman who doesn't take your nonsense and will not brook any poor me-ing. She's quite interesting and occasionally shows where she fell down, but believes whole-heartedledy in learning from mistakes and keeping going.It's a book I would press into the hands of my nephew and tell him to use it for living.She is interesting and wise and has a great way with words.From page 111 ""We are facing a great danger today - the loss of our individuality. It is besieged on all sides by pressures to conform: to a standardized way of living, to regognized - or required- codes of behaviour, to rubber-stamp thinking. But the worst threat comes from within, from a man's or a woman's apathy, his willingness to surrender to pressure, to "do it the easy way," to give up the one thing that is himself, his value and his meaning as a person - his individuality."No different now than in 1960The above is also a good sample of her writing.