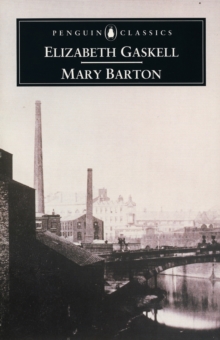 Description
Elizabeth Gaskell's remarkable first novel, Mary Barton: A Tale of Manchester Life portrays a love that defies the rigid boundaries of class with tragic consequences.
This Penguin Classics edition is edited with an introduction and notes by MacDonald Daly. Mary Barton, the daughter of disillusioned trade unionist, rejects her working-class lover Jem Wilson in the hope of marrying Henry Carson, the mill owner's son, and making a better life for herself and her father.
But when Henry is shot down in the street and Jem becomes the main suspect, Mary finds herself painfully torn between the two men.
Through Mary's dilemma, and the moving portrayal of her father, the embittered and courageous Chartist agitator John Barton, Mary Barton powerfully dramatizes the class divides of the 'hungry forties' as personal tragedy.
In its social and political setting, it looks towards Elizabeth Gaskell's great novels of the industrial revolution, in particular North and South. Macdonald Daly's introduction discusses Gaskell's first novel as a pioneering work in the recognition of the conditions of the poor and working class; this edition also contains full notes and a chronology of Gaskell's life. Elizabeth Gaskell (1810-65) was born in London, but grew up in the north of England in the village of Knutsford.
In 1832 she married the Reverend William Gaskell and had four daughters, and one son who died in infancy.
Her first novel, Mary Barton, was published in 1848, winning the attention of Charles Dickens, and most of her later work was published in his journals.
She was also a lifelong friend of Charlotte Bronte, whose biography she wrote. If you enjoyed Mary Barton, you might like George Eliot's The Mill on the Floss, also available in Penguin Classics.
Information
Format: Paperback
Pages: 464 pages
Publisher: Penguin Books Ltd
Publication Date: 31/10/1996
Category: Classic fiction (pre c 1945)
ISBN: 9780140434644
Other Formats
Paperback from £2.50
eAudiobook MP3 from £5.84
EPUB from £0.99
PDF from £1.94
Paperback / softback from £18.45
Hardback from £18.00
Free Home Delivery
on all orders
Pick up orders
from local bookshops
Reviews
Showing 1 - 5 of 5 reviews.
Review by heidijane
16/06/2015
I have mixed feelings about this book. Some bits were really thrilling and exciting - particularly the murder trial and Mary's efforts to track down the alibi to try and clear an innocent man's name. However, the rest of it surrounding felt quite pedestrian and plodding, despite the large number of deaths due to poverty and starvation in the first few chapters. More could have been made of the worker's strike, and the injustices etc. But the central story is still enjoyable.
Review by wisewoman
16/06/2015
Mary Barton is, like Elizabeth Gaskell's more famous novel North and South, set in a manufacturing town and is concerned with the wide inequities between the working and master classes. Published in 1848, this is Gaskell's first novel and sets the stage for the major concerns she would highlight in her work. This story follows Mary Barton, a young woman of the working class in the industrial town of Manchester, whose father is a vocal advocate of better conditions for the poor. Mary has two lovers: Jem Wilson, a man of the working class, and Henry Carson, the son of a prominent mill owner. When murder is done, Mary must see through her illusions and save the man she loves. But what if it is at the expense of another person she loves? The descriptions of life among the poor in Manchester are appalling, and Gaskell explores the depths of human suffering in ways that grip the imagination. I suspect I will be haunted a little by these long-gone agonies, the "clemming" of children, the despair and utter helplessness of the parents. And the hard-heartedness of Parliament, that refused to even listen to the plea of the delegates from the working class. Gaskell is always at great pains to make it clear that she knows nothing of politics and economics, but she can't help abjuring the rich to help the poor; it seems to her the only possible solution. I was saddened by the fate of Esther, counterpart to the much older and saintly Alice. Both die in end, but Alice with such a wonderful aura of peace and faith in God... Esther, the streetwalker and prostitute, in a ragged heap on the wet streets. There is a feeling of inevitability about Esther's death; is there ever a reclaimed, rejuvenated prostitute in any Victorian literature? How much more fascinating it would have been to see Esther escape her horrible life and come away with Jem and Mary to Canada. I don't know why Gaskell chose not to explore that possibility—she is certainly sympathetic toward the plight of the ruined woman—but Esther dies and is mourned in the way quite proper to the literature of the time. Ah well. As with her characters in Wives and Daughters, Gaskell portrays very realistic people, especially in Mrs. Wilson, Jem's mother, who is of an irritable and scolding temper. Her mother-love, her best impulses, her moments of sacrifice are given full weight in the narrative, but we also see her littlenesses and the trifles that upset her. She's very human indeed. Mary, too, is not without her faults, most notably a slight vanity and propensity for flirting. I also really liked Job Legh, that simple old man with his love for natural history and science, and the crusty Mr. Sturgis and his kind wife. Interestingly enough, for those who are familiar with Gaskell's other work, there is a Molly Gibson referenced in the story (though she never appears). Apparently it was a good enough name to be reused. Comparisons with Gaskell's better-known novels, especially North and South, are natural. It is clear that this is Gaskell's first novel; there are certain plot gaps, such as the gun (when it was clearly ascertained to be Jem's, why did no one ask him who had borrowed it of him?). And it's fairly clear who is responsible for the murder, right from the start. But this isn't meant to be a whodunit. One theme that runs throughout the novel is the idea of culpability and blame, and how it may rest not only with the perpetrator of a crime, but also with the influences that made the criminal what he is. Gaskell's sympathy is strongly with the workers; she acknowledges their wildness and their violent crimes, but asks who it was that made them that way. It's the masters, of course, and though their deeds are wicked, so are those who brought them to such extremities. But the idea of culpability is not just for masses of people; it is also personal. Mary Barton feels the weight of it when she considers that it was her rash, angry words that may have spurred Jem to commit the murder of which he is accused. Mary thinks that she "made him" that desperate, and thereby takes some of the blame on herself. It's an interesting study in personal responsibility in the acts of others.Gaskell is a very literate author, and I recognized many biblical quotations and other literary allusions (though I don't doubt that a great many went over my head, as well). Again and again Gaskell returns to the parable of Lazarus and the rich man, once asking poignantly if the rich dwell on that story with the same intensity as the poor?This was a compelling read, the sort that occasions annoyance with all the everyday responsibilities and duties that stand between the reader and the book. I gulped it down in two days, eager to know what was to come, notwithstanding Gaskell's wordy drawing-out of what is, after all, a fairly simple story. Though this is not Gaskell's best work, it has only improved my opinion of her, and I find her quite worthy to sit on the same shelf as Dickens.
Review by jessicariddoch
16/06/2015
I think that I simply was not in the correct frame of mind to be able to read this novel or perhaps it was the conditions that these people were living in that just made me feel unsatisfied.The writing however did draw me into the world that they inhabited and I could believe all that was happening. In the end it was a will written book, which believable characters and a strong story line, that i simply happened not to appreaiate.would still be happy to recomend it however
Review by debbieaheaton
16/06/2015
In Gaskell's classic novel, Mary Barton is the daughter of a disillusioned trade unionist. Rejecting her lover, Jem, she sets her sights on a mill owner's son, Henry Carson. When Henry is shot and Jem becomes the prime suspect, Mary finds herself torn between the two men. Mary's dilemma powerfully illustrates the class divisions of the "hungry forties." A pioneering novel set during the great division between the wealth and poverty.
Review by pgchuis
16/06/2015
The story of Mary Barton, a poor apprentice seamstress, who flirts with a rich mill owner's son, Henry Carson. She is faithfully loved by foundry worker Jem Wilson and, when Henry is found shot, Jem is arrested for the murder.This was a bit of a mess of a novel. The first third was unremitting misery: people starved to death, almost every one we are introduced to in the opening chapter died, other people lived in appalling conditions and nearly starved, the trades unions failed in their attempts to bring this to the notice of the mill owners and Parliament. Just when I was about to give up on the book as too depressing to continue with, it turned into a kind of murder-mystery adventure novel. Mary, who has never left Manchester before, travels to Liverpool, tracks a man down, including by chartering a boat to catch his ship just as it is leaving the docks, and various things happen just in the nick of time. (People do still keep dying, though). Then the last few chapters calm down a bit and turn quite religious and ponder forgiveness, how to die well and factory and mill industrial relations. In places I would have give this 4 stars, but then it disappointed me again.The narrator frequently explains things to us as well as demonstrating them, which feels a bit heavy-handed, as though we could not have grasped what she meant otherwise. The whole Mary/Jem/Henry triangle worked for me, although both Jem and Mary were prone to excessive reactions to rejection, which they indulged for about five minutes, before going back to behaving quite sensibly. There were lots of good characters: Job, Margaret, Alice, and even the hateful Sally. Esther flitted in and out and the author clearly couldn't quite bring herself to write a redemption for her (so, of course, Esther died!) I found Mr Carson senior's abrupt change of heart at the end unconvincing, both in relation to John Barton and his new appreciation for better relations with his workers. This is a theme the author returned to in North and South and, while it seems an excellent point to me, in neither novel did I feel that the dawning realization on the part of the employer was convincingly demonstrated.