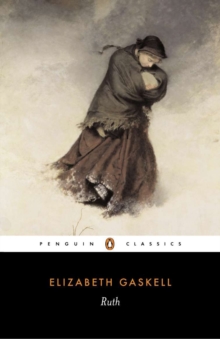 Description
Ruth Hilton is an orphaned young seamstress who catches the eye of a gentleman, Henry Bellingham, who is captivated by her simplicity and beauty.
When she loses her job and home, he offers her comfort and shelter, only to cruelly desert her soon after.
Nearly dead with grief and shame, Ruth is offered the chance of a new life among people who give her love and respect, even though they are at first unaware of her secret - an illegitimate child.
When Henry enters her life again, however, Ruth must make the impossible choice between social acceptance and personal pride.
In writing Ruth, Elizabeth Gaskell daringly confronted prevailing views about sin and illegitimacy with her compassionate and honest portrait of a 'fallen woman'.
Information
Format: Paperback
Pages: 432 pages
Publisher: Penguin Books Ltd
Publication Date: 31/07/1997
Category: Classic fiction (pre c 1945)
ISBN: 9780140434309
Other Formats
EPUB from £1.94
PDF from £1.94
Paperback / softback from £18.45
Hardback from £18.60
Paperback from £10.00
Free Home Delivery
on all orders
Pick up orders
from local bookshops
Reviews
Showing 1 - 4 of 4 reviews.
Review by Cariola
16/06/2015
A bit more dismal than most of Gaskell's novels, <i>Ruth</i> is a fairly typical story of a poor young girl seduced, taken by her lover to Wales, and abandoned. As she is about to commit suicide, she is rescued by a vacationing disabled curate who convinces his sister that they should allow Ruth--now known to be pregnant--to come live with them. She decides that they should present Ruth as a widow and a distant relative. Ruth is determined to redeem herself as much as possible, for the sake of her little boy, and all goes reasonably well until her secret is revealed. A standard tale of the cruelty of the class system and the intolerance of Victorian morality.
Review by lindawwilson
16/06/2015
Too melodramatic. Ending was not very realistic. Not nearly as good as North and South or Wives and Daughters.
Review by pgchuis
16/06/2015
The story of Ruth, an orphan apprentice milliner, who is abandoned by her gentleman lover and taken in by a dissenting minister and his sister. It is a story of repentance and judgment: Ruth is for years represented as a widow, but her secret of course comes out eventually. I found the story moved on at quite a pace. Mr Bellingham, the seducer, is a nuanced character and, although I never really warmed to Ruth, there were lots of other satisfying characters. I particularly enjoyed the Ruth/Jemima/Mr Farquhar love triangle. A satisfyingly weepy ending.
Review by PhilSyphe
16/06/2015
"Ruth" is quite a departure from the likes of Elizabeth Gaskell's "Mary Barton" and "North and South". Those two novels were amongst many that I had to read whilst at university. I liked them enough to want to read more works by this author.What I've read since has been hit or miss. I can state that if "Ruth" had been the first book I'd read by Elizabeth Gaskell then I would not have read any more of her fiction. The quality of the author's writing is the only reason I've rated this novel two stars instead of one.The title character is passive, placid, and too good to be true in many respects. The reason for this virtue is to compensate for her wicked sin of having a child out of wedlock. This act is upon what the novel revolves around.I may have appreciated the themes in this book more if I'd lived during the 1800s, but then I like a lot of stories written during the 18th century that deal with topics that have little or no relevance today.There are a few good scenes but a few is not enough in a lengthy novel. Few characters stand out as being especially interesting. Jemima is perhaps the most engaging, especially early on, but as the story progresses, her appeal digresses.There's a lack of real conflict and a heavy focus on religion, making this reader at least feel like I'm being preached to. I'm certainly all for Christian values and virtues, but when I read a novel I expect to be engaged by a convincing plot and strong characters, and don't want to read a sermon. To sum up in a list, I found this too mundane, too didactic, too slow, too repetitive, too uninspiring, too lacking in conflict, too much religious preaching, too pitiful in regards of the main character, and far too depressing.If you've never read a Gaskell novel before and want to check her out, I'd recommend that you pick "Mary Barton" or, better still, "North and South". But each to their own, as this is just my opinion.She's a great writer but the themes she writes about determines the quality of her work.